Court Records
Members of the tony beachside mecca the Coral Casino were getting in quite a pickle on the Biltmore's courts the other day.
After the mudslides in January, hostelry owner Beanie Baby billionaire Ty Warner included two pickle ball courts in the pristine racketeer complex, and on Labor Day club members participated in a Round Robin to try them out.
Victoria Frost, one of the tony triumvirate of organizers including Leslie von Wiesenberger and Nancy Wheeler, says pickle ball, a hybrid paddle sport combining badminton, tennis, and table tennis with a perforated polymer ball, is one of the fastest-growing sports in the U.S., with 2.8 million players nationwide.
The sport, for those of a certain age, was started in 1965 on Bainbridge Island, Washington, by a local politician and named after his dog, Pickles.
Among the spectators at the courts, enjoying the hotel catered event, were Carter and Victoria Hines and Kevin Contreras, with the winners being Jason Faanes, an L.A. firefighter, who won use of a Coral Casino cabana for a day; Robin Poett, who garnered dinner for two at Tydes; and Laura Levy, who received lunch for two at the Coral Casino cafe.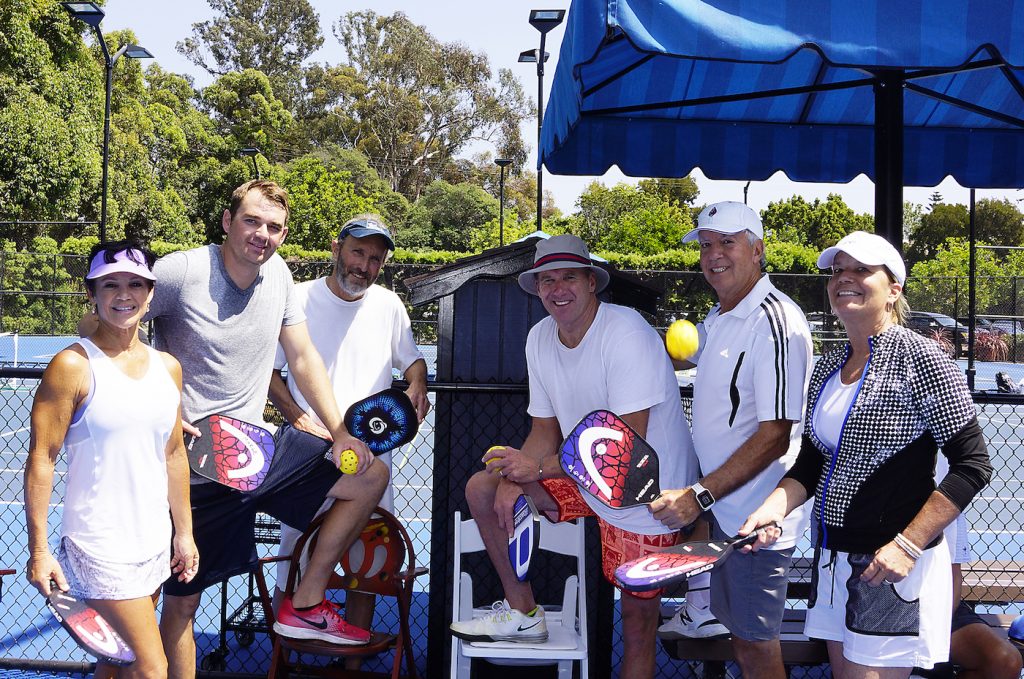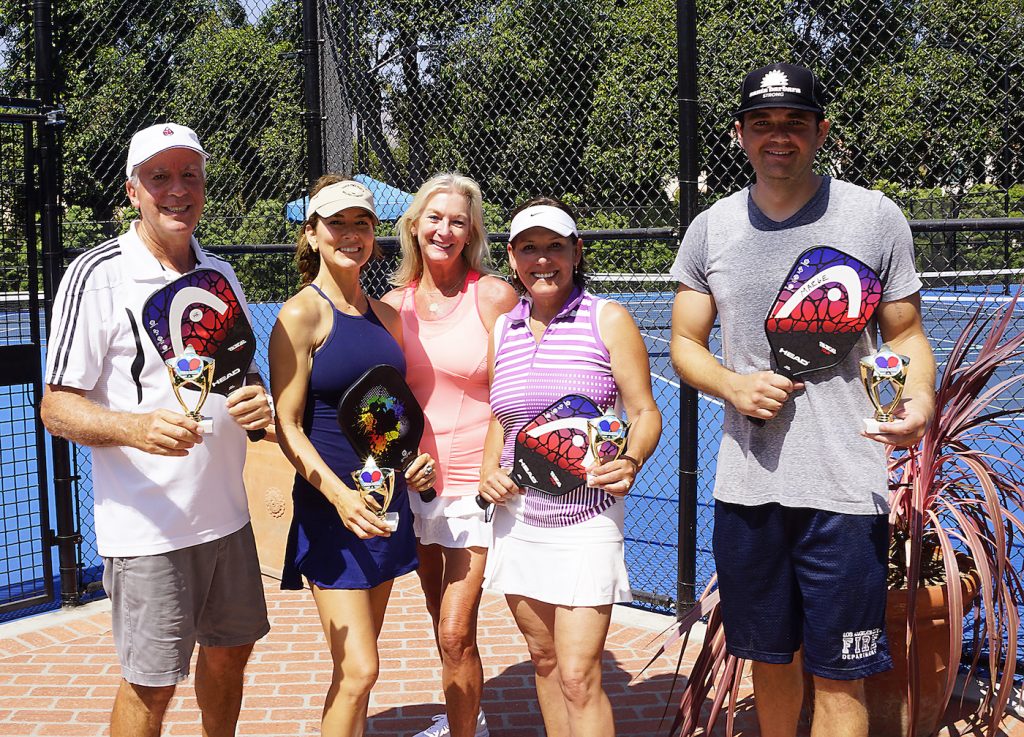 Veep of Faith
Montecito actress Julia Louis-Dreyfus is back at work on her Emmy Award-winning HBO comedy Veep after treatment for breast cancer, first diagnosed a year ago.
"I do feel different, but I can't quite articulate how," says Julia. "I've come out the other side of this, and I'm still not exactly sure how to define the differences other than to say I'm grateful, of course, but it's more than that. It's bigger."
Julia, 57, who has won six consecutive Emmys for her role, talking to InStyle magazine, adds: "I'm not someone who likes looking back. I look forward. That's how I operate. I'm always moving on, you know?"
Great Scott
Prolific author Gavin Scott, who has just published his detective thriller, The Age of Exodus, was inspired by Santa Barbara author Jacqueline Winspear.
"Her Maisie Dobbs series is about a nurse returning from World War One, while mine is about a soldier returning from World War Two," says Gavin, a Santa Monica resident.
"I first read her wonderful books while on holiday in Denmark and fell in love with her plucky, resourceful heroine right away. I thought she had been brilliant to give Maisie a complex wartime past, so that she could draw on the extraordinary events of 1914-1918 as she solved her mysteries and a touching up-from-poverty back story."
The British author, who has written a dozen books, including three in his current detective series, took about a year to research, write, and devise between screenwriting assignments, acting, sculpting, and voiceovers.
His next tome is Age of Orwell, inspired by the fact author George Orwell feared Russian tyrant Stalin, who'd been angered by his classic Animal Farm and had sent a hit squad to kill him before he could finish his other classic, 1984. He fled to the remote Scottish Hebridean island of Jura, which had a mere 100 inhabitants at the time.
Gavin will be promoting his Random House book at the bustling bibliophile bastion Chaucer's on Tuesday, September 18.
Order Restored
Mega TV producer and Montecito resident Dick Wolf is expanding his signature series Law & Order to focus on hate crimes.
Dick, 71, who is also chairman of the board of the Bellosguardo Foundation, says the timely spinoff is inspired by the work of the New York City police department's Hate Crime Task Force.
The NBC network has ordered 13 episodes of the new version, but a debut date has yet to be announced.
"Hate crimes have reached an egregious level," says the longtime Montecito resident. "I want to depict what's really going on in our cities and shine a light on the victims."
His sister program, Law & Order Special Victims Unit, is now celebrating its 20th season, not to mention his successful Chicago-based shows.
Sale Associate
Montecito TV talk-show host Ellen DeGeneres has been helping actor Mark Wahlberg in doing a commercial for a Chevrolet car dealership he owns in Columbus, Ohio.
The Boogie Nights star, 47, and Ellen, 60, put on oversized tartan blazers for the TV ad, with the comedienne referring to the business as having "Central Ohio's largest inventory of new Chevys."
The former Oscars host also made an amusing "guarantee" saying all cars will be equipped with a steering wheel and four tires.
A born saleswoman.
Egg Drop Goop
Montecito actress Gwyneth Paltrow's Midas touch would appear to be getting a little tarnished.
Goop, the Oscar winner's wellness brand, has just been hit with a $145,000 fine after the Santa Clara County district attorney and nine other state prosecutors sued the company for making false claims about vaginal eggs.
The legal action reportedly took place over claims by Paltrow and her company made about jade and rose quartz eggs.
They didn't, in fact, have any proven marked benefit, but the site's marketing claimed they did, including preventing depression.
Goop says it is using the lawsuit as "a learning experience."
Shakin' and Bakin'
Talented pastry chef Renaud Gonthier has another hit on his hands with his latest outlet on Coast Village Road.
I first met the dashing Frenchman, who was worked as a patissier for the upscale Ritz-Carlton hotel chain, 10 years ago when he opened his first outlet at Loreto Plaza, a tiara's toss from the book mecca Chaucer's.
Renaud now has seven branches and is planning open in Los Angeles or San Francisco in due course.
I had cafe au lait and a ham and cheese croissant inside on my visit, given the expansive terrace was jam packed.
As my good friend, society doyenne Beverley Jackson, says: "The best croissants this side of Paris!"
I couldn't agree more.
Blue Blood
Prince Charles, who marks his 70th birthday in November, is making a power play!
HRH has now added the Royal Family's first electric car, an $80,000 Jaguar I-Pace, painted in Loire blue, a color not available to the public.
The car, which has a range of 292 miles between charges and can reach 60 mph in 4.5 seconds, will be joining his fleet of Range Rovers and Bentleys, as well as his beloved Aston Martin Volante convertible, a 21st birthday present from his mother, Queen Elizabeth, while he was studying at Trinity College, Cambridge.
The auto, which he once described to me as his "polo car," used just to transport him between Windsor Castle and Smiths Lawn – the headquarters of the Guards Club when he used to play the game – has been modified to run on wine and reposes at his charming country estate, Highgrove.
It averages 10 miles to the gallon – the equivalent of 4.5 bottles of wine for every mile. It also has an impressive mascot of a silver Welsh dragon on the hood, reflecting his title as Prince of Wales.
Sightings: TV talk-show host Ellen DeGeneres noshing at Lucky's…Montecito actor Michael Keaton at the U.S. Open tennis in New York…Broadcasting entrepreneur Norm Pattiz, founder of Westwood One and PodcastOne, checking out the crowd at Finneys
You might also be interested in...