What's in Store Behind the Door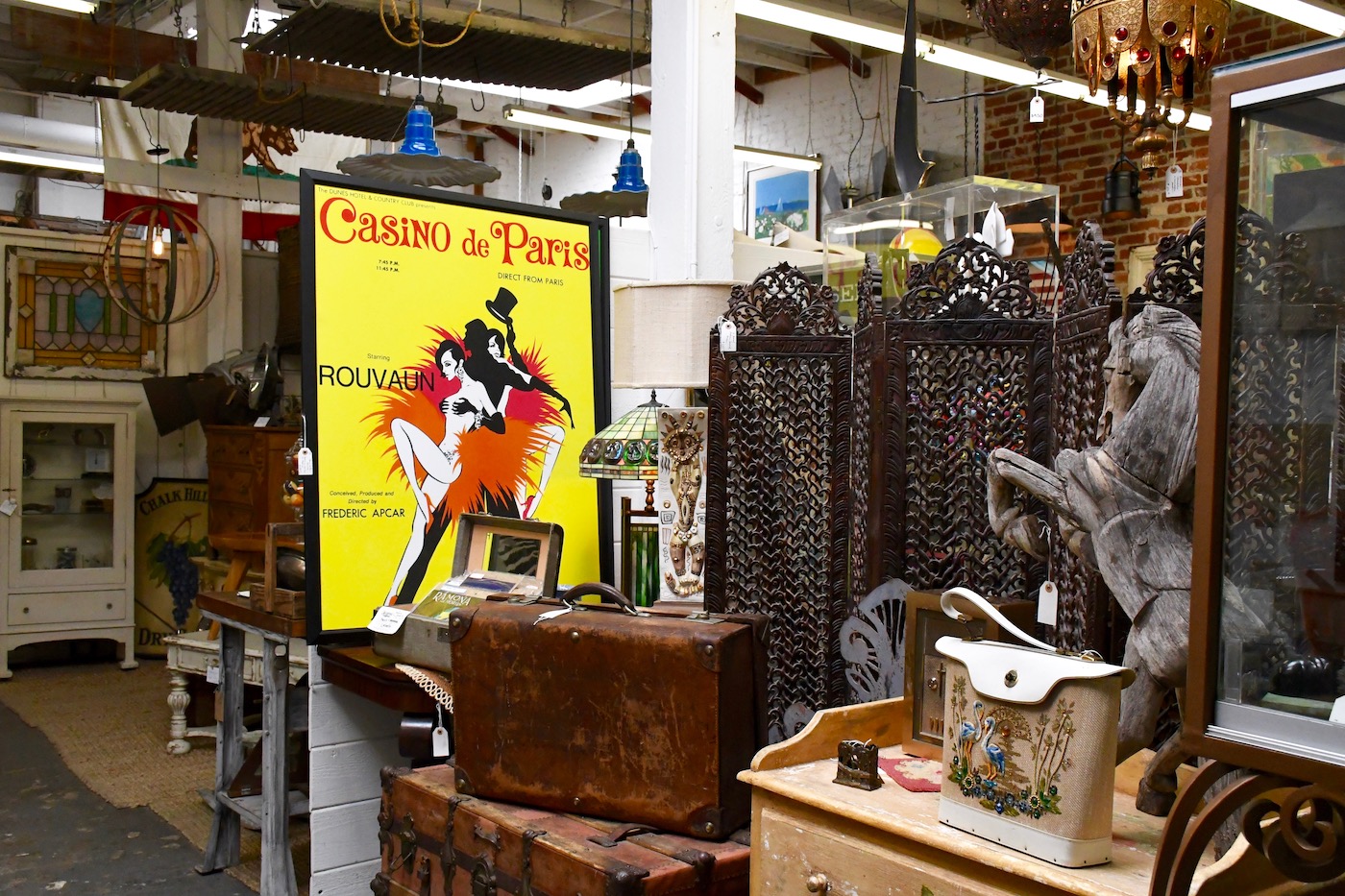 In an old three-story building on the inner edge of the Funk Zone, a structure made mostly of red concrete bricks, lies a collection of antique, vintage, and modern furniture and decor, local art, handmade jewelry, unique artifacts and pieces acquired from small groups of collectors, artists, and designers, many of them right here in the American Riviera.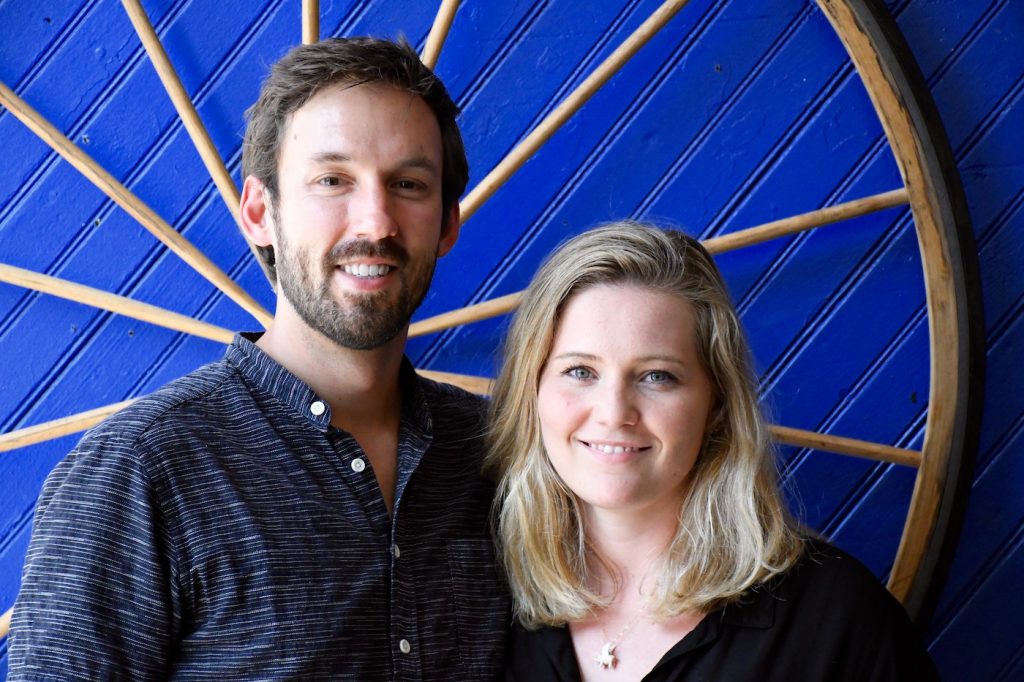 The Blue Door opened in December of 2014 at E. Yanonali Street, just between Anacapa and State streets. Owners Brian Garwood and Carolyn Petersen neatly stock all three floors with the nearly endless array of antique, vintage, and modern decor and furniture. But the rare gems you may never see again once you leave the building due to the invisible revolving door that often sends rarities out into the world with unpredictable haste. 
"We get lots of tourists who like unique stuff, and the locals know the turnover is super-high," says the couple who met in Los Angeles after both, coincidentally, attending college in the state of Oregon.
The books by Zane Grey, Henry Miller, Mark Twain (some printed as early as 1909, others earlier), the variety of clothes, ranging from the heart of distinctive eras – the bellbottoms, the three-piece suits, snakeskin cowboy boots, the hats, fur coats, the typewriters, vintage American flags, one-of-a-kind jewelry, Danish teak furniture, lamps, vinyl records, rare statues, sculptures, figurines, clocks, to name just a portion of the store inventory, all plan to eventually leave the vintage temple of authenticity.
Once you enter the store, a giant chandelier hangs from the high-ceiling: a Grand Colonial Wrought Iron Chandelier with sockets for 12 lights, a piece of lighting that could swing from the rafters of a noisy saloon in a John Ford classic starring John "The Duke" Wayne. Or the vintage Moroccan Jewel Chandelier: gold and black with stones of ruby red wrapped around the chandeliers one-foot circumference – a light perfect for the stairwell of an ancient Gothic castle.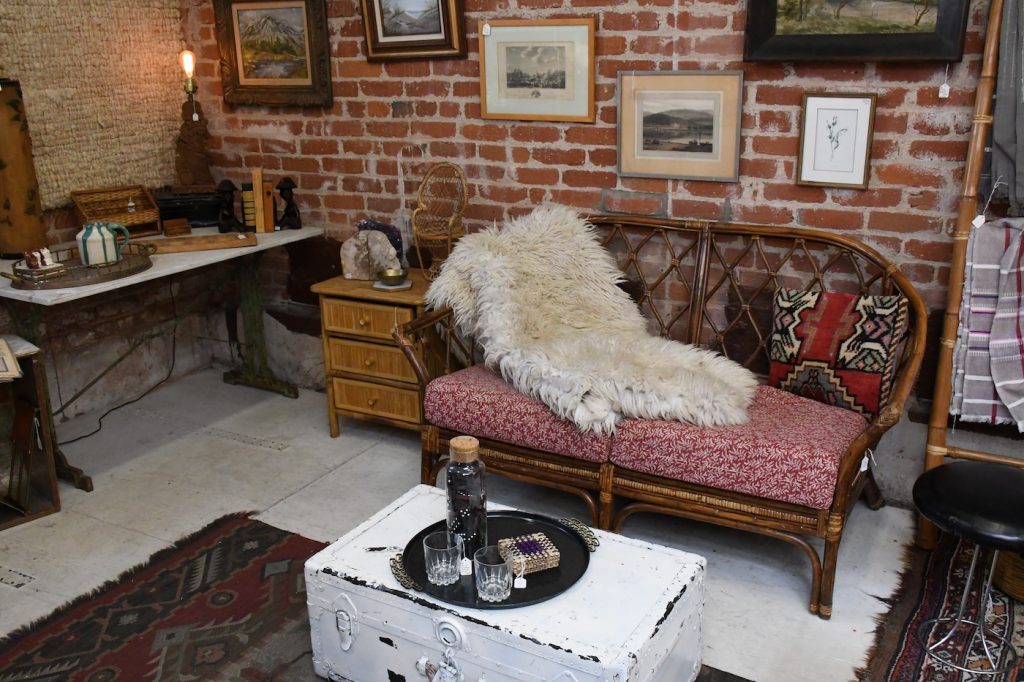 At the moment, The Blue Door also presents a vintage Rattan and Bamboo Settee, a 1920s Art Deco club chair with original upholstery, a 1930s aquamarine and diamond jewelry set with earrings, necklace, and ring). Also, an antique bamboo stroller acquired just outside of Hong Kong, a village reached only by boating one hour up the Pear River, a drafting table made of maple and cast iron, manufactured by A. Lietz Company in the 1940s, and Crouse-Hinds aluminum spotlights with vintage JG Saltzman adjustable-tripods scattered about the store.
Also, the shopper or browser can find a slew of local art by David Segel, as well as Colette Cosentino, whose work takes you around the white-painted stairwell and leads you up to the third floor to an entire room of modern Danish furniture imported from Denmark, and large wooden doors melted into the wall of the building which Brian says survived the 1925 earthquake.
"We wanted to give back and connect with local artists, so we all can feature their unique stuff," says Brian. That is why Brian and Caroline's haven of utter uniqueness carries re-purposed treasures – such as a bowling ball, as well as a clarinet and a silver French horn – each metamorphosed into its own original lamp, its own innovative jewel.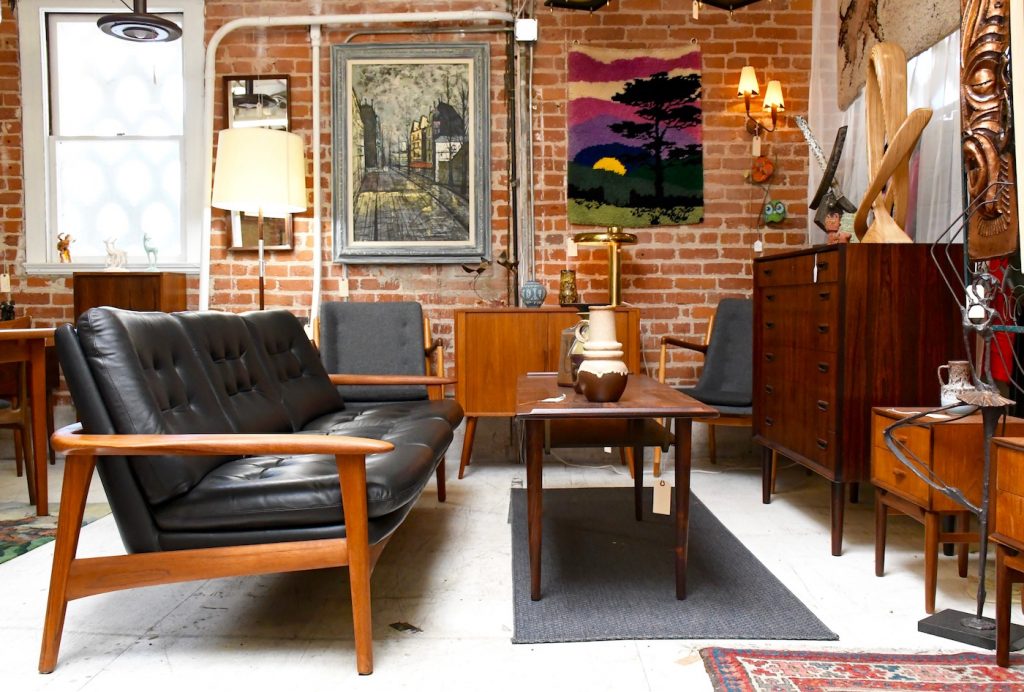 Brian also says that the Danish furniture, like a mid-century Credenza made of walnut and rosewood, manufactured by Stanley, as well as Danish modern teak bedside tables and sofa in original black leather and teakwood, for example, are indeed a modern design favorite.
However, if your antique-loving eyes locked themselves on that pair of 1920s Holophane street-light Pendants made of stained glass and cast-iron or the vintage European pinewood dresser with 12 drawers – or even the tailgate for the 1942 Chevy-sidestep that Brian and Caroline recently had – you are too late.
But the old three-story building on E. Yanonali Street may have another gem just for you, something that you never thought of before. Because inside the realms of The Blue Door, just off the shore of the American Riviera, every day is a brand-new day.
•••
The Blue Door opens Monday through Saturday 10 am to 6 pm and Sunday's 11 am to 5 pm. The phone number is (805) 364-5144. You can see updated photos of the inventory at www.thebluedoorsb.com.
You might also be interested in...