Two for One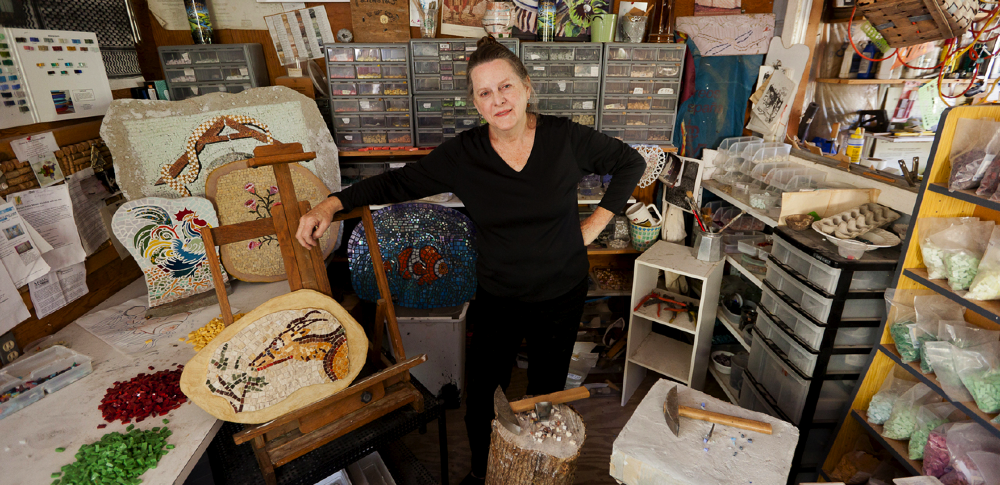 A unique work of art is underway in our Eden by the Beach.
A 50-foot long mosaic, illustrating our tony town's history, is being created by two clients from Women's Economic Ventures, Robin Elander and Betsy Gallery.
Elander, manager of the project, graduated from WEV's Smart Entrepreneurial Training course, while Gallery, a mosaic artist, took a similar course decades ago.
"I actually quit my day job with the County early to become a mosaic artist, and I therefore actually had to make a living at it," says Gallery. "I couldn't dabble as an amateur. It had to be a business."
Once completed, the Santa Barbara Timeline Mosaic will be able to be viewed showing centuries of major local events on one artwork.
A location has yet to be chosen.
Spare Parts
The late Santa Barbara actor Paul Walker's brothers, Caleb and Cody, are keen to reprise his Fast and Furious role of Brian O'Conner.
Caleb, 40, and Cody, 30, have opened up about the task of filling their late brother's shoes in the successful film franchise, nearly five years after his death aged 40 in a Santa Clarita car crash, and their subsequent assistance in helping complete the seventh installment of the movie.
"I just hope we get to, I don't know, have a little cameo and bring Paul back to save the day," says Caleb.
"That's my dream, and I hope to get to do that in one of the future movies."
Worm in the Apple
It can happen to all of us, but when Oscar winner Gwyneth Paltrow is the victim it garners a great deal of publicity.
The Montecito actress was shopping with her daughter, Apple, 14, in the oh-so trendy Hamptons, when – horror of horrors – she forgot her credit card.
Gwynnie was at the high-end boutique, Blue & Cream, in East Hampton and was forced to use Apple Pay to avert the credit crisis.
How appropriate…
Real Time
Montecito actor Christopher Lloyd reunited 33 years on with his Back To The Future co-stars in Boston.
The popular sci-fi franchise's quartet, including Michael J. Fox, Lea Thompson, and Thomas Wilson, gathered at a fan expo attended by more than 50,000 people.
The fab four – who starred in all three films in 1985,1989, and 1990 respectively – last got together in 2015 when the original movie turned 30.
Bowl of Serial
Santa Barbara warbler Katy Perry will perform at a commemorative concert at the Hollywood Bowl.
The 33-year-old former Dos Pueblos High student will join a lineup of special guests to celebrate the 100th anniversary of the Los Angeles Philharmonic Orchestra with conductor Gustavo Dudamel, 37, who was just at the Santa Barbara Bowl for the finale of the Music Academy of the West's 71st summer festival.
Katy is scheduled to perform a set of her hit songs at the iconic location, near my former home in Hancock Park, on September 30.
Stars in Her Eyes
It looks as though the wedding of Queen Elizabeth's granddaughter, Princess Eugenie, 29, will be even more star-studded then Prince Harry's nuptials to Meghan Markle in May.
The ceremony for Prince Andrew's daughter – ninth in line of the British throne – at the same Windsor location, St. George's Chapel, when she plights her troth to longtime beau Jack Brooksbank, is expected to have a tidal wave of celebrities, many of whom were at Harry's wedding.
These include Elton John, David and Victoria Beckham, James Blunt, George and Amal Clooney, as well as models Kate Moss and Cindy Crawford, Holly Branson, daughter of Virgin tycoon Richard Branson, and singer Ellie Goulding.
I have already been alerted to be on call to do commentary by Fox News Channel and CNN on the October 12 event. Business as usual.
Wasson, Wax Off
Supermodel Erin Wasson, who I wrote about in last week's column – re: her collaboration designing shoes for Texan company Lucchese, owned by Santa Barbara Polo Club president, John Muse – has quite a background.
The Malibu-based beauty, 36, has appeared on the cover of French, Russian, Spanish, and Australian Vogue, and worked with a heavenly host of top photographers, including Steven Meisel, Mario Testino, Patrick Demarchelier, and Ellen Von Unwerth.
A willowy talented Texan now doing some major sole searching.
Natural Woman
On a personal note, I mark the passing of the Queen of Soul, Aretha Franklin, at the age of 76 in her hometown of Detroit.
I was lucky enough to see her perform a number of times at high-priced charity galas, with a full orchestra, at Manhattan's Waldorf Astoria's multi-tiered ballroom, belting out such hits as "Freeway of Love and her anthem, "Respect", when I was an editor on the gossip column of New York Magazine.
Franklin, who won 18 Grammy Awards and had more than 100 singles on the Billboard charts, was indisputably one of the greatest singers of her time.
Sightings: New England Patriots quarterback Tom Brady causing quite a stir while playing at the Sandpiper golf course…Oscar winner Jeff Bridges in the Santa Barbara Bowl audience for the Music Academy of the West's Gustavo Dudamel concert…Rocker Peter Noone and wife Mireille checking out The Monarch
Pip! Pip!
Readers with tips, sightings and amusing items for Richard's column should email him at richardmineards@verizon.net or send invitations or other correspondence to the Journal.
To reach Priscilla, email her at priscilla@santabarbaraseen.com for call 969-3301.
You might also be interested in...