Sip-Top Condition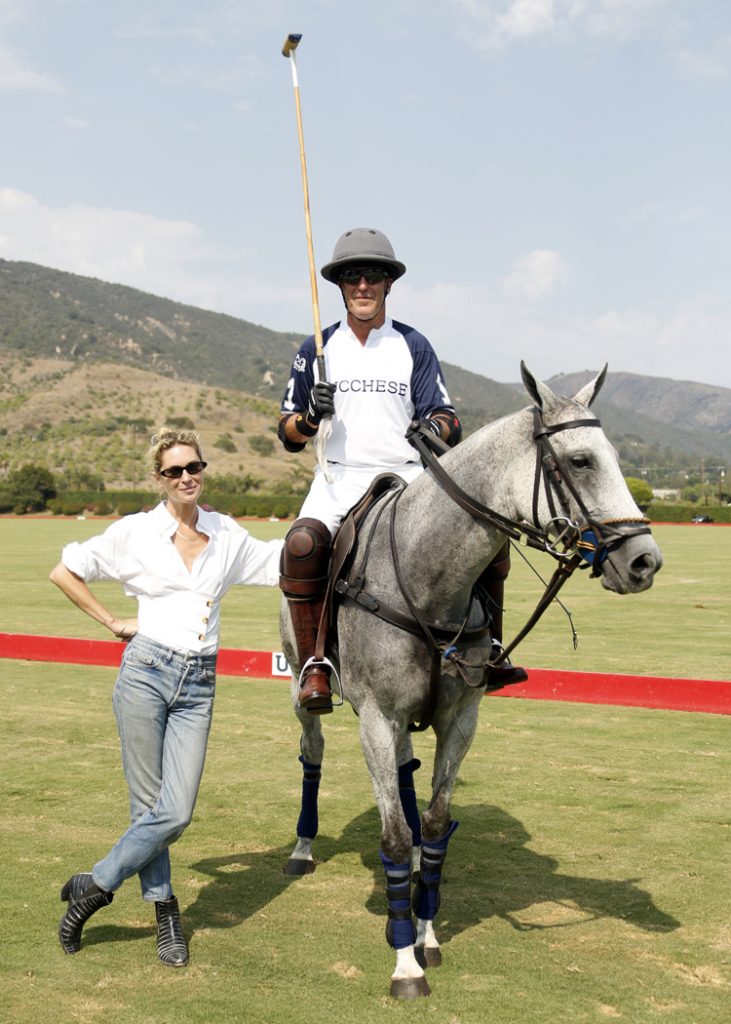 Santa Barbara Polo Club hosted its first Sip and Shop event for 250 guests next to the hallowed Holden Field.
With seven vendors and a stall providing Moet & Chandon's new champagne – with a slightly higher sugar content that can be served over ice – the fun fest was the brainchild of Kathryn Lenihan, owner of the club's eclectic boutique.
Former Victoria's Secret supermodel and Ojai-based Erin Wasson introduced her new shoe line for Texan manufacturer, Lucchese, whose owner, John Muse, is the club's president.
"It's Texan style with a street vibe," says Mario Vega, a company marketing executive in El Paso.
Also showing off her wares was Bahamas-based India Hicks, granddaughter of the late Earl Mountbatten, last Viceroy of India, after which she was named, whose godfather is the Prince of Wales.
India, the daughter of the late London interior designer David Hicks and 678th in line to the British throne, has broadened her design base with jewelry, handbags, fragrance, and skincare.
Checking out the wares were Tara Gray, Amanda Masters, Mindy Denson, Dana Hansen, Mike and Claudia Uretz, Leigh Brecheen, Paige Beard, Lisa Wengler, Judy Foreman, Sandy Robertson, Gina Tolleson, and Dan Walker.
For Art's Sake
As is tradition, the John E. Profant Foundation hosted a colorful Fiesta Finale gala at the historic El Paseo restaurant, with a record 174 guests raising more than $50,000 for art scholarships.
Brother Rhyan, 13, and Zeyn Shweyk, 14, played piano, while the Martinez Brothers, who've been entertaining at fiesta for three decades, provided the band.
Kristen and Serge Chmelnitzki performed the Paso Doble and the rumba, while veteran pianist Gil Rosas, who entertained at my 60th birthday bash five years ago, played a selection of keyboard classics, and classical guitarist Chris Fossek performed while his wife, Leila Drake, a former principal with the State Street Ballet, danced along with another SSB member, James Folsom.
Other performers included Heidi Gielisch, Ricardo Chavez, Lakshmi Basile, Eddy Luevanos, and Kambiz Pakan.
Costume contest winners, judged my Journal colleague Lynda Millner, were Gary Simpson and Jill Nida, and Erik and Angelique Davis.
Among the fans at the energized fiesta fest were Sigrid Toye, David Bolton, Erin Graffy, Peter and Gloria Clark, Craig Case, Dana Hansen, Bill Brown, Anna Papakhian, Toni Simon, and Madison Richardson, Gillian Launie, Larry Gosselin, Riley and Dacia Harwood, Jon and Bonnie Henricks, and Gregg Hart.
Goop Scoop
Montecito actress Gwyneth Paltrow's Goop magazine has reached the end of the road with New York publishing giant Conde Nast.
The Oscar winner says her lifestyle brand's collaboration with the company, which publishes Vogue and Vanity Fair, has fallen apart after just two issues.
She says the project has ended because of "old-school rules" on making sure all claims are scientifically verified.
"I think for us, it was really like we work where we are in an expansive space," says Gwyneth, 45. "Somewhere like Conde, understandably, there are a lot of rules."
After two $14.99 print editions of the quarterly magazine, which was first published in September 2017, Goop parted ways with Conde Nast and is now produced in house.
Shame Game
Former Montecito Union School student Gigi Hadid says her wealthy and privileged background left her feeling "guilty."
The Victoria's Secret star, 23, who is one of the world's highest-paid models, says she was determined not to rely own her family fortune to make it in life.
"I've always had the guilt of privilege," she admits. "It started in high school, and I was determined not to be defined by it, or being pretty."
Instead Gigi valued herself for her skills as a volleyball player and "great" grades.
Gigi, who dates former One Direction singer Zayn Malik, is the daughter of property developer Mohamed Hadid, whose worth is estimated at $400 million, and former model and reality TV star Yolanda Foster.
Gigi says she always saw her wealth "as my parents' money" and started paying her own bills and living independently when she was 18.
We'll Always Have Carys
Actor Kirk Douglas's 15-year-old granddaughter, Carys Zeta-Jones, admits she hasn't had the easiest of rides growing up.
Carys, the daughter of former Montecito resident Michael Douglas and Welsh actress Catherine Zeta-Jones, says fellow students at school bullied her over her father's age.
Michael is 73 and Catherine 48.
"When I was younger, I didn't like having this name attached to me, this kind of 'Douglas dynasty' stuff," she tells Town & Country magazine.
"I think what bothers me the most is that people think I didn't work hard for it, that I don't need to work hard for it. That anything I do gets handed to me.
"When, honestly, I feel like it's the opposite. I feel I need to constantly prove myself to people – that I am not just my parents' daughter."
London Falling
Former Montecito funnyman John Cleese, as part of his forthcoming move to the island of Nevis in the Caribbean, has put his London home up for sale for $1.6 million.
The 78-year-old Monty Python star is selling his one-bedroom pad, just off Sloane Square in Chelsea, where he has lived with his fourth wife, jewelry designer Jennifer Wade, 32 years his junior.
By coincidence, the airy apartment on Culford Gardens, parallel to the oh-so trendy Kings Road, is just yards from where I used to reside in Culford Mansions when I worked for the Daily Mirror and Daily Mail in the 1970s.
On the House
Santa Barbara warbler Katy Perry has shaved another $350,000 off the price of her extravagant Los Angeles compound in a bid to offload the property she originally put on the market in September.
The former Dos Pueblos High student is willing to accept $8.85 million for the Mediterranean-style property, which encompasses a 4-bedroom, 6-bathroom, house, a guest cottage, security buildings, separate fitness studio, and an enormous outdoor pool.
Katy, 33, originally listed the estate in the exclusive Outpost Estates area 10 months ago, but a lack of interest has resulted in the modest reduction from the original $9.285 million valuation.
She originally purchased the house from oil heiress Aileen Getty for $8.2 million.
Sightings: Actor Don Johnson enjoying the clambake at the Bluewater Grill…Facebook founder Mark Zuckerberg noshing at Wildwood…News-Press co-publishers Wendy McCaw and Arthur von Wiesenberger at Loquita
You might also be interested in...