Baked Salmon Avocado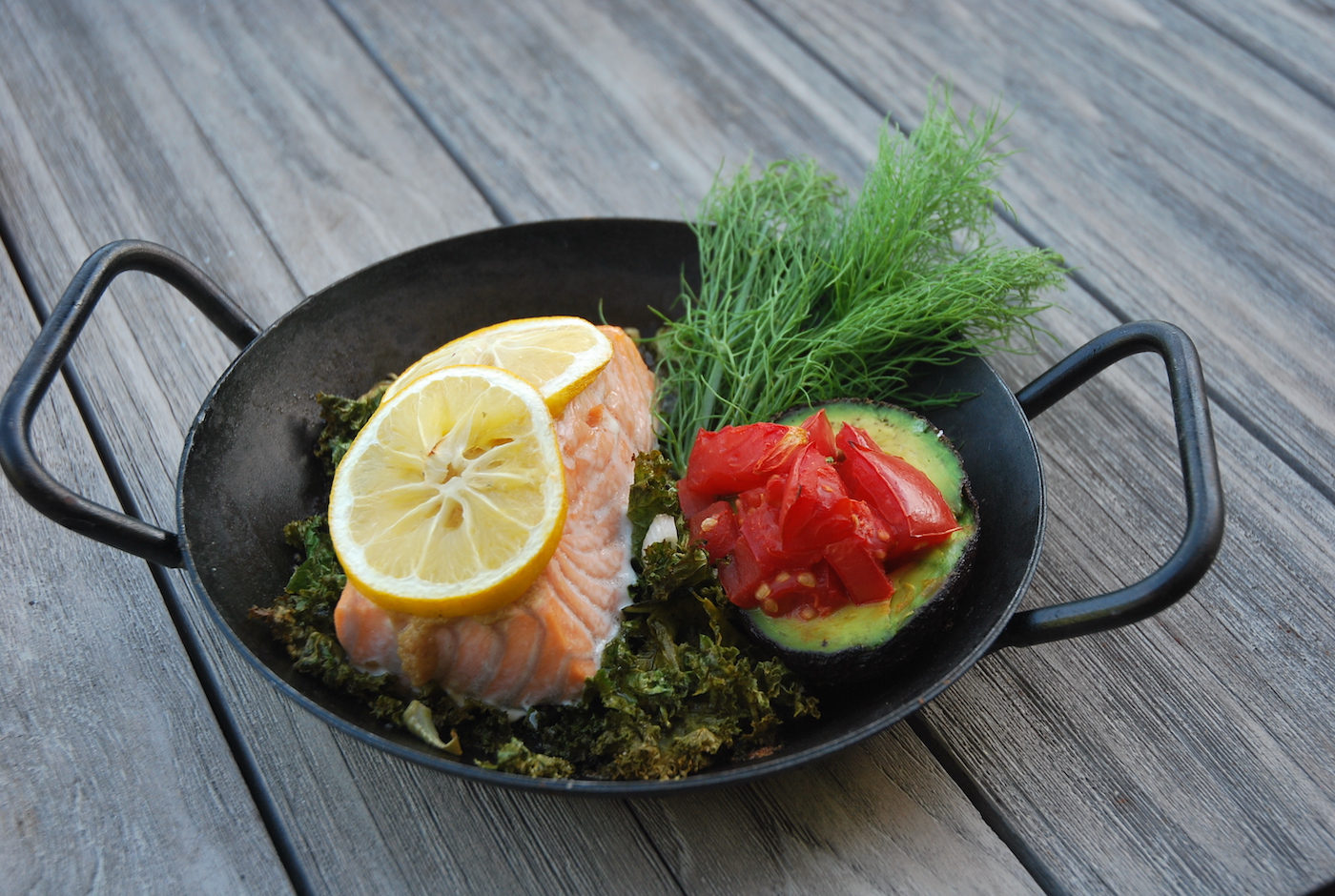 We recently returned from a trip through Burgundy, where we went mustard tasting in Dijon. I now appreciate how the right mustard can be the "wow" factor to any meal. This recipe uses a slightly sweet mustard called Golden Dijon, available from Viva Oliva on Coast Village Road. It is the perfect complement to the delicate flavor of the sushi-grade Scottish salmon I buy at Montecito Village Market.
In my opinion, this is the best salmon available anywhere, and it's always in stock.
I cook this all-in-one meal in individual well-seasoned, cast-iron ramekins. They are easy to use and they wipe clean with a paper towel. When my husband sees me pulling out the ramekins, he always offers to do the dishes, because he knows there won't be any!
If you want to try cast iron, there is a small handled version at Montecito Village True Value Hardware. If you're having company, make up to eight ramekins in advance and take them out of the fridge 30 minutes before baking. Make sure all your salmon pieces are the same weight and thickness for even cooking.
(Prep 15 minutes. Bake 20-25 mins., pre-heated 400˚F)
2 six-ounce salmon filets, skinless, thick cut 
1 tomato, chopped
1 sliced lemon
3 cups kale, chopped
1 fennel bulb, chopped (retain tops for decoration)
5-6 pieces of fresh basil, torn
2 scallions, chopped
1 avocado, cut in half
2 tbl garlic oil 
1/2 tsp Viva Olivia Salt Mix 
1 tbl Mustard and Co. Honey Dijon
2 tsp truffle oil
1) Place chopped tomato in a small sieve & salt. Squeeze half the lemon over top. Leave to drain.
2) Toss kale & vegies in garlic oil & salt mix.
3) Make a bed of the kale mix in two 8″ cast-iron ramekins.
4) Place an avocado half on the side of each ramekin and stuff with tomato mix.
5) Lay salmon pieces on the kale beds.
6) Spread 1/2 tbl of mustard on each piece of salmon; followed by lemon slices.
7) Cook ramekins in pre-heated oven, 400˚ F, until 140-145˚ F. Remember that the food keeps cooking because the cast iron retains heat.
8) Drizzle with truffle oil & decorate with fennel tops.
This week's vendors are:
Viva Olivia: truffle & garlic oils, salt mix, Dijon
Montecito Village Market: salmon
Friday Farmers Market: vegetables
If you have something you'd like me to try, please send me an email at janewalkerwood@gmail.com.
You might also be interested in...