Grace Design Associates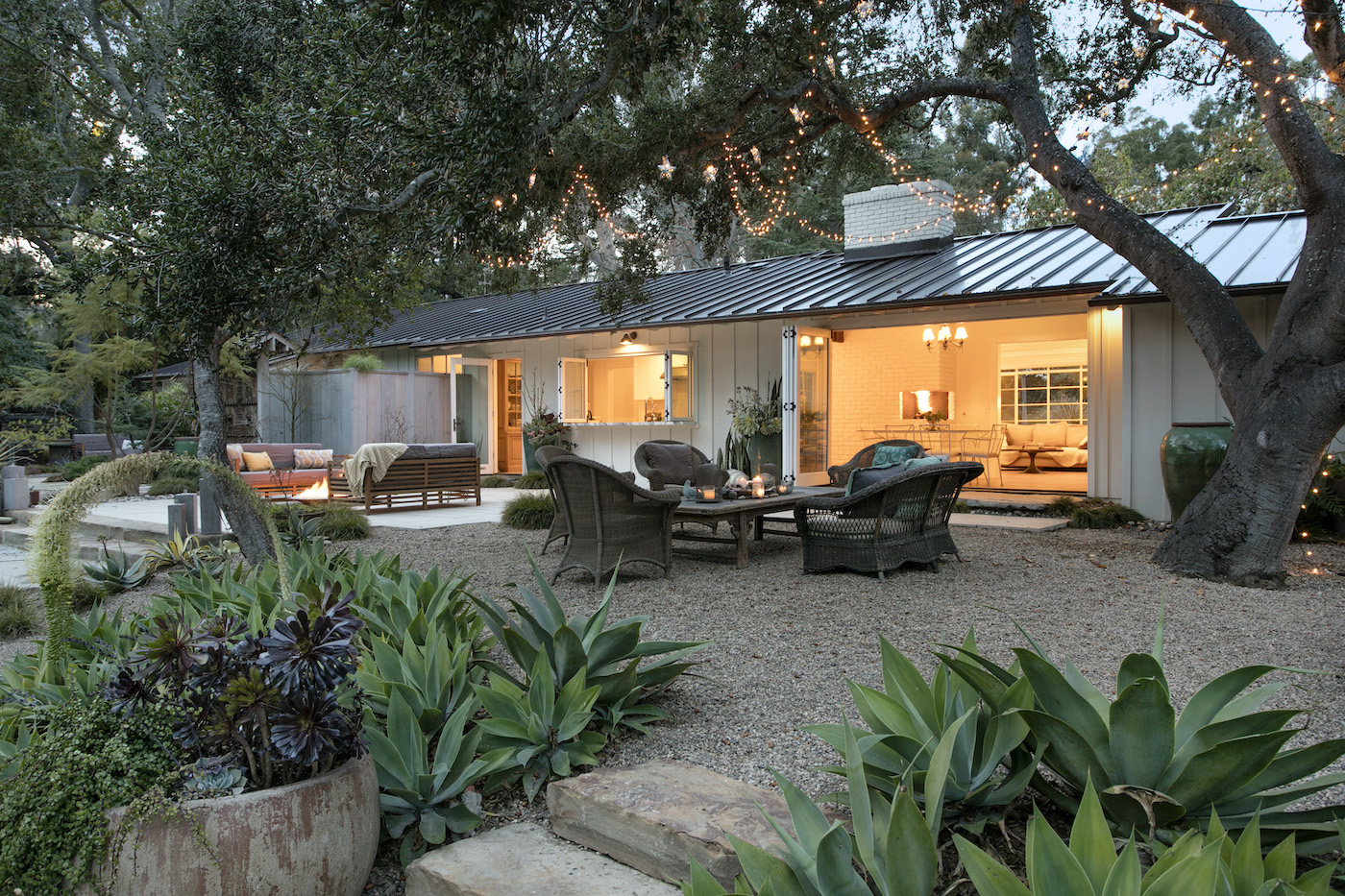 The International Association of Professional Landscape Designers (ALPD) has recently named local landscape designer Margie Grace the 2018 Designer of the Year; the award is the highest honor in the landscape design industry. Grace, a landscape contractor who founded her own landscape design studio and construction company in 1982, is based out of a residential home on Sycamore Canyon Road; the property's gardens were also recognized by ALPD, earning a Gold Award. "This is more than just a project to us," Grace said during a recent visit to her home-based studio. "It's also our home and we get to enjoy it."
Grace and co-founding partner Dawn Close manage the business, which employs a team of talented landscape architects, designers, and on-site construction crews. The team has conceived and constructed 350+ gardens in the western United States. Always aiming for a balance between beauty and practicality, Grace says she strives to extend the indoor living space outdoors, and her projects have ranged from intimate gardens to grand estates.
Most recently, she has been designing gardens on multiple mudslide-affected properties in Montecito, finishing two last week and actively working on three others. "Most of these properties suffered extensive damage to the gardens, but the houses survived," she said. "I'm happy I can help bring beauty back to the area after such a disaster."
Grace began her work in 1982, helping clients maintain their gardens for many years before she started designing and building. Because the process of designing, building, and maintaining are all synchronized, she wanted her business to be a one-stop shop for everything related to landscaping. "Maintenance is cooked into the design, so we are looking at the functional items like grading, drainage, and irrigation, in addition to choosing materials and artful things," she said. "The process happens in a continuum."
The Sycamore Canyon home is located across from Lotusland, and Grace calls the gardens Lotusland South. "To me, that means distinct gardens, each organized around a theme, with a little whimsy and a lot of personality," she said. Grace said the backyard of the house, which was purchased in 2015, looked like a park, with mature trees, perimeter screening, and ivy. "It is absolutely the right feel; it just needed to be low-water, low-maintenance, fire-resistive, and more user-friendly, oh, and beautiful!" she said. The team replaced the lawn with drifts of perennial grasses, and garden features include low broad stone steps and grading to create distinct spaces, two dining areas, new sandstone-lined pond, and pots with dramatic plantings. Concrete pavers make the patio a natural extension of the home, complete with a firepit.
To add life and texture to the formerly asphalt-laden front garden, the team used terracing with stone steps, and added a vintage Lotusland gate, matching metal benches, pots with dramatic plantings, and beds of pink-tinged foliage and pink-hued flowers. A fountain was also added. "Lotusland is the ultimate Montecito garden, so it's only natural that we would be inspired by its beauty," Grace said.
As with all entries into the annual design contest, Grace's name was unknown to the judges; all design briefs and before-and-after photographs were judged anonymously. The judges agreed that the landscape gave an elegance to the settings and an established feeling, despite being new. "Beautiful work and impeccably installed," said one judge, who pointed out that it was apparent the designer had a great feel for perspectives and points of view throughout the property. Another judge commented on the success of the merger of all the elements that make this a great garden.
Grace will be honored at the APLD annual conference in Toronto in September.
The Sycamore Canyon property, which also includes a ranch-style home that was extensively remodeled, is currently on the market. It is listed with Jason Streatfield of Berkshire Hathaway HomeServices. 
You might also be interested in...