Changing Markets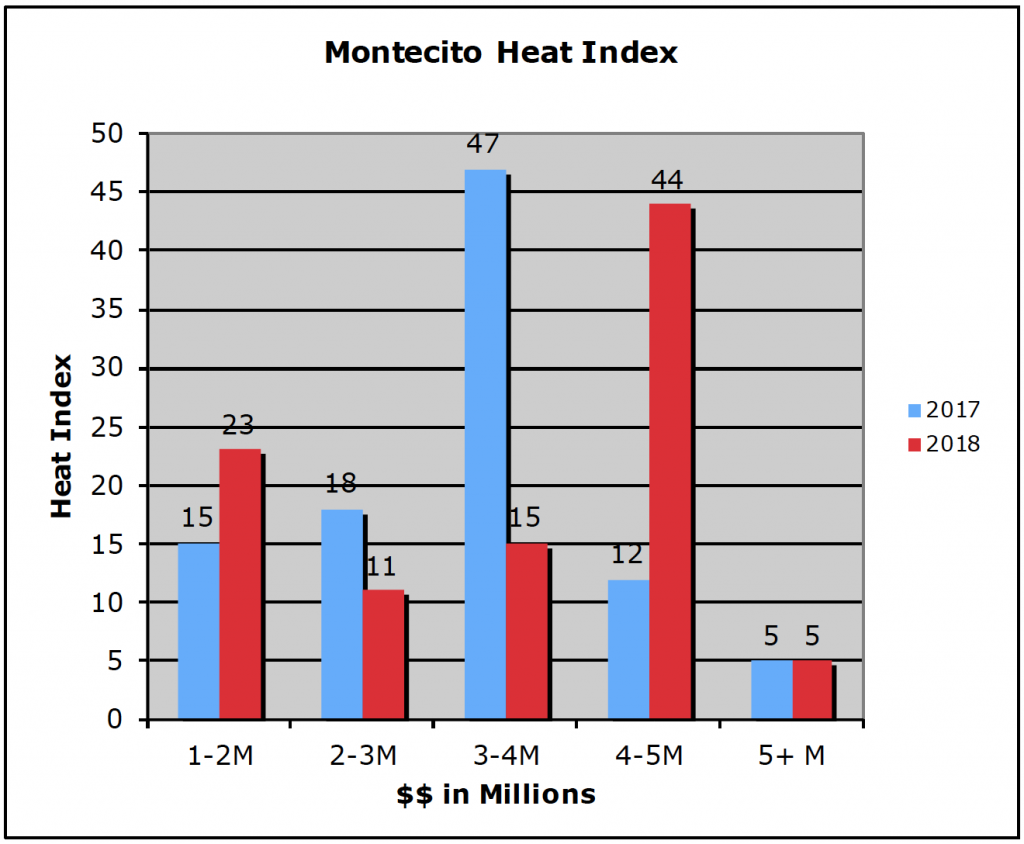 How hot is today's Montecito real estate market? The Heat Index shows us buyer choices for single family homes in five price sectors. Rather than sales data (closed transactions) typically at least 30 days old, we measure current signed contracts (pending sales) resulting in an indication of present demand and market strength and direction.
And since home purchases fluctuate seasonally, indeed monthly, today's Heat is compared to this date a year ago. All data are from the Santa Barbara MLS and are uniformly deemed reliable.
The most recent total Heat score is 98, essentially identical to last year's score of 97, yet quite different as we examine the specific price sectors.
As shown in the Heat chart, the $1-2 million group scored 23, outperforming last year by a sizable 53.3%. The inventory of homes for sale here dropped 92.8% from last year, significantly increasing competition among buyers for homes in this sector. A solid buyer's market here.
The $2-3M group scored an 11 compared to last year's 18. Again, buyers here had less leverage with sellers as inventory declined 57.1% from last year.
Our $3-4M sector increased its inventory by just a bit, yet underperformed last year's demand number by a whopping 213.3%. Last year on this date, nearly half of all homes in this price range were under contract.
The $4-5M group has been the most interesting to watch. Today it is by far our demand leader with a knockout score of 44. Last year, it scored 12 and often it has had no demand at all. Buyers, however, had to sacrifice negotiation issues to claim one of these estate properties. Last year, there were 27 properties in this space; today buyers had only 10 to choose from and nearly half are in escrow. For those with homes in this price range and considering whether to sell, this is an ideal opportunity with both price and terms advantages.
Last month, the $5M-and-over mega estates had shed inventory by nearly half as a result of, I suspect, perceived market uncertainty because of the troubles. Sellers have begun to come back, and today inventory is almost at pre-January levels. Its score today of 5 is identical to last year's. Buyers in this sector continue to have enormous negotiation leverage in the mega estate market here.
Looking at year-over-year data, it is clear that the December-January events continue to impact our market. We are the only area measured in our MLS with a negative year-over-year median price. While Hope Ranch is up 37%, we are down 11% to $2,750,000. Carp and Summerland, also impacted by the fire yet not the debris flow, has struggled back to the same median sales price as last year.
Sales are different than median sales prices and they are down a troubling 33%, giving concern to sellers who have long enjoyed control of the market. Sales in Carp and Summerland are down 16%. And Hope Ranch is showing a sales increase of just 4%.
We are in the height of our selling season and these numbers should be stronger. In addition to the real concern Montecito buyers must have about the coming winter(s), I believe we may also be seeing evidence of buyer pull-back. Prices have increased a remarkable 40% in just the last five years, mortgage interest rates are advancing, and President Trump has limited our property tax deduction to $10,000, which makes every home in Montecito more expensive to own. Even for Montecito buyers, affordability has its limits.
You might also be interested in...