4 Homes in the MUS District
From a mountain cottage to an impeccably well-designed ocean-view condo, from a mid-sized estate with a tennis court near town, all the way up to Oprah Winfrey's mansion property, Montecito offers real estate options for anyone who can afford a purchase price of about $750,000 on up.
To expand on that, an entry level condo or townhome in Montecito will cost roughly, between $750,000 to $1,250,000, with more upscale townhomes and entry level cottages and homes in price ranges from $1,250,000 to $2,000,000+. From $2,000,000 to $5,000,000, we are now talking about a wide variety of property choices, such as a 4-bedroom home on almost an acre, to an ocean-front condo or an architectural statement set within a gated community and so on.
Above $5 million, one starts looking at estates, ocean views, historical properties, prime neighborhoods, homes that for most people represent, a "winning the lottery" dream home. While in this article I feature homes that are on the market (or are when I write it), I also like to share recent sales activity for those interested.
All statistics I present are from the Multiple Listing Service (MLS) that Real Estate agents and brokers use to track properties on the market and in transition. We started June this year strong in sales with nine homes sold in the first 15 days, but the second half of June brought in only four more sales for a total of 13 homes sold in Montecito this June ($34,268,250+/- in total reported home sales).
This is compared to 18 homes sold in the same time frame in 2017 ($71,000,000+/- in total reported home sales) and looking further back, there were 12 homes that sold in June 2016, ($39,660,000+/- in total reported home sales).
The total dollar amounts do not necessarily indicate lower values per property; rather, these total sales dollars are likely more affected by volume of sales and whether the higher-end market saw multiple sales in that month.
Here are four current listings that I found worthy of attention, and all are located within the Montecito Union School District.
231 Butterfly Lane – $2,495,000 – Near the beach and Coast Village Road
Maybe once or twice a year, we see a listing become available on Butterfly Lane above Coast Village Road. This property has been on the market for a couple of weeks, and I am surprised it has not sold yet considering the popularity of the Middle Road area.
 The home includes 4 bedrooms, 3 bathrooms, plus guest quarters/office. There is a deep, 3-car garage and a nice private setting on .4+/- acres. Butterfly beach is only six short blocks away, and the shops and restaurants on Coast Village Road are even closer. Additionally, this is the first time the home has been on the market since 1972, and only two families have ever owned the property, according to the listing information.
1520 Bolero Drive – $3,750,000 – Pool and tennis court in Upper Village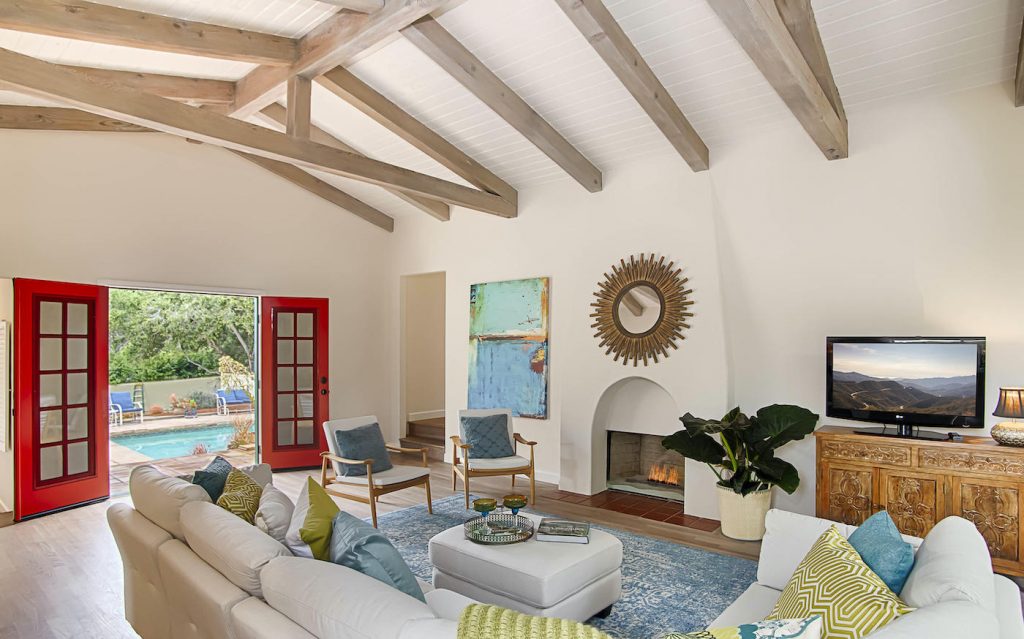 This "mini-estate" is located on a private street, just two blocks from Montecito's upper village shops and restaurants. Set on a 1-acre lot, the home includes 3 bedrooms and 4 bathrooms in more than 3,400 square feet of living space. Beamed ceilings, Spanish tile roof, and tiled patios are features of the home that give the Santa Barbara feeling.
French doors open to outdoor spaces and mountain views. Enjoy the backyard, complete with pool, hot tub, and north/south tennis court. The property is surrounded by a stucco wall and there is parking for guests within the gated motor court, where one will find the detached, 3-car garage.
770 Hot Springs Road – $6,499,000 – Historical G.W. Smith home
Designed in 1929 by local architectural legends George Washington Smith and Lutah Maria Riggs, this home is in almost original condition, providing a rare opportunity for the next owner to enjoy, restore, or remodel with respect to the original architectural integrity of the home.
Set on 1.84 acres on upper Hot Springs Road near East Mountain Drive, this home of more than 8,000 square feet includes a grand-scale dining room, vaulted groin ceiling, impressive staircase and entry, and 7 bedrooms and 7.5 bathrooms. The grounds include a private drive, circular motor court, and mature gardens that were originally designed by Lockwood De Forest.
The realtor for this property informed me that the home was owned by well-known actor Bradford Dillman and his wife, model and actress Suzy Parker, who raised their  children in the home while enjoying decades caring for this important legacy property.
150 La Vereda Road – $6,785,000 – Old World estate, blocks from Miramar Beach
This home is on a private lot in a great location just a few blocks from Miramar Beach, the lower village in Montecito and the prestigious Montecito Union School.
Pairing Old World charm with modern-day amenities, this Mediterranean architectural home, designed by Winsor Soule, maintains its historical integrity and original charm. The main house includes 3 bedrooms and 3.5 bathrooms.
There is a guest house that includes 2 bedrooms and 1 bathroom and an office.  Beamed ceilings, multiple fireplaces, Spanish tile roof, mature landscaping, outdoor fountains, tiled patios, lush lawns, and a pool add to the grandeur of the property and home.
Please contact me regarding your Real Estate needs, or to schedule a showing with the listing agent of any property mentioned here: Mark@Villagesite.com or call/text (805) 698-2174. Or, visit my website, www.MontecitoBestBuys.com, from which this article is based.
You might also be interested in...