How Hot is Today's Market?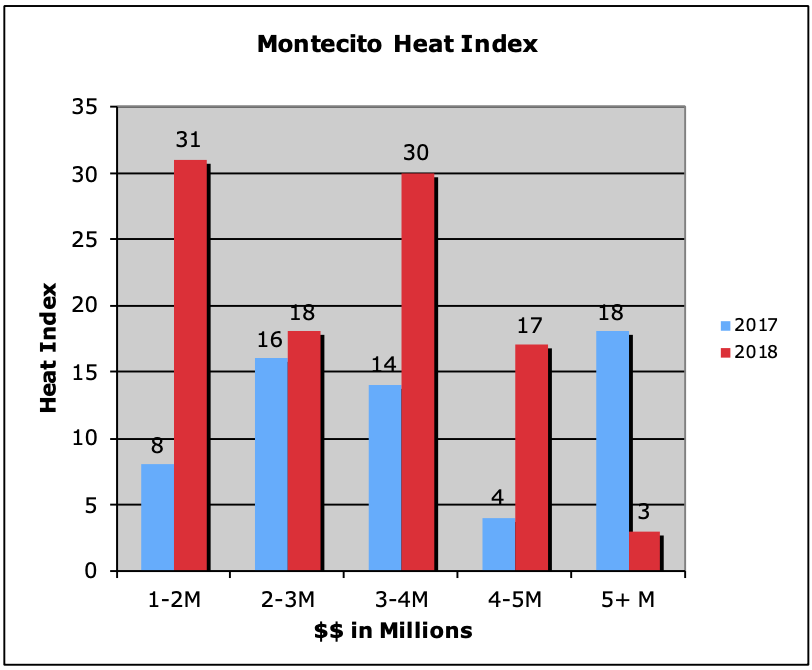 The Montecito Heat Index identifies demand for Montecito single-family homes in five price sectors. By measuring buyer demand, (signed contracts) rather than sales (closed escrows), we create a forward-looking indicator of both market strength and direction rather than sold data that are typically a month or more old. And since real estate activity fluctuates seasonally, today's Heat score is compared to this date last year. All data are from the Santa Barbara MLS and uniformly deemed reliable.
How "hot" is today's market? The total Heat score is 99, far above last year's score of 60.
Looking at the adjacent chart, the $1-2-million group is our demand leader with a score of 31, outperforming the $3-4M group by just one, and the other sectors by considerably more. It notably outperformed last year by a sizable 287.6% with 49% fewer properties for sale in the sector.
Buyers also liked the $2-3M and the $4-5M sectors more than they did last year and for the $4-5M group a lot more, 325% , in fact.
The high-end $5M and up estate properties scored a dismal 3, well shy of last year's score of 18. This sector retreated post-January 9, and today there are 26% fewer of these estates properties on the market than this date last year.
We have all talked about the December/January events much more than we have wanted to do so. Yet the impact of those events upon property values remains a significant concern. The good news, should we call it that, is recovery is happening and we will soon see the first of new building permits on properties that still today makes one want to turn away.
Yet our housing market is still as stunned as we are and in spite of a significant increase in signed contracts compared to this date last year, total year-over-year data are bleak: active listings down 18%, listings under contract down 30%, listings sold down 36%, and our median sales price down 14% to $2,485,000. In fact, our only bright spot is condominiums, which we don't talk about enough. Sold numbers are up 12% and the median sales price is up an extraordinary 43% to $1,675,000.
You might also be interested in...