16th Annual Graduation Edition
Montecito YMCA pre-school, El Montecito Early School, Cold Spring School, Laguna Blanca Lower School, Montecito Union School and Our Lady of Mount Carmel School held graduations the week of June 4.
Crane Country Day School graduation Friday, June 15, will be in the next issue. Congratulations to our town's graduates and their families.
YMCA Preschool Graduation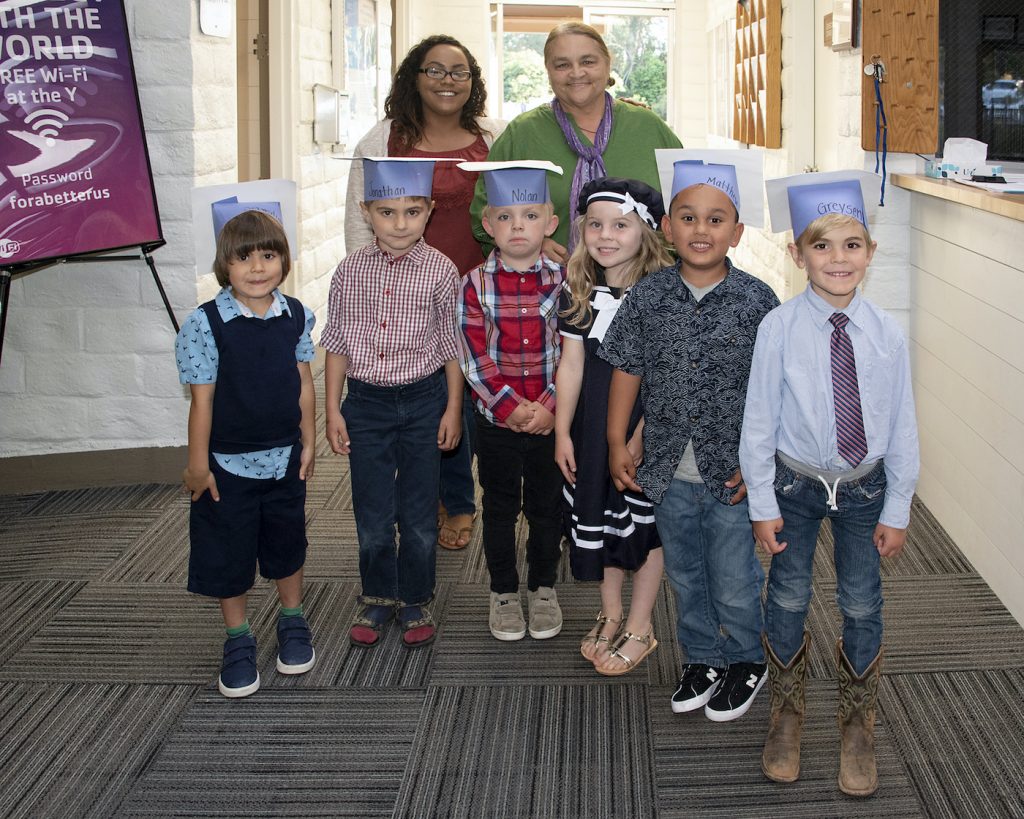 On June 5, the Montecito Family YMCA had its pre-school graduation at their Event Center. The grads with handmade caps on, sang songs, recited three poems, received diplomas and presented their parents with a preschool memory book. Mrs. Annie Fischer, preschool director and Room 3 teacher of 27 years said, "This is celebratory as well as a year of gratitude. The children have had a wonderful year of discovery and learning in preparation for kindergarten, they have played, grown, and learned so much about kindness and love. They enjoy their friends, being outdoors, their families, and God. It has been an eventful year, but we are so glad to be here. We pray for all of those families that have been affected by the fires and floods. May God bless you all. We are so grateful for this year's graduates." Teacher assistants are Mrs. Ruth Ambriz, Mrs. Mindy Andrade, Ms Shianne Motter and Mrs. Janet Langley.
The YMCA Preschool 2018 graduates are:
Sebastian Cheverez, Nolan Conlin, Charlotte Friedman, Matthew Herrera, Jonathan Klare, Mateo Martinez, and Greysen Tenold.
El Montecito Early School Graduation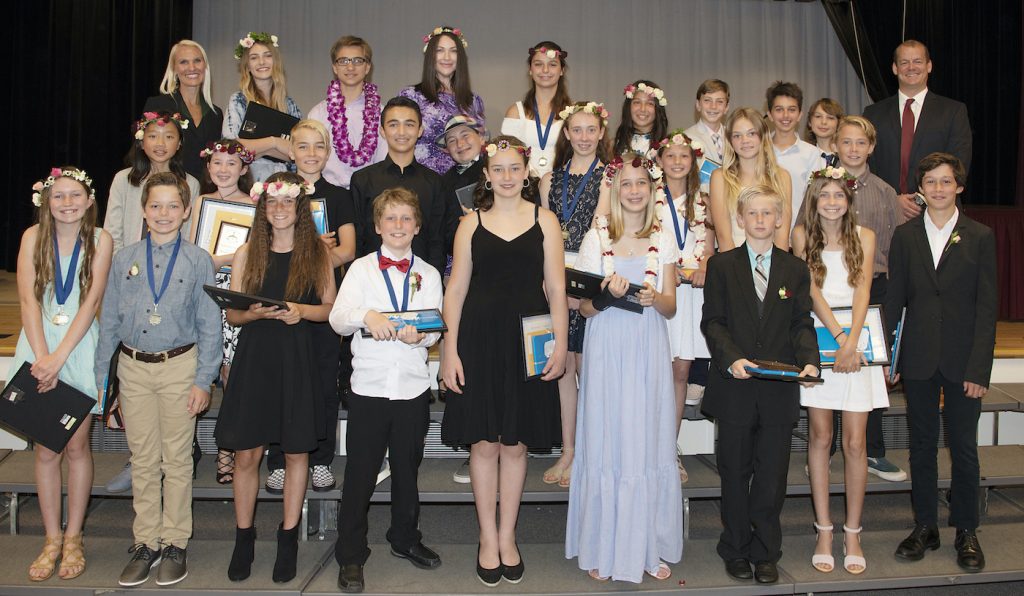 The El Montecito Early School graduation was held on June 6 in the El Montecito Church Sanctuary. Following prayers and speeches, school director Miss Suzy Dobreski called each student by name to the podium where the meaning of their name, a personalized scripture passage and what they want to be when they grow up was read by the teachers, along with receiving their diploma.
Miss Suzy said, "What an incredible group of children – they are ready for kindergarten! I am grateful for the incredible team of talented teachers who have poured into each child during this past year. Our school community and community as a whole showed so much resilience. We are honored to be a part of their preparation for kindergarten and beyond!" The preschool teachers are Melanie Cuxil and Megan Jarrett. Following the ceremony, the students received a white rose and a Bible. A reception was held in the Parish Hall.
El Montecito Early School graduating class:
Abigail Victoria Dilbeck, Arian Entezari, Ava Noelle Padden, Benjamin David Loya, Brooke Annalise Adler, Camille Adrienne Blanc, Christopher Robert LoMonaco, Claire Anne Bermudez, Colton Matthew Bryant, Ella Iris Arconian, Genevieve Cora Bragg, Greyson B Hamdy,Harrison Bradley Barlow, Helene Draper Eldred, Lillian Marie Schock, Louisa Wharton Walmsley, Lucia Larissa Lopez-Solis, Mila Paloma Hernandez, Osborne McCoin Whitworth, Rayna Marie Braverman, Renee Lucia Overgaag, Rose Noreen McQuade, and William Alexander Sweeney.
Cold Spring School Graduation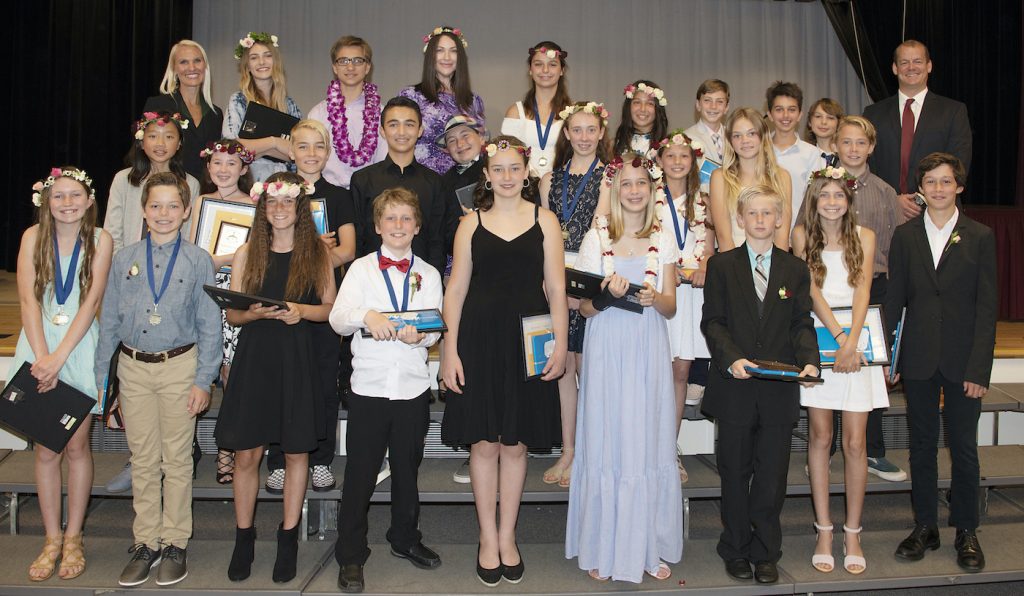 The Cold Spring School (CSS) sixth-grade graduation was held June 7 at the school's auditorium. The ceremony commenced with a slide show of the graduating students' years at CSS. New this year was the wearing of fresh flowers by the students, girls wore a flower crown in their hair and boys wore a boutonnière. The students sang the song "Remember Me". CSS superintendent and principal Amy Alzina, Ph.D. welcomed everyone, "As I reflect upon this resilient group of Cold Spring School sixth-grade students and their faith in a brighter tomorrow, my heart is filled with hope because I know our children have seen and now understand how true empathy, problem-solving, and teamwork lead to a cohesive community, centered around what truly matters – loving one another! The Thomas Fire and January 9 debris flow may have destroyed many of their homes and took the life of their beloved classmate, but it didn't destroy their motivation and desire to make the world a better place! I am so incredibly proud of them! Congratulations, Cold Spring Students!" Student speeches by Maya Hayashida, Madelyne Herbert, Sophia Orwig, and Haven Lindsey focused on quotes from Maya Angelou – in particular, getting along with "no judgment."
Their teacher, Justin Pierce, talked about the graduating class with both tears and a smile as he reflected on their capacity to grow up emotionally so fast and come together to help one another as family, given the tragedies of their last year at CSS and loss of their classmate Sawyer Corey, whose diploma was given to a family member after the graduation. Also present was the school's therapy dog, Sage. Dr. Alzina, Justin, Board of Trustees president Jennifer Miller, Rebekah Prato (special education teacher), and Lindsay Stark (instructional assistant) presented the diplomas. As per tradition, a statement about where they would be 10 years from now and character strength was read for each student. A reception was held in the school courtyard.
The CSS graduates are:
Oliver Andrews, Sophia Blake, John Contakes, Summer Corey, Amelia Dektor, Hugh Diehl, Luke Fenton, Jack Garcia, Jordyn Garcia, Griffin Garfield, Macie Garfield, Maya Hayashida, Madelyne Herbert, Aiden Kneafsey, Sofia Kramer, Haven Lindsey, Ingrid Lu, Cole Miller, Valentina Navetta, Samantha Nestlerode, Sophia Orwig, Sebastian Salsbury, James Shiach, Jacob Sturm, and Dana Whitney.
Laguna Blanca Lower School Graduation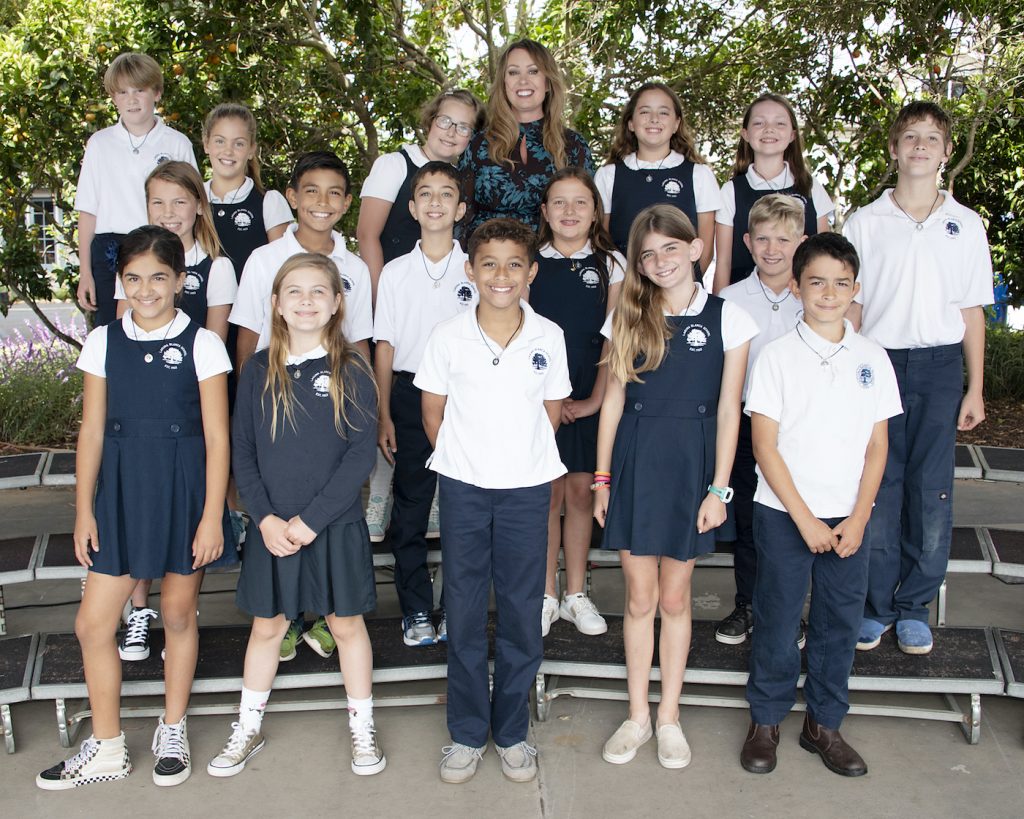 The Laguna Blanca Lower School Fourth Grade graduation was held at the Lower School Campus on June 7. Presenting were the head of Laguna Blanca School Mr. Rob Hereford, chair of the Board of Trustees Mr. Hani Zeini, head of the Lower School Dr. Andy Surber, and fourth-grade teacher Ms. Farrah Martin, instructional assistant Ms. Amelia Ribbens and members of the Lower School Faculty. Dr. Surber said, "I could not be prouder of this year's graduating fourth graders. This is a talented class of thinkers and do-ers. Given the events we all faced in Montecito this year, these Laguna Blanca Owls have proven that we can learn and grow from difficult experiences by using a growth mindset and a positive attitude. We wish our fourth graders much success as they move to the Middle School on our beautiful Hope Ranch campus!" Each fourth grader was given a diploma and the traditional owl necklace. The fourth graders performed the song "Light in the Darkness" and concluded the ceremony with their parachute performance.
Laguna Blanca fourth grade graduates are:
Kona Castillo, Beckett Clark , Evie Comis , Sarah Conviser, Niccolo D'Agruma, Skyla Delwiche, Nahum Duron Angeles, Brandon Fuladi, Charlotte Haimerl, John Hereford, Julian Kocmur, Isidora Moller, Isabelle Regeer, Veronica Tate, Tomas Tkacik, and Sadie Young.
Montecito Union School Graduation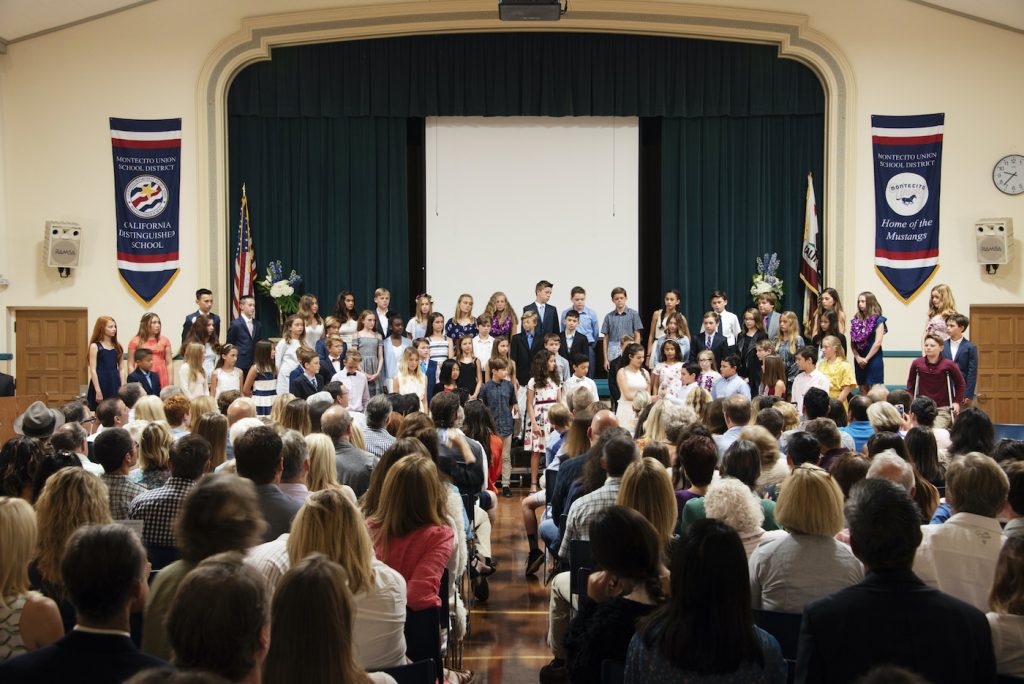 The Montecito Union School (MUS) sixth grade graduation was held June 8 in the school's auditorium. The ceremony began with the traditional slideshow of student memories following the procession of the students. Students Benjamin Richmond and Mila McGonigal welcomed the guests and led the Pledge of Allegiance. Students Lily Kozlowski, Sienna Boyce, and Georgia Brown gave addresses, and the mic was passed around for various student comments. Music director Pam Herzog conducted the graduates in songs including "AmericaThe Beautiful", "Together Wherever We Go", and the "For Good". The MUS String Ensemble performed "Pas". Fifth grade teacher Doug Bower gave a commencement message.
Presenting the diplomas with Mr. Ranii were MUS principal Nicholas Bruski and MUS Board members Gwyn Lurie, Kate Murphy, Marilyn Bachman, Chad Chase, and Peter van Duinwyk. Sixth grade teachers are Mrs. Kim Berman, Ms. Kim Fuller, Mrs. Patty Malone, Ms. Katie Nimitarnun, Mrs. Danielle Weill, and Mrs. Jennifer Wilson.
Superintendent Ranii said, "Although they have been outstanding every year, this year our sixth grade students showed resiliency, leadership, and incredible strength under extraordinary circumstances. We wish them all the best in their future endeavors and know they will go on to change the world for the better." Ending the ceremony, the students sang the "MUS Graduation Song" by Kenny and Eva Loggins.
The MUS graduates are:
Angelina Adams, Jesus Salas Arriaga, Talya Zohar Asayag, Caio Mota Baril, Izadora Mota Baril, Ava Elizabeth Benhayon, Lain Moran Biles, Elizabeth Whitney Blakeslee, Sienna Rose Boyce, Georgia Marie Brown, Maxim Buymov, Lucia Catherine Camp, Victoria Karsu Chow, Sawyer Jane Baker Corey, Summer Sloan Baker Corey, James Couvillion, Bella Louise DeJohn, Michael Patrick Denver, Sasha Chance Drucker, Andreas Dybdahl, Sienna Dybdahl, Caitlyn Emily Early, Cassidy Asher Ebbin, Isabella Delfina Fabio, Minnie Marcelle Fehr, Diego Alessandro Gianni, James William Glanville, Dashiell Hamilton, Ryken Sawyer Hammond, Ford Harman, Will Harman, Sophie Hernandez, Phil Ittstein, Raglan Kear, Cosima Kerber-Snyder, Max Roberson King, Lily Kozlowski, Joseph Rowland Lechuga, Louis Leclercq, Amelia Linnea Lundgren, Jayna Melayne Malmsten, Andreas McClintock, Mila Mae McGonigal, Penelope McKean, Mac Walker McKittrick, Christa A. Moelleken Lezama, London Madison Moro, Alexander Murren Doherty, Cierra Rogers Nervo, Owen Noble, Ella Lillian Pennestri, Olivia Pires, Rowan Bruno Rapp, Robert Kristian Reyes, Lily Gene Rice, Benjamin Richmond, Nico Scibird, Cole Sharpton, Levin Philip Smith, Alice May Sperling, William Robert Stoll, Addison Kehaulani Sweeney, Helen Rose Twining, Emerson Werner, and Drake Strummer Young.
Our Lady of Mount Carmel Graduation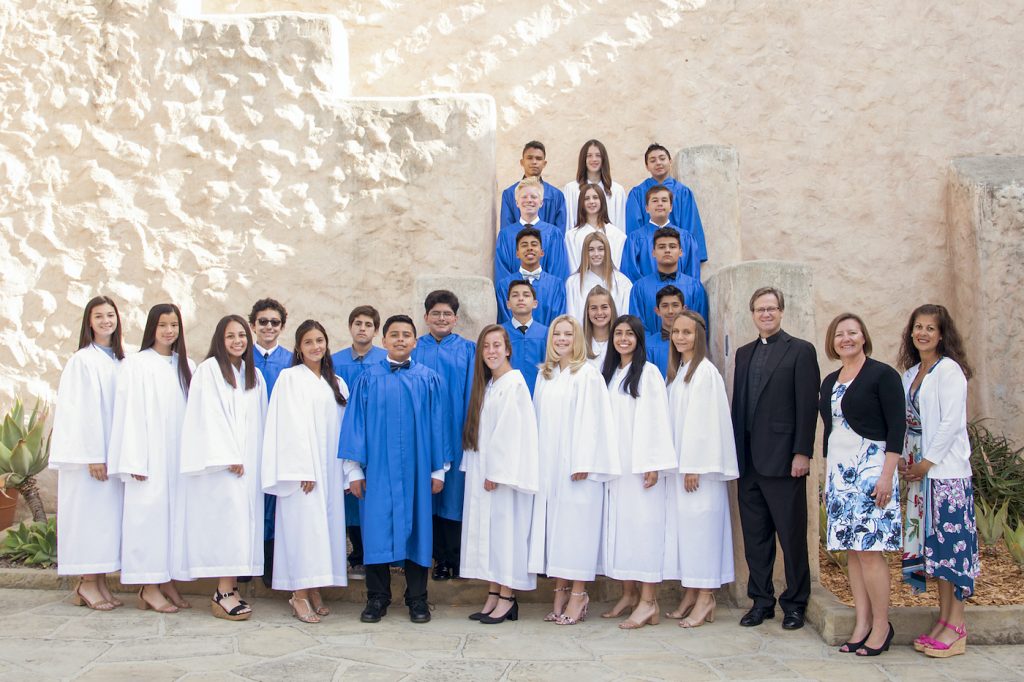 Our Lady of Mount Carmel (OLMC) eight grade graduation was on June 8 at the OLMC Church. Principal Tracie Simolon, 8th grade teacher Angela Sturdivan, and new pastor Lawrence Seyer, followed the graduates' procession into OLMC Church for Mass and the graduation ceremony. Graduates were the readers for the Mass. Student Body president Julianna Forry gave the graduate address. Ms. Simolon said, "This year's graduating class is highly spirited and blessed with a variety of gifts and talents. Many of them have been together since kindergarten and have become a second family to one another. While their last year at OLMCS was a trying one, it has brought them closer as a class and saw them serving as role models to their younger schoolmates. It is with pride that we send them forth and congratulate them on their graduation!" The ceremony ended with their class song, "Lean On Me" by Club Nouveau. The students and their families gathered on the front courtyard of the church for hugs and congratulation wishes.
The OLMC eighth grade graduates are:
Sebastian Alvarez, Halie Bissell, Athena Bow-Graham, Charlotte Caesar, Kaed Caesar, Maliah Cortes, Richard Escoto Ortiz, Matthew Fernandes, Natali Flint, Julianna Forry, Gavin Gettman, Mateo Handall, Nicolas Hernandez, Caitlin Hubbs, Luis Huerta, Aryana Mahboob, Rowen Manriquez, Riley Peterson, AiYan Shefflin, Miguel Unzueta, Juan Valtierra Moros, Mia Velazquez, Anthony Villa, and Chloe Wilcox.
You might also be interested in...