Story Time
Three former UCSB students have become pedal peddlers!
The tony triumvirate of Mark Gustafson, Jason Lam and Matt Soares have launched electric bicycle brand Story Bikes, selling them to avid cyclists and also donating to the charity World Bike Relief.
"It all started two years ago when we were in Santa Monica and rented electric bikes to try for the first time," says Mark.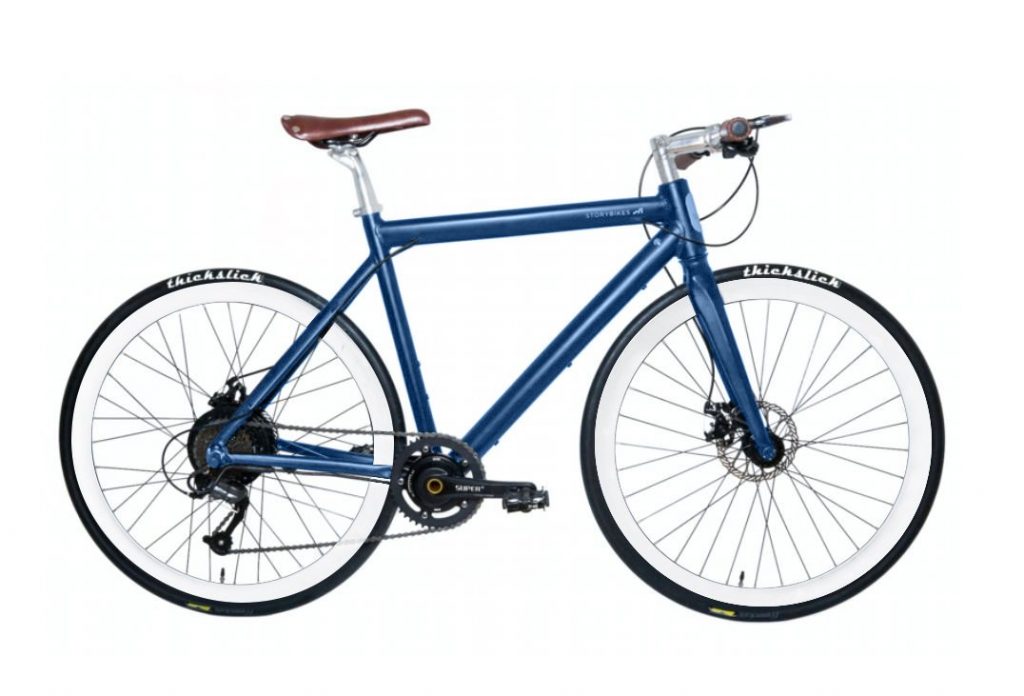 "We realized how fun they were and it was a great way to get around, get us out of our cars and back on our bikes like college days."
As a former competitive cyclist, Mark wanted to find a bike that was stylish and well-built, but still affordable.
"But everything on the market was expensive, bulky, and not the look that any of us would want to ride."
After multiple prototypes, the dynamic threesome came up with the models they are selling today with the patented design hiding the battery in the frame using the latest technology, along with a USB port to charge your phone or Bluetooth.
It can go from Montecito to UCSB and back on one charge.
"We didn't just want to create a product, but a lifestyle brand with a bigger purpose," explains Mark.
"Through our various experiences and travels, we had seen the drastic need for improved models of transportation in developing countries, so we decided we wanted to be a true one for one company, donating a regular bicycle to those in need for every Story Electric Bike sold."
In their research, they found World Bike Relief, which donates to school children, health care workers, and entrepreneurs in developing nations.
"The power of just one bicycle on a community is profound," adds Mark. "It helps those overcome the obstacle of distance and thrive."
The team will be traveling to Zambia in the fall to help the charity deliver the bikes first-hand.
To date, the company – which was launched on Kickstarter last year – has sold 120 bikes, varying in price between $1,390 and $1,690, and donated more than 200 to World Bike Relief.
They can be contacted on the website www.storybicycles.com
Dead End
The widow of the man who was driving the Porsche during the crash that killed Santa Barbara actor Paul Walker has settled the lawsuit against the German car manufacturer.
Kristine Rodas, who was married to auto racing shop owner Roger Rodas, had accused Porsche of producing faulty mechanics.
Rodas and the Fast and Furious actor died when the 2005 Carrera GT spun out of control on a city street in Valencia and burst into flames after hitting a power pole and several trees.
Walker, 40, and Rodas, 38, both died at the scene of the crash in November 2013.
According to court papers seen by The Blast, Kristine has filed a notice explaining her suit had been "settled in its entirety," meaning there case can be concluded.
The Porsche was going between 80 and 93 mph in a 45 mph-zone when it careened off the road.
It is not the first time the widow has sued Porsche – she filed a suit for wrongful death-product liability not long after the crash.
But her argument the car was ill-equipped to handle side impact was deemed moot, since the fatal force came from the front when it hit the lamppost – and her own expert confirmed.
U.S. District judge Philip Gutierrez also rejected the front impact argument because Rodas's fatal injuries occurred when he was actually hurled into Walker.
He also concluded Rodas's lawyer had not presented evidence demonstrating the crash was caused by a defective suspension.
But Kristine filed an appeal that was set to be heard next month.
The case, however, has now been settled – although the details were not disclosed.
Wooden It be Nice
The violin ruled supreme at Santa Barbara Symphony's penultimate concert of the season at the Granada under the baton of maestro Nir Kabaretti.
Illustrious Los Angeles-based violinist Anne Akiko Meyers, who studied at New York's Juilliard School, teamed with the orchestra's concertmaster Jessica Guideri, in Vivaldi's Concerto in A minor, with Meyers showing her obvious talent going solo on Samuel Barber's violin concerto.
The entertaining concert wrapped with Rimsky-Korsakov's crowd-pleasing Scheherazade.
In June, the final show of the season, The Red Violin with Canadian-born violinist Lara St. John, playing along with the film – delayed after the disasters of January – will take place.
You might also be interested in...