Montecito Heat Index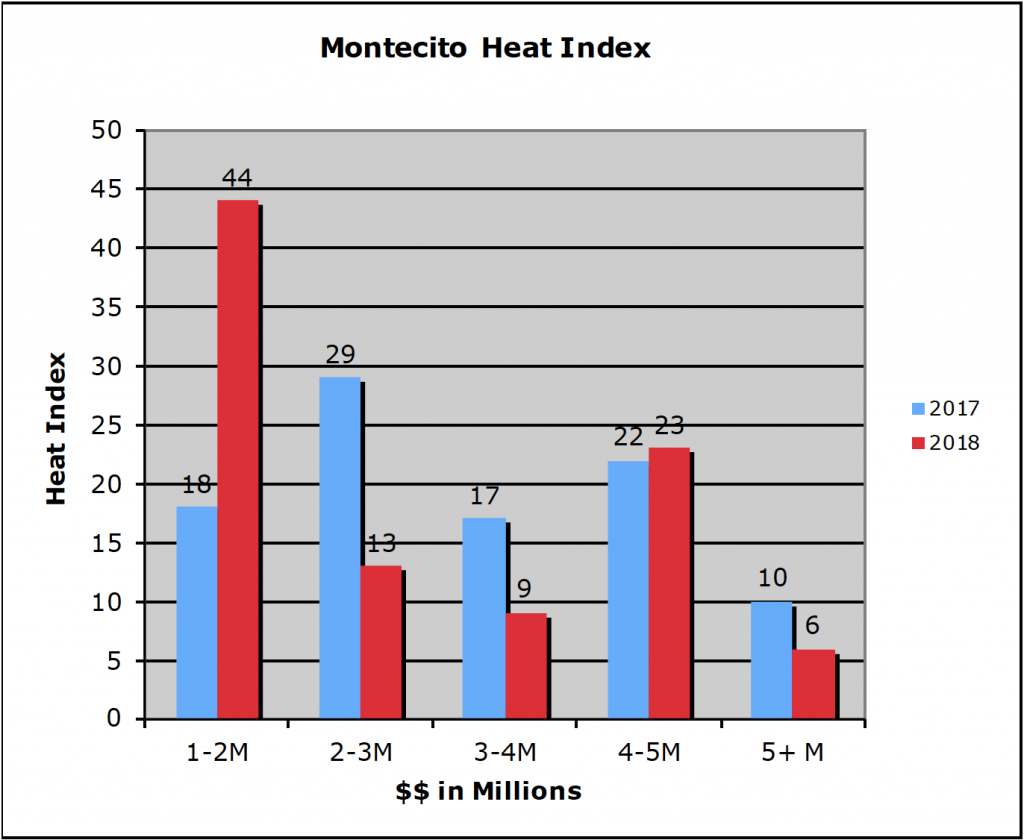 The Montecito Heat Index illustrates demand for Montecito single-family homes in five price sectors. By identifying buyer demand, (signed contracts) rather than sales (closed escrows), we create a forward-looking indicator of market strength rather than sold data often more than a month old. 
And since real estate activity fluctuates seasonally, today's Heat Score is compared to this date last year. All data are from the Santa Barbara MLS and are uniformly deemed reliable.
So how "Hot"is today's market? Today's total Heat score is 95, practically identical to last year's score of 96, yet significantly higher than last month's score of 63.
Looking at the adjacent chart, the $1-2M group is clearly our demand leader, outperforming all other sectors and besting last year by a sizeable 144.4%. Nearly half of the houses in this group are presently under contract and heading to closing.
Buyers also like the $4-5M sector scoring a 23 compared to an equally strong demand last year for this group. These estate properties found much more attention than either the $2-3M or the $3-4M sectors, which underperformed by nearly 50% compared to last year. And the high-end $5M and above estates continue to stay rather quiet, scoring a 6, just off a bit from last year's 10.
Since the December and January troubles, we have been closely watching for the impact those events might have upon our housing market. Would there be a rush to exit with discounts to market for quick sales? Would buyers remain on the sidelines uncertain about joining a community in recovery and facing years of potentially dangerous rain seasons? With 10% of our housing stock destroyed or in need of major repair, would unaffected properties fair better than before?
It is difficult to believe that it has been nearly six months since the Thomas fire forced our first first evacuation. And it still isn't completely clear, at least to me, how the market is responding. We do know for certain, that there has not been a rush to list and sell. In spite of those horrific events which have impacted all of us in varying degrees, few homeowners appear to be leaving. This is demonstrated most directly in the high-end estate properties many situated in the vulnerable foothills. Last May, there were 23 listings in the $4-5M sector, today there are 13, and where last May there were 80 listings in the $5M and above group, today there are just 47. This group has had 70 or so active listings for years. Without doing the precise math, it looks like half of these properties were taken off the market. There is no doubt but that the high-end is staying put. Look back to the market meltdown in 2006-07; the same thing happened. As the market eroded, the high end put their hands in their pockets and waited. Although not as pronounced as the upper end, in truth, there has been no increase in inventory in any sector. The saying that markets hate uncertainty might apply best here.
And the year over year numbers demonstrate this. Listings in Montecito are down about 25% and sold properties are down a significant 43%. In contrast, Hope Ranch listings are up 27% and sold properties are up 37%. And we are seeing an effect on prices as well. Every area around us except Carpinteria, which was also impacted by the events, is enjoying an increase in median sales price: Hope Ranch up 41%, East of State up 12%. We are down 5%.
So, how to view this? Disaster as we have just experienced will have market impact. They always do. The saying that markets hate uncertainty might apply best here. It seems important, however, that buyers have not retreated either; demand, admittedly focused more upon the low-end, is nearly identical to last year in spite of mortgage rates at a seven-year high. It could have easily been different. Buyer's could have walked away. When seller's feel more confident and jump back in, we should start to more fully participate in an otherwise robust local market.
You might also be interested in...