AHA! Teens Fire & Flood Peace & Resources Event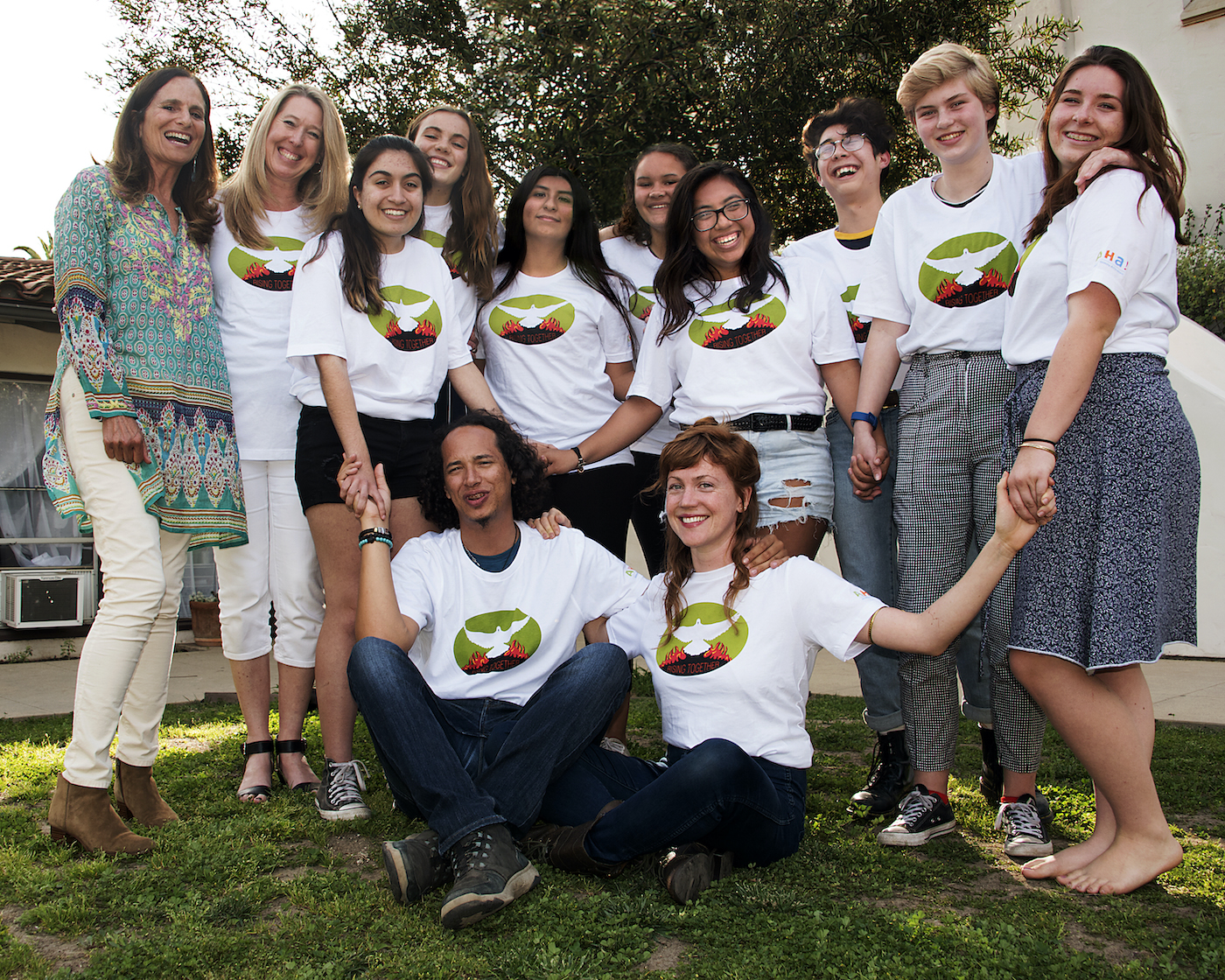 AHA! Co-founders and directors Jennifer Freed and Rendy Freedman are pleased to announce "Rising Together", a free community event for the South Coast area to find support and resources post the Thomas Fire and Montecito mudslide. The event is set for SB City College West Campus on Saturday, April 21, at 9 am. It was spearheaded by the AHA! Peace Builders and AHA! After-School Creative Group, comprising teens from the SB-Montecito-Carpinteria school districts who took their annual peace event to the next level and addressed what they view as an important immediate need for support and healing our town.
The highlight is attendees are invited to form a large "peace dove" formation, to be aero-photographed and designed by artist Daniel Dancer of Art for the Sky. The concept is that the actual victims of the disasters will be the living medium, "a white dove rising from flames and mud, a symbol of our capacity to come together to joyfully heal and rebuild." Peeps who wish to be in the formation must register to receive a T-shirt and placement in the formation. Musical guest artist is Ventura's singer-songwriter Rob Write who launched his single, "State of Emergency", at Ventura's fundraiser with Kevin Costner, Olivia Newton-John, Colby Caillat, Big Bad Voodoo Daddy, and Super Duper Kyle. Also at the affair will be local agencies, organizations, and businesses with support and networking information.
I interviewed Jennifer while an AHA! Teen group was rehearsing music:
Q. Why the name AHA!?
A. We started in 1999 after the Columbine High School massacre, so that no teen would feel that much hatred to others and themselves, and coined AHA to mean attitude, harmony, and achievement, with an exclamation point to say "YES!" to attitude, harmony, and achievement. It's a nonprofit. Rendy and I had been working a lot with teens already and saw a need in this community to provide a program that taught young people socio-emotional skills to manage their emotions, set goals, healthy relationships, and resolve conflicts to be skilled for the 21st century. We have 25 staff, work with 3,500 teens directly, reach another 2,000 with teacher training, and our goal is to create a community where our teens are leaders of kindness and compassion.
So, your program is integrated in the local public schools – how hard was it to get there?
It was quite a challenge to earn the trust of the public school system for the first few years, but it was such a success that we have programs in every junior high and high school in SB-Montecito-Carpinteria. We care about teaching teens skills to help themselves, and each other, life skills.
Tell us about Rising Together.
It's an event led by these young people for everyone. We recognize that we've all gone through a big disaster. And the young people really care about community and want everyone to rise together. It's not a fund-raiser! Put the code "FREE" in the event website to register. We have the white T-shirts for people who want to be part of the "dove" formation at the event. We're all going to be much better in Montecito-SB when everyone knows their futures are linked.
How was this spawned?
We have 200 AHA! Peace-builder teens whose mission is to make all communities feel welcome and together, and we wanted to have a project for them to work on with them leading it, and it having a positive result.
Was the peace project something they were going to do prior to the fires/mudslide?
YES! We were going to do some peace event about communities. Then the fires and mudslides happened and many of us were impacted, and we became separated for a while. When we came back after the evacuations, we decided to focus the peace project on us coming together and making a better society and community, and especially around recovering from trauma and disaster.
I next interviewed teen Alexa Sisney, who will be the emcee of Rising Together; she is a junior at SB Middle College:
Q. Were you affected by the fires?
A. Yes, a lot of my mom's clients lost their homes, and we lost contact with our friends, some of our friends' friends lost their classmates.
How did you "rise" to be the emcee of the Rising Together event?
I showed that I really wanted to do it. I took the initiative and said I really want to speak at the event! I have the great pleasure of announcing a great musician, Rob Write, and I get to speak and bring the community together.
What would you want to let peeps know about your group?
We [the teens] really do embody the spirit of the SB community and are working together as a team, coming together emotionally, mentally and physically, we're all sharing the same uniting force that we want to enact change and heal our community. That's the golden nugget. We are the embodiment of what we are doing.
411: www.ahasb.org
You might also be interested in...