More at Montecito Center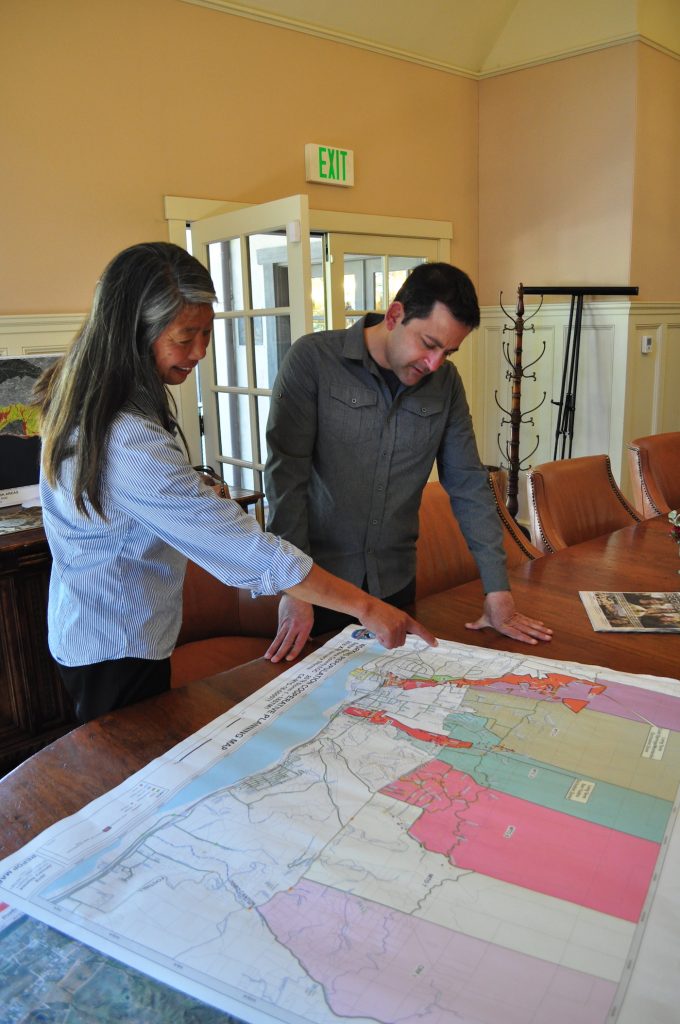 Three weeks after opening on Coast Village Circle, the Montecito Center for Preparedness, Recovery, and Rebuilding – dubbed "the Montecito Center – is living up to its mission of being a key source of support, information, and resources for those needing access to services and information related to the recovery and rebuilding process.
Last week (MJ #24/12), we told you about the 805 Conservation Collective, a group of volunteers helping residents salvage and preserve personal items damaged from the mud who set up a "pop-up lab" at the Montecito Center. Now, the center has announced another partnership: the American Institute of Architects is sponsoring an ongoing presence at the Montecito Center, to help homeowners navigate the complicated process of rebuilding their properties.
After the Tea Fire in 2008 burned 230 homes in Montecito and Santa Barbara, a temporary Tea Fire Relief Center was built in the parking lot of Cold Spring School, to help fire victims navigate the rebuilding process. That development helped community leaders determine a rebuilding formula for future disasters. "Our mission is similar for the January debris flow, but on a much grander scale," said Adele Goggia, an architect and land-use professional who was an integral part of the Tea Fire Relief Center, which was open for three months after the fire and was staffed and supported by such community leaders as Abe Powell, J'Amy Brown, Claire Gottsdanker (who lost her home in the fire), and then First District supervisor Salud Carbajal.
"Some people just don't know where to start, and we are here to help," Goggia said, adding that herself and two other architects will staff the Montecito Center. Goggia was clear that her role in staffing the Center is not to attract business, but to be a liaison between homeowners and Planning & Development staff. "I'm here as a member of the community and a land-use professional, to share my knowledge of the permitting process with those who need it," she said. Her employer, Harrison Design, is "donating" Goggia to the cause two days a week; the Cearnal Collective and one other anonymous donor is also helping to provide staffing.
"Every property is unique in the path it will take for rebuilding," Goggia said, adding that the many issues involved are complex. Homeowners are eagerly awaiting new maps, a collaborative effort from FEMA and Santa Barbara County Flood Control, which will determine which sites are rebuildable and with what stipulations. "On top of the trauma and recovery of losing their homes, belongings, and loved ones, they are faced with many complex rebuilding issues. We want to bridge the gap for them, so they have help to navigate the process," she said.
"This new partnership with AIA is exactly what the center was built for," said Community Recovery and Engagement coordinator Ben Romo, who is overseeing the County-run facility, which is funded in part by FEMA. "The right people being part of the solution," he said. The Montecito Center is located at the Orfalea building at 1283 Coast Village Circle. The phone number is (805) 845-7887 and the email address is: montecitocenter@sbcoem.org.
While many homeowners are already in the process of repairing and cleaning up minimally affected homes, others are still facing the key challenge of removing debris and mud at an affordable price. Last week, the SB Board of Supervisors approved a short-term solution for debris removal, allowing private debris to be taken to the Tajiguas Landfill and stockpiled and sorted. Only franchise waste haulers and other account holders may deposit waste at Tajiguas, which is not open to public dumping.
Loads of less than one ton of material will not be accepted at Tajiguas but referred to the County South Coast Recycling and Transfer Station or the MarBorg Industries Construction and Demolition Facility. Rates are based upon inspection of the material. Haulers wishing to use the Tajiguas Landfill, located between El Capitan and Gaviota off Highway 101, must first establish an account by contacting the Santa Barbara County Public Works Department at (805) 568-3129 or visiting www.lessismore.org/materials/286-tajiguas-account. Cash is not accepted at the landfill.
Santa Barbara County is also working diligently to find additional options for local property owners to dispose of their debris due to concern that the Tajiguas Landfill and other outlets will reach their capacity within a short time frame, if filled with rock and other materials, impacting the ability of the landfill to continue to take trash from the South Coast. "Finding more large-scale sites on the South Coast to manage debris material has been very difficult," said the County's director of recovery, Matt Pontes. "The County will continue to aggressively evaluate potential local sites, as well as reach out to neighboring counties for the use of their facilities," he added.
In the meantime, other options are being recommended by the County for debris on private property, including a Materials Exchange Website (www. sbcountymaterialexchange.com), a convenient and mutually beneficial way for the community to share usable materials such as rocks, soil, mulch, boulders, and other natural materials that can be repurposed for other landscaping needs.
Additional locations outside of the County may be available for material transfer; a full list of sites currently accepting material can be found at www.ReadySBC.org. 
You might also be interested in...