Grill Thrill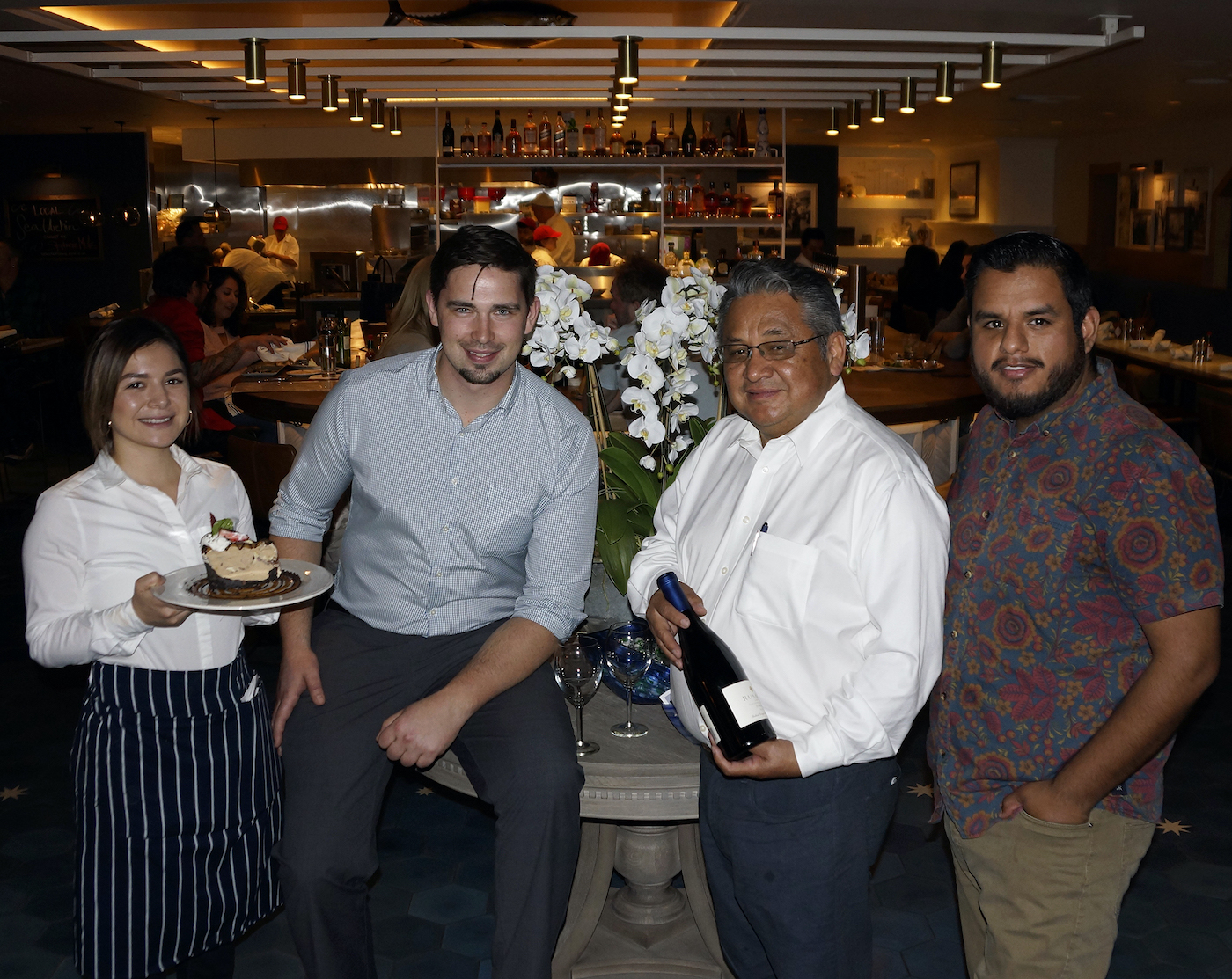 To the Bluewater Grill, the buzzing new seafood eatery just a tiara's toss from Stearns Wharf.
The restaurant, formerly Rusty's Pizza Lighthouse and the Castagnola Lobster House, has been in business for 21 years after being established in Newport Beach by partners Rick Staunton and Jim Ulcickas, and now has branches in Redondo Beach, Coronado, Tustin, Carlsbad, Temecula, and Phoenix.
The kitchen run by Chanel Ducharme, formerly of the Hungry Cat, and overseen by executive chef Jason Mazur, serves 40 types of seafood, working directly with the Seafood for the Future program at Long Beach Aquarium and the Monterey Bay Aquarium, including fried Ipswich clams from Cape Cod, softshell crabs from Maryland, Petrale sole from the San Francisco Bay Area, Dungeness crab from the Pacific Northwest, and sand dabs from southern California.
The eatery, which is run locally by Colin Lohenry from the original nosheteria, even has its own fishing boat, Pilikia, which is used for humanely harpooning swordfish around the Channel Islands, avoiding the use of nets or long lines.
After starters of sea urchin and oysters, my trusty shutterbug Priscilla and I tucked into blackened sea bass and trout, while quaffing Avignon cabernet sauvignon and Patron tequila, rounding off the scrumptious repast with key lime pie and mud cake.
Bluewater Grill also supports Round Up America, a nonprofit that encourages patrons to "round up" their bills to the nearest dollar to support local causes, including the Thomas Fire and Flood relief.
A fun addition to Santa Barbara's bustling dining scene.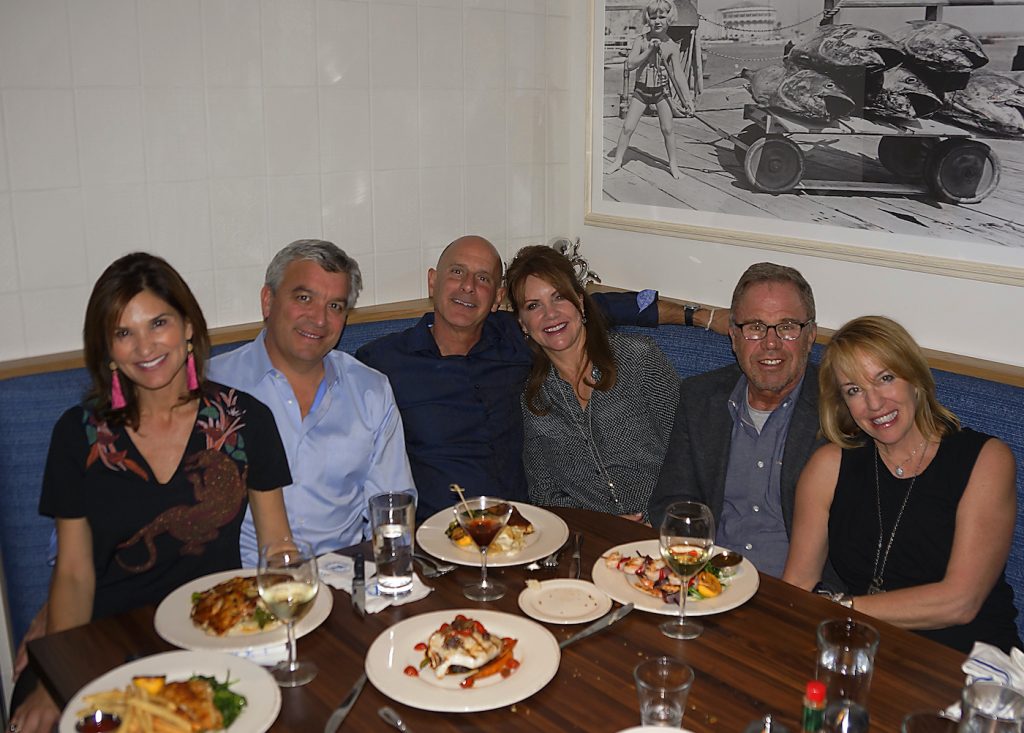 Bell of a Show
Violin virtuoso Joshua Bell, who has appeared in our tony town innumerable times with UCSB Arts & Lectures and CAMA – Community Arts Music Association – was back on the cavernous Granada stage performing with the esteemed London's Academy of St Martin in the Fields, which he has conducted for seven years since the death of founder Sir Neville Marriner.
The ever-youthful musician, who celebrated his half-century in December, was on the top of his form in the CAMA show with Mendelssohn's overture from A Midsummer Night's Dream, Wieniawski's concerto No. 2 in D minor, and Beethoven's glorious Symphony No. 6 in F Major, the Pastorale.
No wonder his albums Romance of the Violin and Voice of the Violin soared to number 1 in the charts.
He can't come back soon enough.
String Along
Santa Barbara Strings hosted its 7th annual Artistry of Strings benefit concert at the Music Academy of the West's Hahn Hall featuring the talented quartet of founder Mary Beth Woodruff, violinist Jane Chung, violist Basil Vendryes, and cellist Andrew Smith.
The charity, founded in 2009, runs teaching programs for young string musicians aged 5 to 18 working with 26 different schools in Santa Barbara, Ojai, and the Santa Ynez Valley.
An evening of high note featuring works by Mozart, Austrian composer Anton Webern, Brahms, and Haydn's Quinten string quartet with violin students Talia Honikman from Dos Pueblos and Vincent Lertchareonyong from San Marcos, violist Moonman Whitehead from Westmont College, and cellist Aidan Woodruff from Solvang Middle School.
Perry Good Time 
Santa Barbara warbler Katy Perry, who is reportedly raking in $25 million as a judge on the ABC-TV reboot of American Idol, should be happy.
The show attracted more than 10 million viewers with its debut, the network's biggest Sunday night with regular series programming since 2012.
The talent show series, again hosted by Ryan Seacrest, ended on the Fox TV network two years ago.
Katy's other colleagues on the judging panels are singers Lionel Richie and Luke Bryan.
The former Dos Pueblos High student, who made a surprise appearance at the Kick Ash benefit bash last month, is back in our Eden by the Beach for a concert at the Santa Barbara Bowl on May 19 billed as A Benefit For the Community: Our Neighbors, Our Heroes, which will boost local charities assisting those impacted by the Thomas Fire and flash floods.
Curious George
Star Wars director George Lucas has finally broken ground on his $1 billion Museum of Narrative Art in Los Angeles after a decade of legal wrangles in San Francisco and Chicago.
The filmmaker, who has a beach house in Carpinteria near Oscar winner Kevin Costner and TV talk-show host Conan O'Brien, funded the massive project himself after selling his production company and the rights to Star Wars to Disney for $4 billion in 2012.
The five-story, 300,000-sq.-ft building in Exposition Park, near USC – where Lucas earned a degree in film in the 1960s – will display his collection of 10,000 paintings, including Renoir, Winslow Homer, Maxfield Parrish, and Norman Rockwell, and other art, along with illustrations and movie memorabilia.
Lucas, 72, says the museum will focus on the art of storytelling from the time of cave paintings to digital film, which details the "mythology of society."
The museum, scheduled to open in 2021, is also getting a $400-million donation from Lucas and his wife, businesswoman Mellody Hobson, to kick-start a fund for future acquisitions.
It is set on 11 acres of green space made from knocking down two parking lots and putting them underground, and includes a garden and public terraces on the roof.
Let Her Rip(pon)
Talk-show host Ellen DeGeneres is teaming up with 28-year-old Olympic figure skater Adam Rippon on a TV project.
"He gave his first television interview after the Olympics to Ellen, and now they're going into business together," a source tells the New York Post's Page Six.
"During the winter games, she reached out to him and had to meet him."
Another source says Rippon may also appear regularly as a correspondent on 60-year-old Ellen's Burbank-based show.
"He's definitely coming back. They don't know how many episodes or in what capacity, but it'll be more than one show.
"It hasn't been totally ironed out, but it'll be semi-regular appearances."
Picky Prince
A visit from Prince Charles can be more hellish than heavenly, a revealing new tome by top investigative biographer Tom Bower reveals.
In Rebel Prince: The Power, Passions and Defiance of Prince Charles, he recounts a visit to the north east of England when Queen Elizabeth's son sent his staff, including a butler, two valets, chef, private secretary, typist, and bodyguards, ahead a day early with a truck to replace the perfectly appropriate fittings in the guest rooms.
The vehicle contained nothing less than Charles and Camilla's complete bedrooms, including HRH's orthopedic bed, along with his own linens.
His staff – of which he has 124, including four valets – also made sure to pack a small radio, Charles's own lavatory seat – perfect for a royal flush – rolls of Kleenex Premium Comfort lavatory paper, Laphroaig whiskey, bottled water, plus two landscapes of the Scottish Highlands.
The heir to the British throne also had his own food delivered – organic, of course.
Sightings: Actor Don Johnson noshing at Trattoria Mollie…Actor William Daniels picking up his Java jolt at Pierre Lafond…Kenny Loggins at the Boathouse at Hendry's Beach
Pip! Pip!
You might also be interested in...