Grand GranVida Earns Honor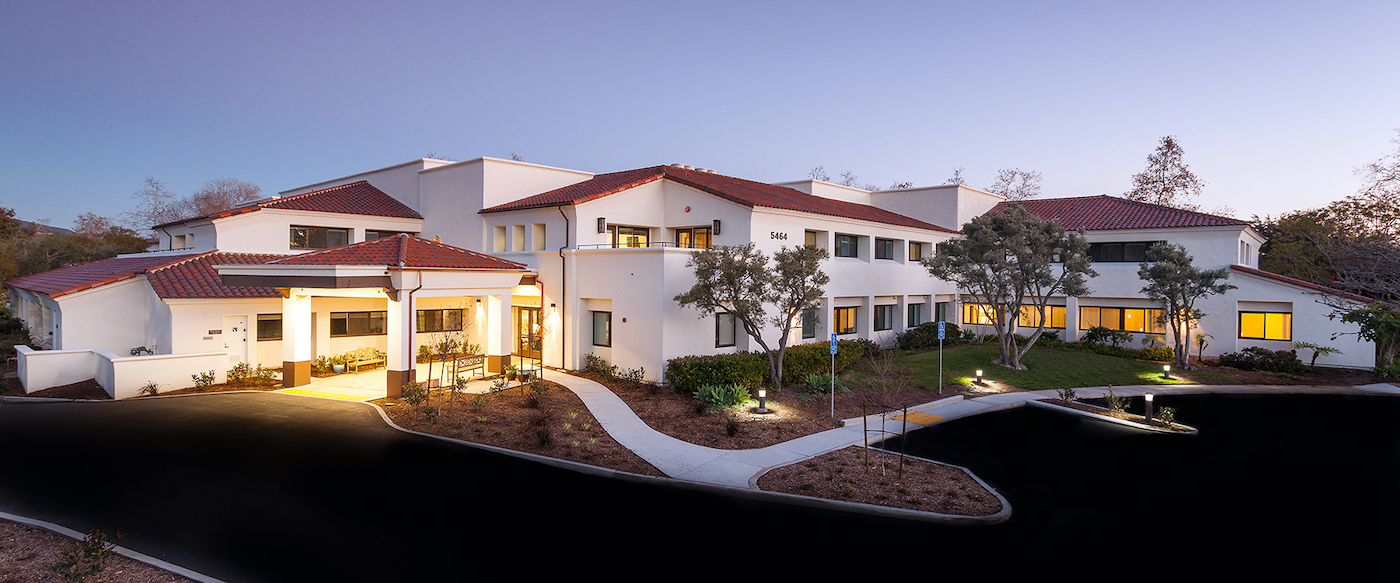 After GranVida Senior Living and Memory Care opened a 77-apartment community in Carpinteria in the dawn of February 2017, it would take only one-year for the Carpinteria Valley Chamber of Commerce to grant GranVida the Large Business of the Year Award for the company's auspicious debut. Gran Vida's executive director, Catherine Lee, says to receive the award their first year is "wonderful, and I am truly stoked."
The senior community sits in one of California's forgotten treasures and occupies a 30-year-old building on Carpinteria Avenue – formerly Microsoft – which they gutted and remodeled the inside only. "We carved it out like a watermelon," said Catherine.
The project resulted in creamy-white walls and vaulted ceilings with brown maple trim and crown molding to match the living room and dining room chairs; hardwood floors in the marble and maple kitchen; a black grand piano near a fireplace mantle made of bone-white masonry, with brown stationary cabinets on either side and three large candles on the right of its single pallid shelf.
As for the apartments, 55 are used for assisted and senior living residents, and 22 are what GranVida calls "Memory Care suites." Catherine says the apartments are "unique;" each one decorated with its own color scheme and furniture. Also, all residents have full access to med techs, resident assistants, nurses, schedule drives for shopping, and to pick up medication or go to the gym.
"But not every resident needs a nurse," Catherine adds, then spoke of one particular GranVida inhabitant who is 90 years old and walks to the gym three days a week in the mornings – Monday, Wednesday, and Friday – solely for extra exercise. The community also allows pets, which, according to Harvard Health Publishing, are known to improve a persons' heart health, and lower one's stress and blood pressure as well (Health.Harvard.edu).
Furthermore, other than the continuing care, retirement housing, temporary respite, and hospice care which GranVida provides, the community takes part in all kinds of special events. The first trip the community made in 2017, by more than popular demand, was to the slots and tables at Chumash Casino. And in July 2017, California representative Salud Carbajal attended the GranVida's Veterans Appreciation Day, where more than 100 people were provided a free lunch, and 12 retired service members, one being a woman, were recognized for their American contributions. Three of them spoke and were presented with awards, Catherine informed me amid a torrent of tears.
In the 21st century, the western parts of the United States, the forests of concrete and stone and its cloud of perpetual pollution that hovers quietly above cities such as Los Angeles, Long Beach, and San Francisco, continue to be the most popular areas to vacation and, of course, live. But California natives (or even a devout reader of John Steinbeck) know of these clandestine villages and coastal gems scattered up and down the coast: places such as Carpinteria, spots with a population of fewer than 14,000, rural areas of solace, and hints of Steinbeck, perfect for the elderly to reside in peace.
The award-winning company's overall goal is to "enrich the residents' lives," to live where clean salted air has already swallowed the clouds of smog. Or where the new employees' "culture-training program" called Seniority Spirit helps the employee learn the 14 commitments that "govern every interaction" among residents, employees, and family members at GranVida, and "cherish" the resident's very existence.
The community provides an executive chef, a concierge that is open seven days a week, 7 am to 7 pm. And no matter what, at least one of the 67 employees is available 24 hours a day for the safety of the GranVida residents. The address is 5464 Carpinteria Avenue in Carpinteria. Their phone number is (805) 566-0017. 
You might also be interested in...