Score by Four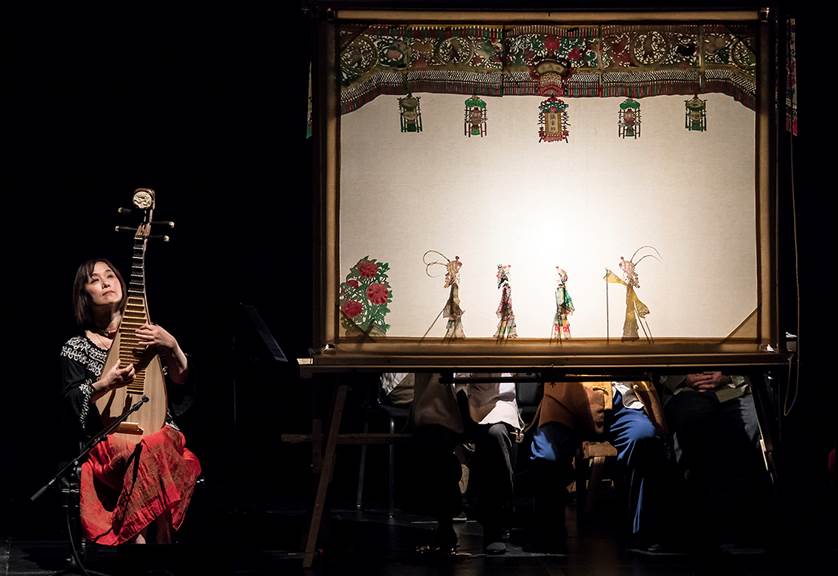 Rather than decomposing, the four musicians featured in Camerata Pacifica's latest concert at the Music Academy of the West's Hahn Hall were very much alive and well.
Normally, the classical music troupe's monthly repertoire includes one or more famous past composers, but Irish founder Adrian Spence decided a more contemporary program was needed with a rousing sextet for clarinet, horn, string trio, and piano by 85-year-old Polish writer Krzysztof Penderecki kicking off the entertaining show.
The undoubted highlight was cellist Ani Aznavoorian playing the haunting energized electronic work Petals by 65-year-old Finn Kaija Saariaho, with the concert wrapping with Birds in Warped Time II by 71-year-old Japanese composer Somei Satoh and Gumboots by 48-year-old British musician David Bruce.
A truly original evening.
Just 24 hours earlier, I was at Campbell Hall for another original show with Wu Man and the Huayin Shadow Puppet Band with the principal playing a pipa, a 2000-year-old Chinese lute-like instrument.
Man, who was the first recipient of a master's degree with the instrument at the Central Conservatory of Music in Beijing, and her eight-man band were truly extraordinary in the UCSB Arts & Lectures show.
Estate of the Union
The Ojai estate of the late Dallas actor Larry Hagman was bought four years ago for $5 million by the Church of Scientology as a $30,000 a month rehab center for troubled friends of celebrity Scientologists, according to the Daily Mail.
The 43-acre estate, with 9 bedrooms and 10 bathrooms, known as Heaven by Hagman, who died in 2012 aged 81, was opened as the Ojai Narconon Center in September, 2015, by actor John Travolta's wife, Kelly Preston.
The property, which I was invited to a number of times for charity events, is now owned by Social Betterment Properties International, the real estate arm of Scientology, according to the Mail, where I used to work in the 1970s.
It is billed by the church as an "acclaimed drug rehabilitation service to artists and leaders in society."
Spare Change
With a hefty multi-billion fortune, Montecito's most famous resident, Oprah Winfrey, loves spending money – particularly on tips for the less fortunate.
The 63-year-old TV titan says tipping hotel workers is one of her favorites.
"I usually leave the money on a pillow, but this time I put it all over the room – under the desk, on the counter with the M&Ms, in the shower.
"As I was leaving, I was like, 'Somebody is going to be happy today, yes!'" she tells People magazine. "To be able to do that for somebody, that's one of the great joys of my life."
Oprah was just in the Big Apple being honored at the Museum of Modern Art's David Rockefeller lunch.
Rest in Peace
On a personal note, I mark the passing of Hubert de Givenchy, the aristocratic French fashion designer famous for styling the likes of Audrey Hepburn and Jackie Kennedy, at the age of 91 at his Renaissance style chateau outside Paris.
Literally a towering presence at 6'6″, Givenchy set a template for ladylike chic in the 1950s and '60s with his restrained classic style, having worked with Christian Dior and Pierre Balmain during World War II, when they were still unknown.
I would often see him in New York and at the Colony in Palm Beach and will always remember his comment: "Fashion is fleeting, style lasts forever."
A most charming and impeccably elegant individual.
Sightings: Oscar winner Michael Keaton at the Kick Ash after bash…Actor Don Johnson checking out the basketball at the UCSB's Thunderdome…Celebrity chef Gordon Ramsay filming at UCSB
Pip! Pip!
You might also be interested in...