Sister Act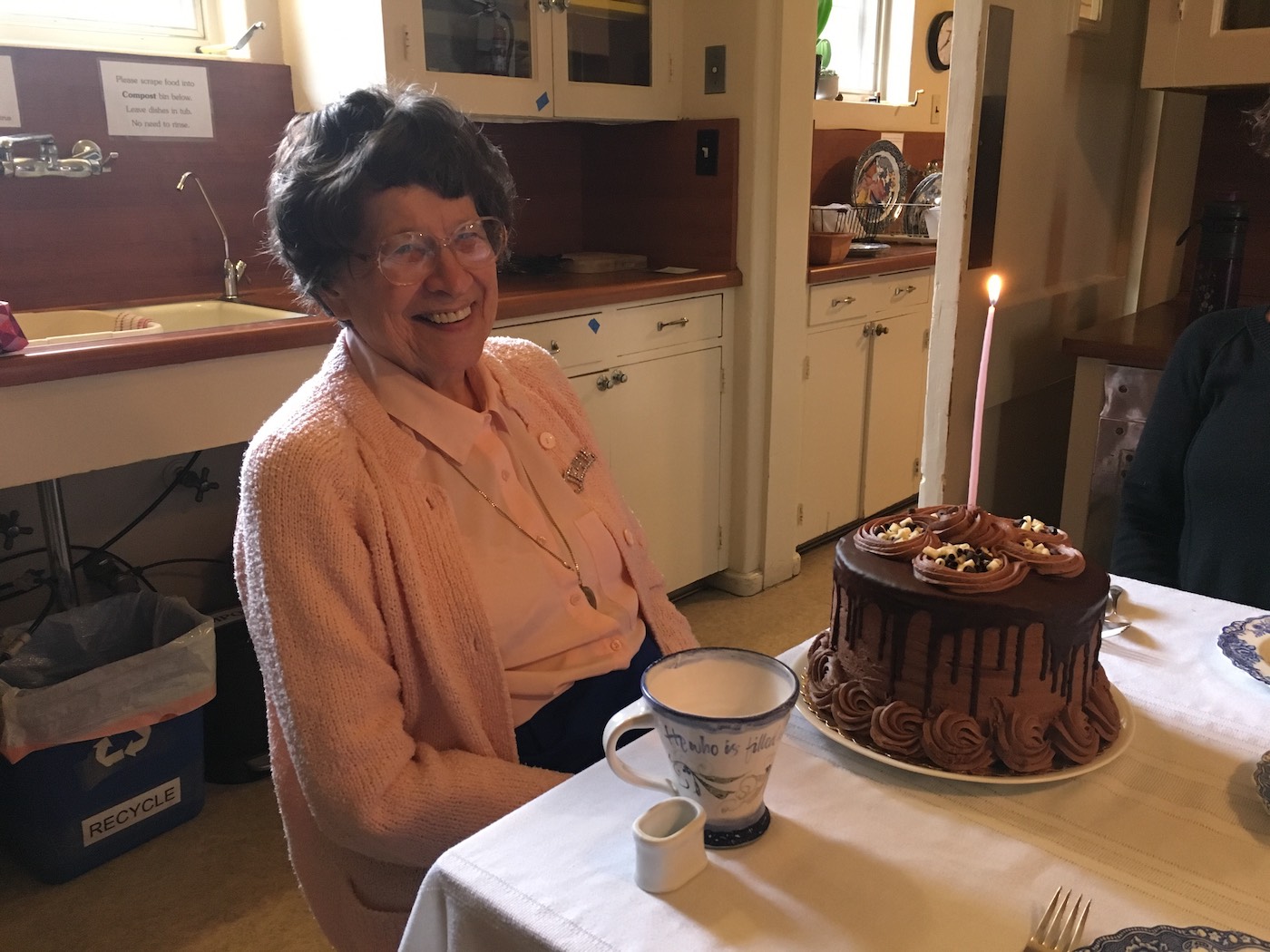 Montecito nun Pauline Krismanich, 88, who has lived at La Casa de Maria for 48 years, is retiring and moving to the Immaculate Heart Community center in Los Angeles.
After being displaced by both the Thomas Fire and the mudslides, Pauline saw them as her sign to finally retire.
She has been a figure around town for many years, driving her car, with its 4RJesus license plate, back and forth to Our Lady of Mount Carmel and volunteering each week at Cottage Hospital.
Pauline has been working as a part-time bookkeeper at the Center for Spiritual Renewal.
A farewell lunch was thrown in her honor.
"She is absolutely wonderful and one of a kind!" says Sarah Kidwell, communications director.
Up for Grabs
After the takeover of the 78-acre Bacara, with its 358 rooms and suites, by the Ritz-Carlton group in October, the Belmond El Encanto is now on the market, I can exclusively reveal.
The five-star, seven-acre Riviera hosterly, which consists of 92 suites and bungalows owned and managed by Belmond, formerly Orient Express since 2013, will still be managed by the international group under a long-term agreement.
"The sale of the resort and associated real estate will support the company's future growth and plans for continued expansion, in line with the company's long-term strategic plan," says my man with the martini. "It is an iconic resort and will remain under the Belmond umbrella."
This year is also the El Encanto's centenary and will be celebrated throughout the year with a number of events.
Happy Bui-day
Former Miss Universe Bui Simon, wife of Montecito mall magnate Herb Simon, celebrated her 49th birthday in style with a bash at the five-star Montage Hotel in Beverly Hills.
The venue was festooned in white orchids for the occasion and Bui wore a selection of outfits, including a sensational gold Versace gown, which complemented the evening's main entertainer Bruno Mars – who performed at halftime at the Super Bowl in 2016 – whose songs included "Versace on the Floor" and "24K Magic".
As if that wasn't enough, Babyface, winner of 11 Grammy Awards, also showed off his considerable vocal talents to wild applause.
Bounteous Bui founded the Angels Wings Foundation in 2002 which builds and funds schools, orphanages, and healthcare for underprivileged children in her native Thailand.
The tony twosome, who also have a home in Malibu, suffered major damage in the recent mudslides with household staff being evacuated by helicopter.
Among the Montecito crowd at the birthday bash were Frank Caulfield, Gene and Erica Montesano, Jimmy Argyropoulos, Barry and Jelinda DeVorzon, Robert and Robin Fell, Jeff and Margo Barbakow, Sandi Nicholson, Carol Burnett, and Jeff and Hollye Jacobs.
High Note
Legendary conductor and composer Leonard Bernstein, who would have marked his 100th birthday in August, was celebrated by the Santa Barbara Symphony, backed by the Santa Barbara Choral Society, at the sold-out Granada.
I would often see Bernstein, who died in 1990, outside his Central Park West home, the Dakota, dressed in his black-tie finery with a red-lined cloak waiting for his limo to be driven the two blocks to Manhattan's Lincoln Center for another musical engagement and remember him vividly in action at Avery Fisher Hall with the New York Philharmonic in 1989 conducting Mahler's Resurrection Symphony, so energized he almost leapt off the podium.
The thoroughly entertaining performance in our Eden by the Beach also included Aaron Copland's suite Quiet City, piano soloist Natasha Kislenko's debut of a new concerto from Santa Barbara composer Robin Frost, 88, and Pasadena-based soprano Lisa Vroman, a classically trained Broadway star who starred in Phantom of the Opera for many years and has appeared in a number of the West Side Story composer's tributes.
The performance, conducted by veteran maestro Nir Kabaretti, showed the enormous range of Bernstein's composing skills, including work from his ballet Fancy Free, which later morphed into the stage show On the Town.
It was a great party.
Hall at Once
Peripatetic baritone Andrew Garland was front and center at the latest Camerata Pacifica concert at the Music Academy of the West's Hahn Hall.
Garland, who has teamed with the ensemble's pianist Warren Jones at New York's Carnegie Hall, performed in three of the show's five works by Hamilton Harty, Walter Rabl, Schubert, Rebecca Clarke, and Charles Martin Loeffler.
Jones, who has played at the White House and is a faculty member on the Miraflores campus, was also an indispensable asset, using his undoubted keyboard skills in every piece with the likes of founding flutist Adrian Spence, cellist Ani Aznavoorian, and violist Paul Coletti.
An entertaining evening.
CAMA One, Come All
CAMA – Community Arts Music Association – had another cracker of a concert at the Granada when the London-based Orchestra of the Age of Enlightenment and two-part all-Beethoven program under Dutch director Michael Gurevich.
The musicians, playing on period-specific instruments, kicked off its Santa Barbara debut with Symphony No. 4 in B-flat Major before Scots violinist Nicola Benedetti, who is also a director, brilliantly performed Concerto in D Major.
Benedetti, who plays a 1717 Gariel Stradivarius, is the youngest-ever recipient of the Queen's Medal for Music last year and received an MBE, Member of the British Empire, accolade five years ago.
She also performed at the opening ceremony of the 2014 Commonwealth Games to a live audience of 40,000 and a TV viewing audience of 9.4 million people.
You might also be interested in...