Mystery Music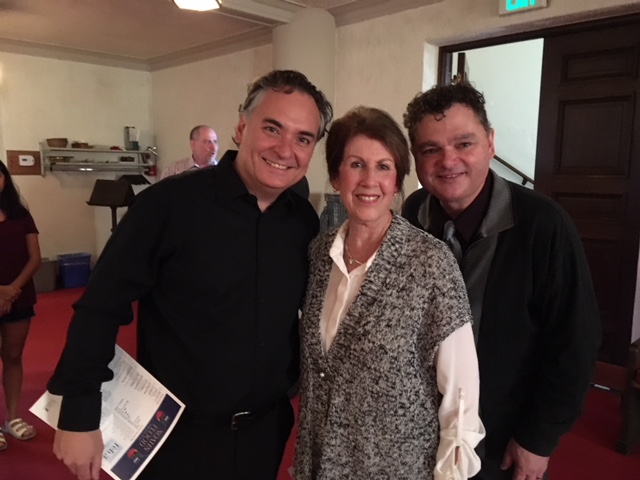 Santa Barbara's musical youth shone at the First United Methodist Church when the youth opera and youth symphony under Opera SB artistic director Kostis Protpapas performed a creative production of Benjamin Britten's Noah's Flood.
The 1958 work, based on a 15th-century Chester mystery play, featured bass-baritone Vincent Grana and mezzo soprano Chelsea Melamed as his wife, while sponsor Robert Weinman was the voice of God and a children's chorus the various animals on the ark.
Stage director Miller James did a splendid job as did costumer designer Stacie Logue.
The show, whose other sponsors included Eve Bernstein and Barbara Burger, benefitted the Santa Barbara Humane Society.
Conversation Piece
Politics is at the root of a major schism in a Washington, D.C., family, based in the rarefied enclave of Georgetown, in Ensemble Theatre Company's third show of the season at the New Vic, The City of Conversation, written by Anthony Giardina and directed by Cameron Watson.
The entertaining production, starring Family Ties actress Meredith Baxter and NYPD star Sharon Lawrence as a Democrat socialite notorious for her glamorous dinner parties in the late '70s when her son, well played by Matthew Grondin, turns up with an ambitious girlfriend, Sally Hughes, and a controversial political agenda that ignites a three-decades-long family divide that spans six presidential administrations.
A choice between defending opposing political views or keeping the family united.
Adding to the talented cast are Rich Hoag, Bjorn Johnson, Kathy Marden, Timothy P. Brown, Hudson Brez, and Theodore Wilson.
Scenic designer Fred Kinney has done a particularly good job capturing the luxurious essence of a grand D.C. townhouse, which I used to know well, having worked with Washington Post matriarch Kay Graham's daughter, Lally Weymouth, while an editor at New York Magazine in the '80s.
The production runs through Sunday, February 25.
Give Her a Hand
Oprah Winfrey has been going out on a limb. Or at least it appears so.
The former TV talk show titan, 63, poses with actress Reese Witherspoon, 41, on her lap on the cover of Vanity Fair's 24th annual Hollywood issue.
But an unfortunate Photoshop fail gave Montecito's most famous resident three hands in famed photographer Annie Leibovitz's picture, which also included Robert De Niro and Nicole Kidman.
In one image, Oprah has a hand on her hip, a hand on her lap, and then a third hand wrapped around Witherspoon's waist.
That's a Rap
Montecito's newest celebrity resident Natalie Portman, 36, showed off her hip-hop skills on NBC's Saturday Night Live.
The Oscar winner brought back her former expletive-filled rap video on the show before hilariously spoofing Stranger Things after her appearance in 2006.
The Harvard graduate told the audience in her monologue she was crazy to be back as host for the first time in 12 years.
Sightings: Actor Dan Aykroyd checking out The Nugget in Summerland…Singer Katy Perry at Jeannines…Author Fannie Flagg at Montecito Village Grocery
Pip! Pip!
You might also be interested in...