The Upper Village of Montecito: Part II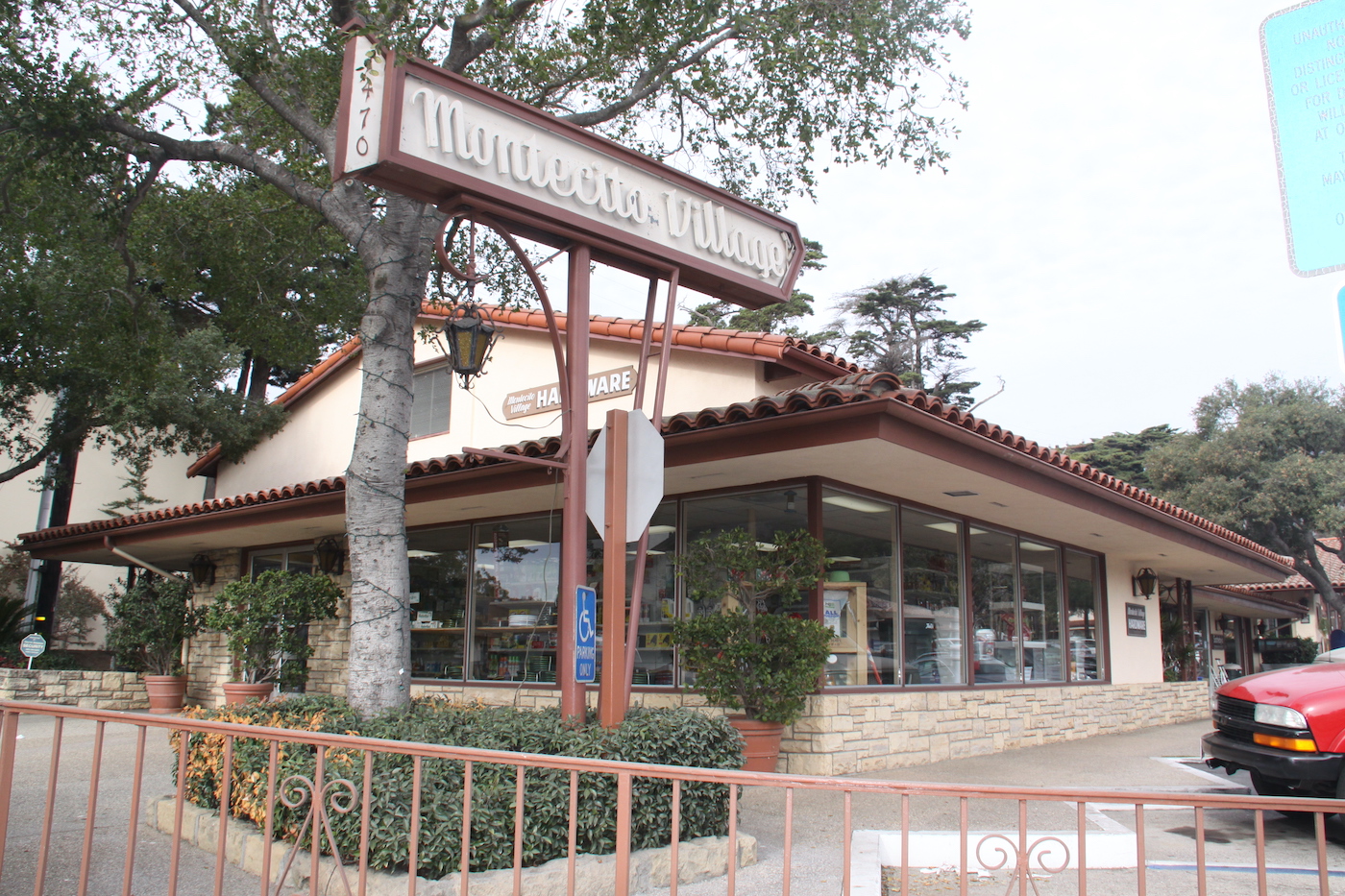 While retailers across the country enjoyed a very Merry Christmas, retail in Montecito struggled. From hair salons to gift shops to restaurants, business owners watched helplessly as fire and ash led to mandatory evacuations, intolerable air quality and the absence of holiday tourists, all of which put a damper on holiday parties and decimated local shopping.
For some retailers, especially jewelry stores and gift shops, the holiday season can account for 30% of annual sales. According to the National Retail Federation, the average sales volume for Christmas season sales is just under 20% of total retail industry transactions. It is more important than ever to shop locally at the independently owned shops and businesses struggling to survive and thrive in Montecito.
Past editorials have identified and promoted the shops and businesses along Coast Village Road, in the Pierre Lafond complex, the Gunner complex and the antique galleries on Upper San Ysidro Road. However, the heart of the upper village retail lies in the Montecito Village where some 68 boutique shops, restaurants, banks, offices, and businesses have served Montecito for the last 70 years.
Who is C. Norman Borgatello?
Tucked deep into the bowels of the building behind the Wells Fargo Bank, on the north side of the Montecito Village, is the small, difficult-to-find office of the little-known president and CEO of the Montecito Village Valley Improvement Company, C. Norman Borgatello, a man who has helped to shape the character of the upper village business community for the last 25 years.
The Valley Improvement Company is a privately held, family-run business, incorporated 71 years ago as The Montecito Village South (MVS) and North (MVN) shopping centers. The two centers were constructed at two different times by Norm's father, Charles A. Borgatello. Clayton & Wesley Cook was the construction contractor for the Montecito Village North center that opened in 1947, while J.W. Bailey Construction built Montecito Village South in 1965. Charles A. Borgatello's brother, Mario Borgatello, Sr., co-founded the family-owned MarBorg Industries in 1936.
Norm Borgatello originally rented space from his father, running the Montecito Grocery Store. When Charles Borgatello died on July 12, 1993, Norm was faced with a reassessment of real estate values and punishing taxes in an asset-laden but cash-poor business. Nearly wiped out, Norm held on by continuing to follow the same business principles eschewed by his father: hard work, honesty, fairness, and community involvement in a place that both he and his father dearly loved.
What Makes the Montecito Village Center Special?
Norm Borgatello says his mission now is the same as his father's: to ensure the residents of Montecito don't have to go downtown to find a hardware store, dine together, enjoy green space, share a local post office, browse a book store, buy groceries, repair a car, or fill up with a tank of full-service gas.
The shopping rules are simple: 1) Provide easy parking; 2) keep the rents low (Norm leased space from his father, and knows how hard it is to earn a dollar); and 3) give tenants a chance to make it big and try to work with people.
A Tenant's View of Montecito Village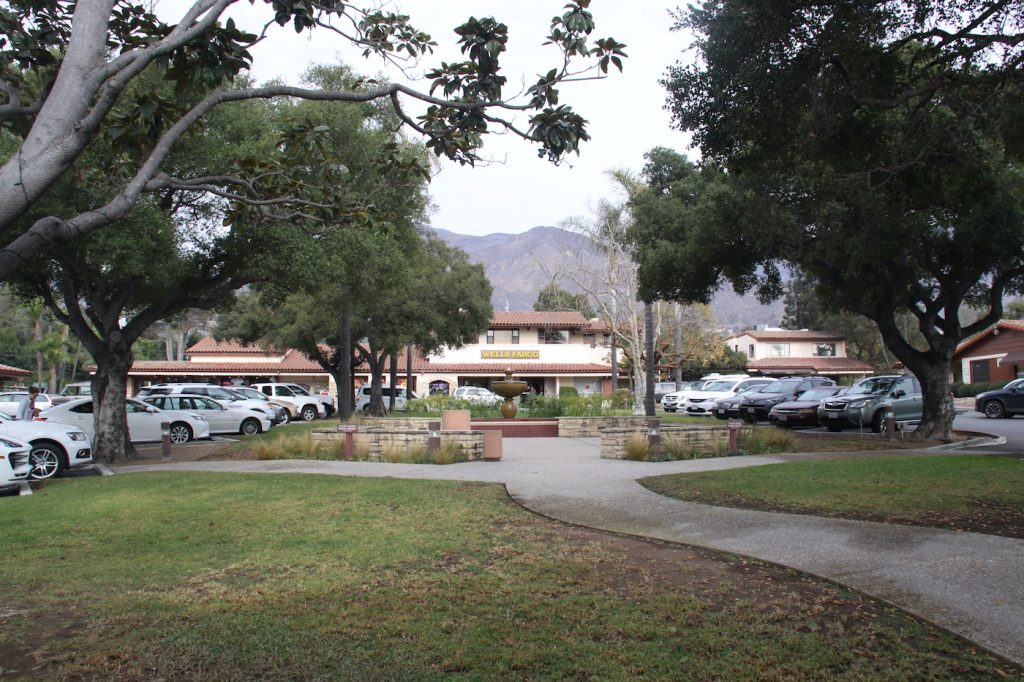 Joe Cole, attorney-at-law, who has leased office space from Norm Borgatello in Montecito Village North for more than a dozen years, puts it this way: "What's not to like? Unlike Coast Village Road, or La Cumbre Plaza, or State Street, the upper village has a timeless small town feel where everybody knows everybody. Every morning we start with Danny, who works for Norman, sweeping and cleaning the area, and the day just keeps getting better.
"Norman is very selective in his tenants. He could rent to national chain stores, which pay more, but he prefers locally owned businesses that become the keepers of the neighborhood. Norm could fill the place with Montecito's venture capitalists, wealth managers, and real estate companies, but he prefers a variety of retail shopkeepers. Norm is old school. He has had tons of offers to sell his company, but he turns down all of them."
Michael Cooney, another well-known local attorney, philanthropist, and head of the County Planning Commission, with an office above Wells Fargo Bank in the North Village, shares Joe Cole's enthusiasm for Norm as a landlord and for what the community center means to Montecito.
The Shops of Montecito Village North
• Tecolote Book Shop, which first opened in 1925, has served five generations of Montecito book lovers and local writers. In May 2007, longtime owner Margaret Dent retired and sold the business to her manager, Mary Sheldon. Mary turned to financial angel Herb Simon, saving the iconic landmark bookshop with its welcoming "Dutch doors" fronting on the village green.
• Oliver & Espig Gallery of Fine Arts & Jewelry is a treasure trove of rare gemstones, unique jewelry, fine art, and sculptures. Glenn Espig travels the world curating for the unusual and unexpected. His business partner is Norwegian goldsmith Ingerid Ekeland. Stop in and meet the gallery's art director and manager, Marcia Ribeiro.
• Montecito Village Hardware. Douglas J. Ruiz, the original and only owner, earned his first Montecito dollar on June 14, 1993. Along with his two sons, Ronnie and Mark, the Ruiz family will be celebrating its 25th year next June. This highly popular, locally owned hardware store is known for its inventory and personal service of a kind not found in big-box hardware stores.
• Lilibeth Hair Salon & Makeup Studio. Beth Caplinger, owner and manager, has been in business since 2015 at the present location, featuring hair styling, color, cuts, braids, extensions, waxing, and nail services.
• The U.S. Post Office (93150) branch serves Montecito for general mail delivery, P.O. boxes, stamps, money orders, and package shipments. A neighborhood post office serves as a village hub and generates significant foot traffic for shops in the upper village.
• Glamour House. Ann Picciuto Gehrke, the present owner, bought the business in 2003, specializing in unique, fashionable lingerie and sleepwear. As a former business executive with Raytheon, Ann jokingly says that her career has gone from selling weapons of mass destruction at Raytheon to selling weapons of mass seduction at Glamour House.
• The Stationery Collection. Marika Withers, who worked for retired owners Nancy and Rick Corradini for seven years, purchased the business in January 2013. Founded in 1963 by the original owners Paul and Mary Scott, the Stationery Collection has always offered unusually fine stationery and distinctive gifts.
• Bissell Clinic. Dr. Charles Bissel and his team of specialists offer full-service chiropractic, physical therapy, and rehabilitation services.
• Trésor Jewelry is a destination for fine art collectors and estate jewelry enthusiasts. Owners Jeremy Norris and Paco Buxton moved to the upper village six years ago to focus on appraisals, consignments and estate jewelry sales.
• Imagine. For 17 years, owner Billie Vrtiak has offered gifts, clothing, jewelry, housewares, and artful things. She has created a good place to get lost with some cool merchandise.
• Josephine's Antiques & Gallery. Josephine Di Loreto has been in business in Montecito since 1979, first as the owner of Montecito Executive Services and for the last 18 years as the owner of Josephine's Antiques. Her shop is a treasure trove of all things Montecito, known for its collection of antique furnishings, linens, grand pianos, silver accessories, lamps, and art.
• George Meta Jewelry. Owner George Meta has been in business for 24 years offering personal service in antique jewelry and watch repair, artifacts, estate services, and vintage items.
• Montecito Village Grocery. Roxy and Mike Lawlor have been updating and improving the Montecito Village Grocery since their purchase of the venerable store in February 2017. A total store renovation is scheduled for 2018. Says Roxy, "We are family grocery people and are passionate about what we do," with stores already open in ski towns, Aspen, Colorado, and Big Sky, Montana, under the Roxy's Market & Café brand.
• Wells Fargo Bank offers a wide range of traditional banking services including checking, online bill paying, direct deposit, notary, in-house brokerage accounts, ATM, personal loans, and student loans.
• Skin Essentials. For 16 years, founder Julie Phillips has specialized in skin care treatments including restorations, peels, facials, and body exfoliation.
• Pane e Vino Trattoria. Affable local owner Pietro Bernardi opened Pane e Vino 1988. A favorite of both locals and visitors for Italian foods and wines, fresh seafood, and organic vegetables, herbs and fruits, Bernardi still cooks all the specials himself. Having come to the U.S. at the age of 17. Pietro (Peter) now owns three homes, plus wine and olive vineyards, in Italy. He also owns a second Pane e Vino Trattoria in San Francisco and Via Vai in Montecito.
• Davis & Taft. Owner Leeanne Baker moved to the Upper Village from Summerland 11 years ago to be closer to her customers. She successfully mixes antiques with 20th-century modern design. Furniture is selected for its quality and simplicity.
• ACI Jet. Since August 2014, French businessman and Montecito resident Olivier Leclercq, has partnered with ACI Jet founder Bill Borgsmiller to offer charter jet service worldwide. Want to escape the fire and ash? Charter a private jet to Fiji, Nice, or New York City.
• Bryant & Sons, Ltd. Since 2001, the brother and sister team of Scott and Myla Harwin have run the Montecito branch of this fine custom jeweler headquartered in downtown Santa Barbara. The Harwin team offers elegant jewelry and gifts right here in our neighborhood.
• Dr. Babji Mesipam. Board-certified in internal medicine, 24 years' experience, Dr. Mesipam is affiliated with Cottage Hospital. He is currently not accepting new patients, Medicare, or Medicaid.
• Pacific Diagnostic Lab. Bloodwork testing.
• Blake Ashley Design, LLC. Interior design studio featuring fine indoor and outdoor fabrics, trim, wallpaper, lighting, custom order furnishings, and window treatments.
• Montecito Executive Services. Nestled in the warmth of Montecito Village for more than 25 years, Mary Ortega and her staff have been offering personal secretarial services such as polished writing projects, mailboxes, packing and shipping, faxes, copies, messenger services, bill paying, and vacation services. Originally started by Josephine Di Loreto, the business was sold to her longtime friend and banker Mary in 2000.
• Sue Aldrich Designs. Interior design firm for bathroom, custom closets, entertainment center, home theater, and 3-D renderings
• Sotheby's International Realty. The East Valley Road office of Sotheby's is currently under renovation. When remodeled, it will be home to 45 Sotheby's associates in the upper village market, including Sotheby's brokers Sandy Stahl and Crystal Clark, who have their own office suite located between the post office and the hardware store.
Automotive Services
• Village Automotive Repair has been providingquality auto repair services since 1965. In 1999, Jon McConnell purchased the business and with Josh Gospodnetich (just call him "Josh") as service manager, offers customer satisfaction and quality personal car care to generations of discriminating Montecito drivers.
• The Village Service Station. New owner Keith Slocum, who built John Price's Chevron Station on CVR, and who serves as Price's construction manager on his new multi-use building at Olive Mill and CVR, purchased the station from Jon McConnell at Village Automotive repair. He will keep it locally owned as a full-service and self-service community treasure.
The Shops of Montecito Village South
• Village Frame & Gallery. For 52 years, first Meryl Shore, then Richard Bickmore, have preserved a legacy of carefully framed art, antique prints, and hosted plein air painters. Today, Joyce Bickmore serves the neighborhood from this comfortable local shop.
• Giuliana Haute Couture. Fine women's apparel is featured in this stylish Montecito boutique, owned and managed by Giuliana, wife of Montecito Village jewelry storeowner George Meta.
• Mareva. Owner Eva Zablocki has been offering skin care including professional facials and pretty pampering for the past 24 years at this location by appointment.
• Northern Trust Bank. Wealth management, investment strategies, and private banking under the leadership of Andy Chou, Santa Barbara region president. With the consolidation of the Santa Barbara and Montecito branches, Northern Trust recently expanded its space into the location formerly occupied by Lana Marme, who retired in September 2015 after selling women's fashions at the same location for 30 years.
• Baroncelli Linen Accessories. For the last 24 years, Cindy Freeman has been serving Montecito customers interested in fine linens. She has retired and sold her business to George Sanders, a 3rd-generation local resident. George is currently remodeling to open with an expanded line of bed linens, candles, and wedding gifts. He also plans to offer local workshops to kids and adults for handmade crafts in early spring.
• Montecito Village Travel. Brothers David and Charles de L'Arbre now own and operate the two Virtuoso travel agencies in Montecito and Santa Barbara started by their father in 1947. Montecito Village Travel opened in 1972 and now offers a team of seven professional travel advisors to plan and manage travel experiences.
• Dadiana Salon. Since 1996, Diane Meehan and her stylists have offered hair care, manicures, pedicures, and facials using unique cosmetics and beauty supplies.
• Clare Swan is now in her 24th year offering quality luggage, small leather goods, sweaters, linens, scarves, and other clothing with competitive styling and fair pricing. Clare, her cousin Mollie, and Annie offer personal service to make the shop a joy to visit.
• Village Cheese and Wine Shop. For 43 years, John Braid offered meaty sandwiches, party platters, wine and cheese to generations of locals, kids sports teams, and tourists. Two years ago, when John died, his son Patrick Braid took over the deli with the help of Victoria, who had been serving customers for 24 years, and Kelly, a rookie of only 11 years.
• St. Paul Cleaners & Laundry. The husband-and-wife team of Seung Rae Cho and Hyun Lim Park purchased the business from Mr. Hong in 2016. They continue to offer the same friendly, reliable dry cleaning and laundry services they provided as employees.
• Proband Sports. Dr. Don Fareed, M.D., and orthopedic surgeon, has been serving patients with shoulder, elbow, knee, and sports medicine problems for 30 years.
• Via Vai. Pietro Bernardi, the owner of Trattoria Pane e Vino in North Montecito Village, purchased Via Vai in 1994 and has been catering to families and pleasing palates for the last 24 years with great food, outside dining, and casual and friendly service for lunch and dinner.
• Union Bank Montecito. One of four Union Bank locations in Montecito for ATM and online banking. A Private Bank for Union wealth management services is located across East Valley in the old Montecito Fire House.
• Peter Hartmann, D.D.S. Celebrating 14 years of dental service to the Montecito community.
Small business owners are woven into the fabric of this community. They offer a personal touch not found in chain stores or in the Age of Amazon. Parking is free, and there is something almost sensual in exploring, seeing, touching, and sniffing prior to purchase. My advice to all of you is, this year, spend locally.
You might also be interested in...