Youth Served with $500K
It was child's play when Kids Helping Kids, the 10-year-old organization launched by students at San Marcos High School, raised a record $501,251 to help local children in need with two sold-out concerts at the Granada.
The group, headed by economics teacher James DeVries, has raised more than $2.5 million since it started.
Singer-songwriter Andy Grammer performed among other headliners, including Five For Fighting, Need to Breathe, Toad the Wet Sprocket, and Switchfoot, and the Music Academy of the West received the Investment in People Award.
President Scott Reed, who has been a board member for eight years, said: "It is amazing what a group of 17 year olds, who embrace philanthropy and helping others, can accomplish."
Among those helping the youngsters celebrate their 10th anniversary in the theater's founders room were Allie Jones, Avery Ridenour, Elizabeth Krachuk, Kelsey Warren, Mya Adornetto, Claire Hyatt, Addie Furrer, Kendra Dayton, Ryder Rivadeneyra, Layla Landeros, Lily McWhirter, Annika Dalhstrom, Brenna Yager, David Dinklage, and Amanda Herbst.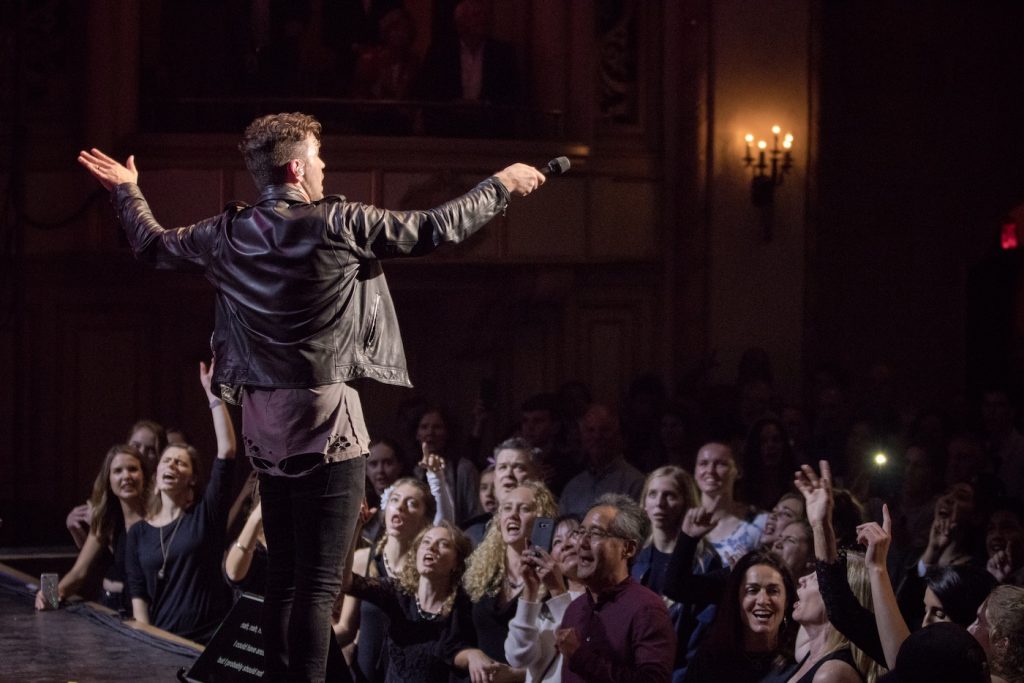 Getting the Itch
Scratch is nearing its long-awaited opening date at the Montecito Inn.
The eatery run by chef-owner Phillip Frankland Lee, wife and pastry chef Margarita Kallas-Lee, and designer Jordan Olson is the tony triumvirate's first hotel venture and expansion outside Los Angeles.
The Coast Village Road eatery will consist of four concepts with the first up Frankland's Crab & Co, an elevated fast-food concept delivering dine-in and takeaway meals for lunch and dinner, an ice cream parlor, and The Monarch that pays tribute to the treasures of the Central Coast with cooking around a wood-burning hearth.
For his grand finale, Lee's Silver Bough is slated to follow in due course with a modern approach to the grand fine-dining tradition.
Everyone is itching to know.
Ellen's Empathy
Former Oscars host Ellen DeGeneres has been wearing her heart on her sleeve over the Montecito mudslides that have brought deadly destruction to our community.
"This room is always full of positivity and love," she told her daytime talk show audience at Warner Bros. in Burbank.
"So many times over the past 15 years, people have come up to me and say to me that when they're going through a tough time this show helps them through it.
"Today, I need you because there's a lot going on in my life right now."
Ellen, who fled her home with actress Portia de Rossi two days before the torrential downpour, showed a photo of the street in front of her estate filled with mud-covered debris from fallen trees and boulders.
"It's catastrophic, beyond recognizable," said, almost in tears.
ZIP it
It will come as no surprise whatsoever that our rarefied enclave is one of the most expensive ZIP codes in the United States.
Montecito's 93108 is high on the list of the 100 priciest ZIPs, according to PropertyShark.com, with 77 communities on the Left Coast in the rankings, with Beverly Hills at number 5 with a median house price of $3,850,000, and celebrity haven Malibu lower in the ranks with an average price of $3,081,600.
The median house price in our Eden by the Beach is currently $3,222,000, a 9.5 percent increase in the last year with a forecast increase of another 6.8 percent next year, according to Zillow, so Montecito will go even further up the rankings in the next list.
Other pricey postal property locales include Atherton, with a median price of $4,950,000, and Burlingame, Palo Alto, and Santa Monica, at number 7 with an average of $3,512,000.
Among the rankings is the charming Hamptons enclave of Sagaponack, where I have frequently stayed, given a friend of mine had a beach house there near the late Jaws actor Roy Scheider, who died in 2008, and polo-playing entrepreneur Peter Brant, before moving to Amagansett near Sir Paul McCartney and radio shock jock Howard Stern.
America's former ambassador to Japan, Caroline Kennedy, daughter of JFK, and fashion mogul Calvin Klein, also had homes in the community where the media house price is $5,500,000.
It is one of 19 listed ZIP codes in New York state, with half of them located in New York City.
CAMA Splice
Community Arts Music Association (CAMA) launched its first performance of the New Year with the 138-year-old St. Louis Symphony under music director David Robertson at the Granada.
The performers managed to work out an alternative route to our tony town to avoid the 101 closure.
Grammy-winning Italian violinist Augustin Hadelich, 33, mesmerized playing a 1723 Kiesewetter Stradivarius in Benjamin Britten's concerto.
The show opened with Thomas Adés's Powder Her Face Suite wrapping with Shostakovich's Symphony No. 1 in F minor.
A cracking start to 2018.
Show and Tell
Former TV talk-show titan Oprah Winfrey has been resorting to social media to show what life is like in Montecito after the mudslides.
She's been showing videos of her experiences with residents in the neighborhood as part of the recovery process, including a clip in which she interviews search and rescue crews, learning about their specially trained dogs.
The videos are "no frills" – shot on her phone and uploaded from the disaster zone straight to her fans.
A far cry were multi-million-dollar studios with HD cameras and an opulent wardrobe.
A stripped-down version of one of the world's richest and most powerful media icons.
You might also be interested in...