Real Estate Heat Index
The Montecito Heat Index is a snapshot of demand for single-family homes in five price sectors. Rather than a measurement of completed sales, typically referred to as lagging data, the Heat Index looks at homes currently under contract resulting in a more accurate picture of market demand. And as real estate activity is seasonal, today's demand is compared to this date last year. All data are from the Santa Barbara MLS and uniformly deemed reliable.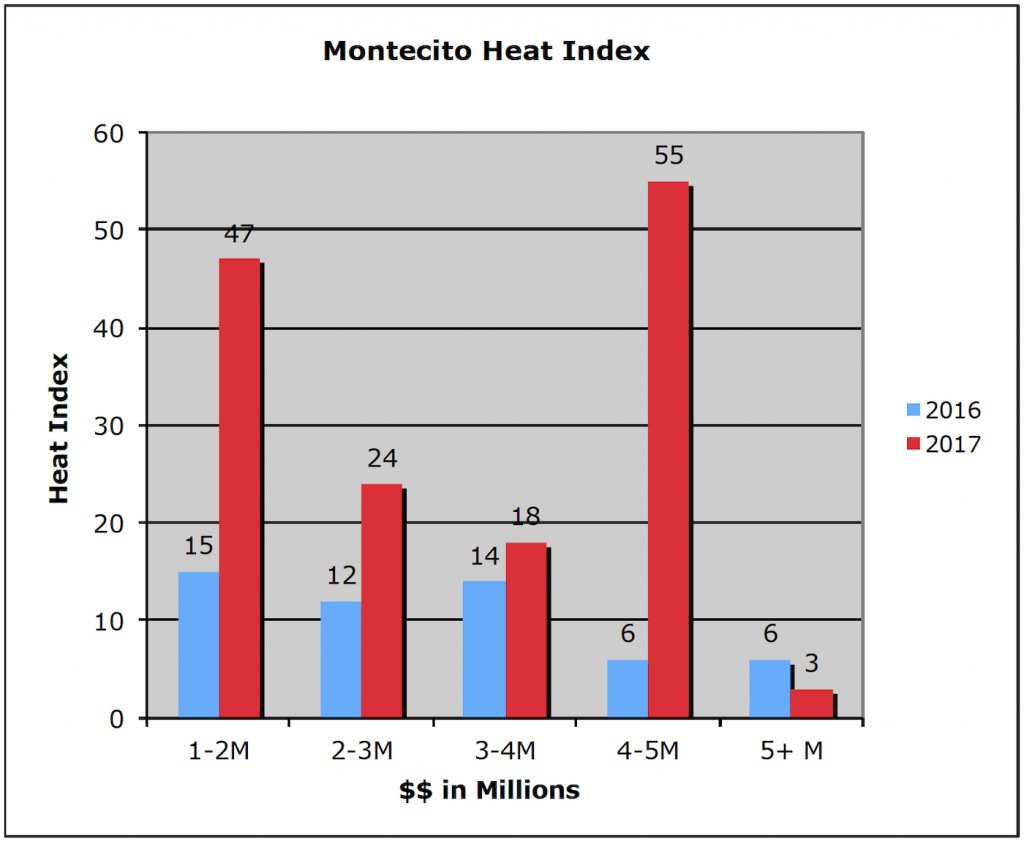 Today's Heat Index registers a staggering 147 – nearly three times the demand gauged a year ago today.
The $1-2 million group reflects a strong showing of 47 besting last year's score by 213%, yet for the first time in memory, is not our demand leader. Now, the honor goes to the too-often neglected $4-5M group with a big score of 55, outperforming last year by a remarkable 816%. And the typically robust $2-3M market continues showing strength bettering last year by 100%.
Overall, as the adjacent chart demonstrates, all sectors but one, the $5M-and-up group met or outperformed last year's demand. Sales are up 7%, homes under contract heading for closure are up 18%, and our median sales price is up a respectable 9% to an even $3M.
This is what a hot market looks like. And if you are in the $4-5M market, you better have a place to move to when you list your home. You will find little competition, and there seems to be buyers aplenty eager to move in. Not much different in the other sectors except, of course, the high-end – which continues to be unable to sufficiently impress their buyers.
And as most sellers enjoy this "hot" market, we should remember it is not necessarily good news for all. In fact, there are few delighted buyers out there; far too few properties, and prices have continued to inch up all year. And to make things even more challenging, the folks in Washington, that is the elected folks, are proposing to make the homebuying experience more difficult.
The elimination of incentives to homebuying was once considered a fast way not to get re-elected. Apparently, that has changed both in the present House and Senate. Should these incentives be reduced, the way we view homeownership, both primary and secondary, will be altered. We Californians will be particularly impacted. Millennials, now the largest segment of our society, already questioning whether homeownership is affordable for them, will be looking harder at that new condo rental with the swimming pool, community rec room, and one-year lease.
For Montecito in particular, where many purchases are second homes, little or no associated deductions won't help the buying decision.
But that will be next year, so perhaps the final result will be less draconian than it appears now. And I'm not sure we have any Republican officials in California to complain to any. So for now, it looks like we will end the year with a median sales price increase in the double digits and more water for the lawn. All things considered, not too bad.
You might also be interested in...