Making Waves
Ocean photographer Bob Evans was definitely making a splash when his debut exhibition Marine Megatropolis featuring 26 colorful images opened at the Santa Barbara Maritime Museum.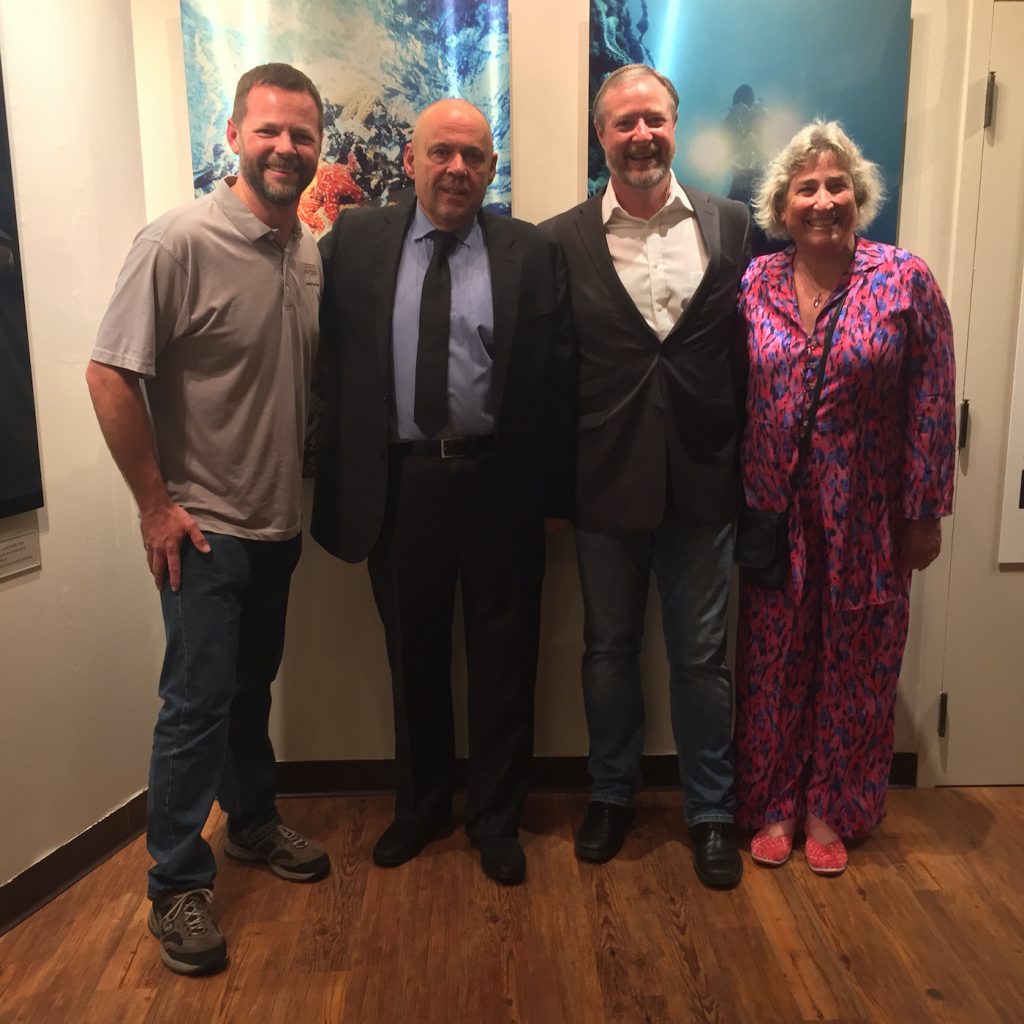 Bob, who was a deep-sea diver off our city's offshore oil platforms, logging 850 dives between 1974 and 1981 taking thousands of slides and 7,000 feet of film footage, describes the show as "a celebration of marine life."
"The oceans are in peril everywhere," says Bob. "It is incumbent upon us to act as stewards."
Among the 250 guests turning out for the opening of the show, which runs through April, were Jean-Michel Cousteau, Hiroko Benko, Sean O'Brien, Frank Skipper, Greg Gorga, Nancy and Peggy Callahan, and Susanne Chess.
Nun-sense
Santa Barbara warbler Katy Perry has been triumphant in the legal battle to buy a Los Angeles convent.
A city jury has found businesswoman, Dana Hollister, must pay $15 million to the former Dos Pueblos High student and the archdiocese of the Big Orange, deciding she intentionally interfered with the sale of the hilltop property in Los Feliz.
The archdiocese was awarded $3.47 million and Katy $1.57 million for interference with contractual relations and other misdeeds.
The 33-year-old singer has sought to buy the 8-acre estate and its Roman-style property for $14.5 million and relocate an adjoining house of prayer used by priests.
But Hollister stepped in and attempted to purchase the property from two nuns who had lived there as Sisters of the Most Holy and Immaculate Heart of the Blessed Virgin Mary. A judge voided that sale, saying the archdiocese had the right to sell the property, not the nuns.
Hollister believed she owned the house after paying the nuns just $44,000 for the 20,000 sq. ft. and moving in – while Katy was willing to pay $10 million in cash, plus an additional $4.5 million for House of Prayers.
The jury found the actions led to Katy and the archdiocese having to pay exorbitant legal fees and other costs, which Hollister should get the bill for.
Goodbye, David
On a personal note, I remember Partridge Family singer David Cassidy, who went to more heavenly pastures at his home in Florida, aged 67.
In February, Cassidy, who was a top-selling artist in the 1970s, revealed his was suffering dementia, which was abundantly apparent when I saw him perform at the Granada when he forgot lyrics, stumbled around the stage, and rambled away nonsensically.
His career had been in severe decline of late, with him filing for bankruptcy, a divorce from his third wife, Sue Shifrin. arrests, and a stint in rehab.
It is to be hoped he is now in a better place.
Sightings: Actor Ashton Kutcher and wife Mila Kunis shopping at Whole Foods…Rolling Stones keyboardist Chuck Leavell checking out the crowd at Lucky's…Oscar winner Kevin Costner at Lama Dog in the Funk Zone
You might also be interested in...