Dad & Daughter Duo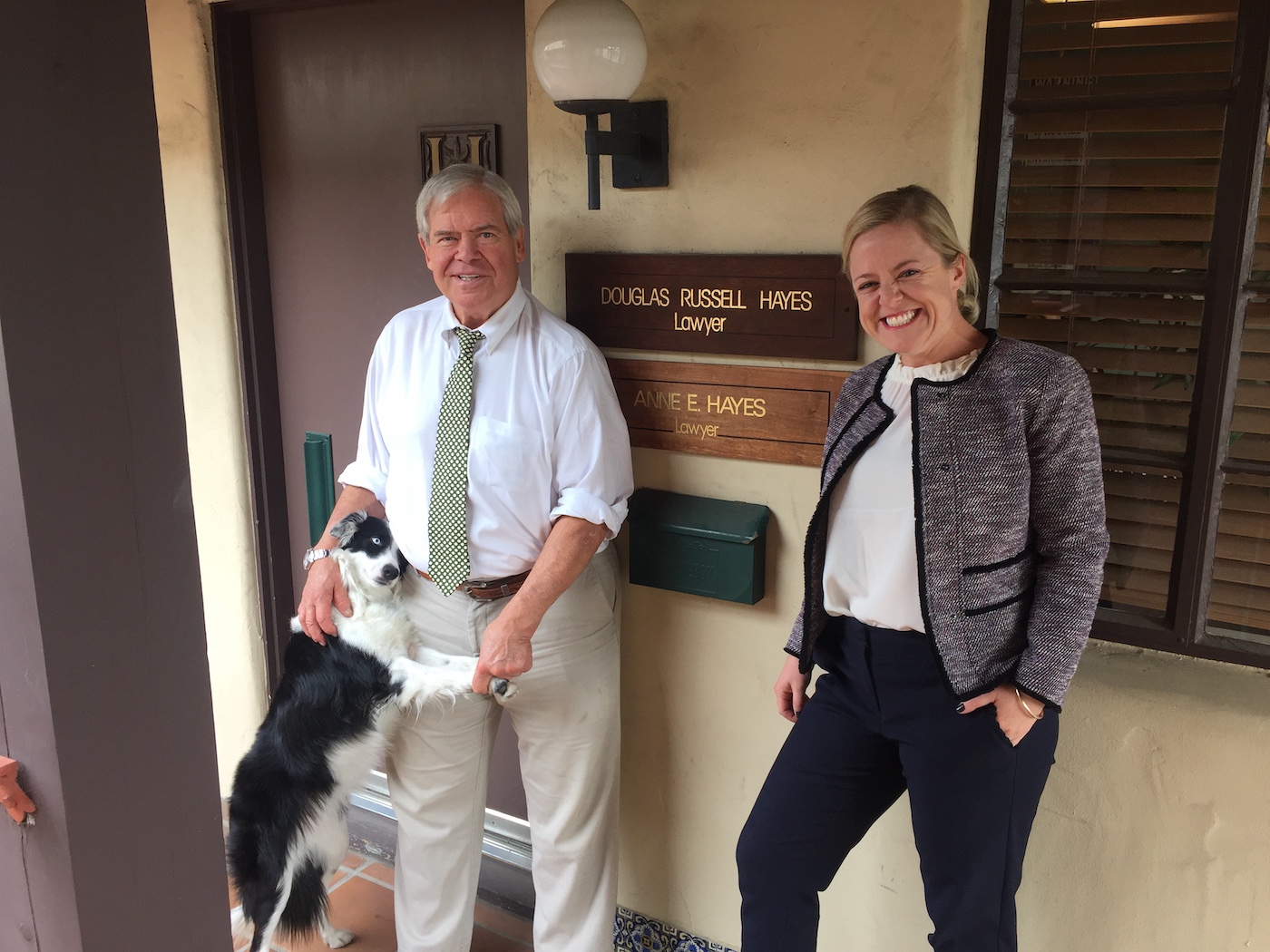 On East Victoria Street, just a block and a half north of the Santa Barbara County courthouse, is a small but busy law firm run by longtime Santa Barbaran and defense attorney, Doug Hayes. For nearly half a century, Mr. Hayes has worked in the world of law and magistrates, bailiffs and prisoners, the virtuous, the accused, the guilty. He has defended clients in more than 300 jury trials, 30 of them murder trials, one he is working on this moment with criminal defense attorney Annie Hayes, Mr. Hayes's eldest daughter.
Mr. Hayes attended UCSB for four years before transferring to the University of Oregon School of Law, where he earned his Juris Doctorate in 1971. He opened his law firm nearly 40 years ago on 125 East Victoria Street, where his office remains today, and believes that any case, no matter how big or small – "from dog off a leash to murder" – is extremely important. Not only to the defendant, but to Mr. Hayes as well.
"To me, a minor-in-possession case is just as important as a murder case," says the man who has practiced law for 45 years and counting, and who knows a simple or major mistake can inadvertently – and negatively – affect a person's life for a haunting amount of time: one of the reasons Mr. Hayes will continue to "practice forever;" the other being, "I enjoy what I do, and I always have."
Annie Hayes earned her Juris Doctorate from the University of California's Hastings College of the Law in 2013. Following law school, Ms. Hayes began her career as a prosecutor, but after two years joined her father's firm as a criminal defense attorney. "I didn't feel I was making the kind of difference in the community I could make," says Hayes. "It's important to make sure the system is working the way it's supposed to, and people's rights are known and protected."
It wasn't always the law that caught Ms. Hayes's attention. As a child, she wanted to help sick animals. So, of course, she aspired to be a veterinarian until realizing "I didn't have the stomach for it."
Still, Ms. Hayes loves animals and began riding horses in the sixth grade, as well as volunteering at Hearts Therapeutic Equestrian Center off of El Sueño and Calle Real. "My parents always taught us to work for what we wanted, so that's why they made me volunteer first." Ms. Hayes continues to ride three times a week at her friend's ranch in Buellton, where she keeps Tito, 7, her thoroughbred horse she rescued from the Santa Barbara race track.
But the father-daughter legal team spends a majority of their time seeking justice for potential prisoners, helping people make important life decisions when faced in a court of law so they don't lose their dogs, houses, cars, or their lives.
"Every case is different," says Ms. Hayes. "And it's always rewarding to find out the reason the event originally took place."
Doug and Annie Hayes are assisted by paralegals Elizabeth Arreguin and Gregory Rader (as well as Jersey, their Border Collie). All can be reached at (805) 966-4171.
You might also be interested in...