Come for the Studio, Stay for the Art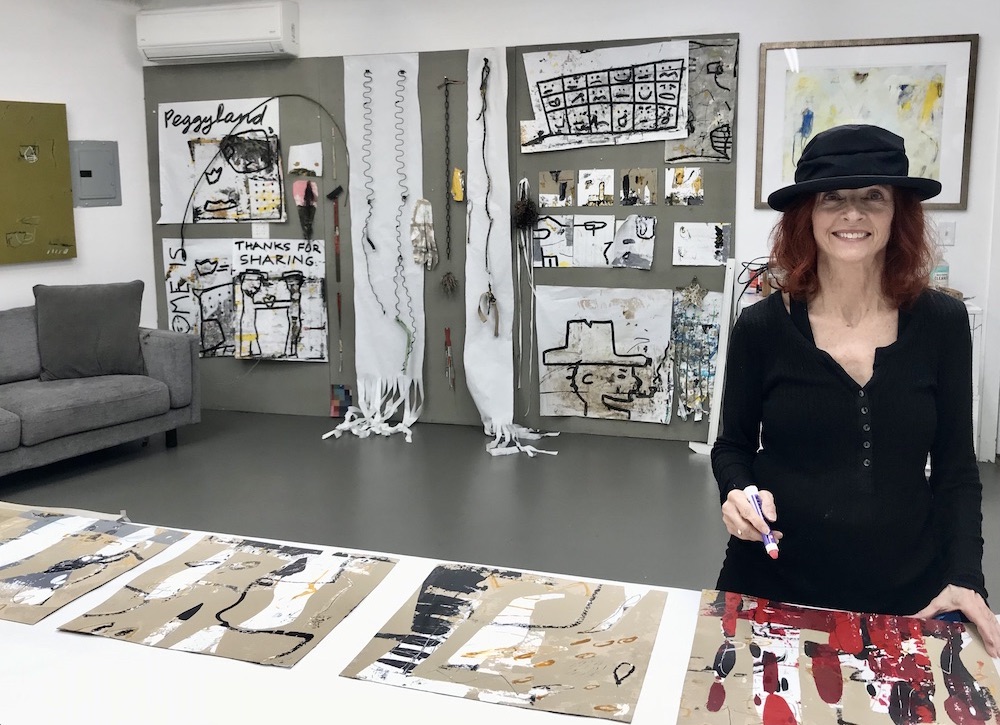 In the two decades plus since the Santa Barbara Studio Artists (SBSA) launched their annual Open Studios Tour, several others have sprung up in the area, including the Mesa, Carpinteria, and most recently upper State Street. But the SBSA Labor Day weekend is still the granddaddy of them all, the largest and most prestigious event of its kind on the Central California Coast, one that attracts collectors, gallery owners, fellow artists, students, and tourists to visit the various studios from Montecito to Goleta. Visitors can not only view old and new works in the space where they were created, but also chat with the artists and perhaps get a glimpse into the creative process.
Non-objective abstract painter Peggy Ferris has been a regular on the tour since its early days, at first showing off her colorful work from her home studio in Montecito – which was actually open to visitors every weekend due to directional signs that were staked on the median on Coast Village Road for years. But her pieces since relocating to Via Chaparral eight years ago, just a literal stone's throw from the "Bridge to Nowhere" across from the San Marcos Foothill Preserve, represented a sea of change in tone and color for the former graphic artist/designer.
"It was a shock when we moved because our old place in Montecito had a very tropical setting by the pool next to my art studio," she explained. "I was painting in a lot of beautiful aqua colors, very bright. Here it's dry and arid and brown and scratchy. The chaparral are beautiful but I had to really start looking closely at them and understanding what their particular beauty was. The stark survival of these plants is very powerful, and I found myself very influenced by the environment. I was really moved."
After churning out many works, including multiple large series using her gestural abstraction technique, Ferris' prodigious period of painting took a pause when the pandemic struck in early 2020. The artist found herself retrenching and even a bit shut down by the isolation.
"I felt zero motivation because to me being an active painter involves dialoguing with other artists, having shows, interacting with people, and getting feedback," she said. "There was nothing going on."
But after once again arranging a series of workshops at her studio space led by fellow artist Rafael Perea de la Cabada earlier this year, Ferris felt the creative impulse surging again.
"We had an assignment to pick a single object and key off it for the four-session working in series class. Normally I am not one to follow rules, but I decided to just jump in," Ferris said. "I did 30 little pieces, and they were so fun and playful, colorful, and lively – completely different from what I'd been doing before. It was like the pandemic never happened. I hadn't worked with colors like this since Montecito and it was like my switch got flipped back on again. They're like little battery packs."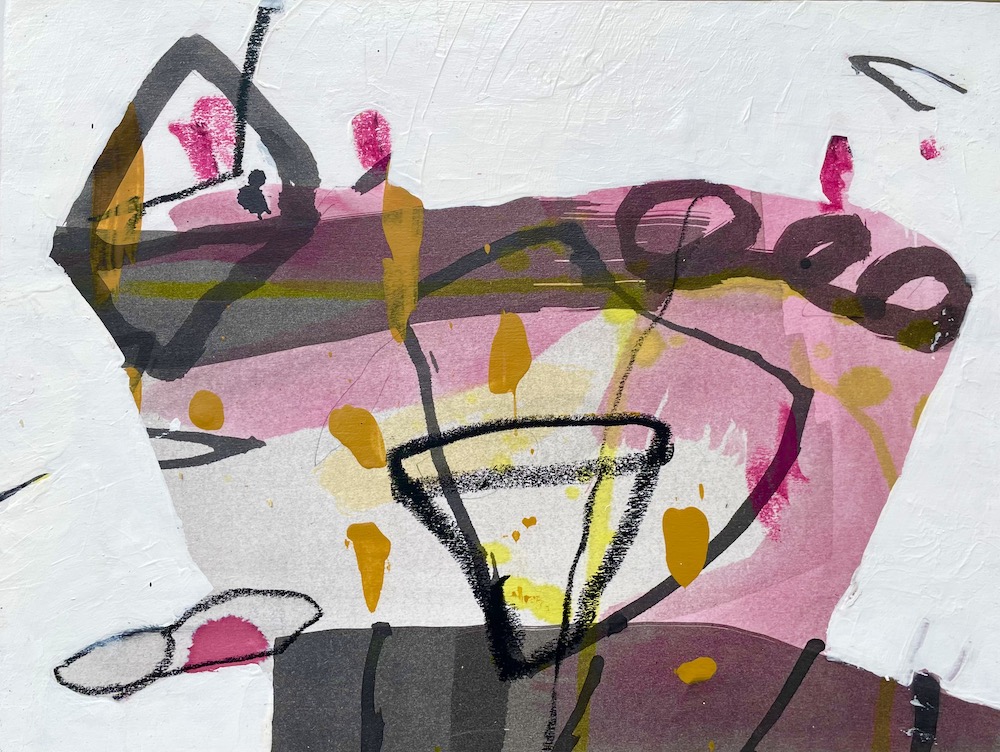 The new series will be on display at Ferris' studio, a generous space converted from a three-car garage, while a separate adjacent space will host paintings from her first years amid the chaparral as well as art from the Montecito days.
"I've been doing an inventory, and it's been a great sort of mind-bending experience going through it all," she said.
Ferris – who has also exhibited at Sullivan Goss, 10 West, Gray Space, and Silo, among other galleries, and is one of this year's featured artists on this weekend's SBSA tour – said she's thrilled for people to see the new paintings.
"I love to interact with people about art," she said. "I paint to connect with myself, not to evoke a reaction in others. But it's always fun to hear people's responses."
The Santa Barbara Studio Artists annual Labor Day weekend Open Studios Tour takes place September 2-4, from 11 am-5 pm on Saturday and Sunday, and 11 am-2 pm Monday. The opening reception 5-8 pm on Friday, September 1, at the Community Arts Workshop, 631 Garden Street, also serves as a preview with the gallery featuring a single work of art from each of the participating SBSA members, most of whom will be present. Montecito porcelain artist Joan Rosenberg-Dent, assemblage artist Susan Tibbles, and oil painter Dorene White are among the some two dozen other artists participating in this year's tour.
Tickets, tour maps, and brochures are available at CAW during the reception and throughout the weekend. Tickets, which cost $25 (free for children under 12), and more information are also available online at www.santabarbarastudioartists.com. Net proceeds will benefit the nonprofit Alpha Resource Center.
You might also be interested in...