Osmo Goes Cosmos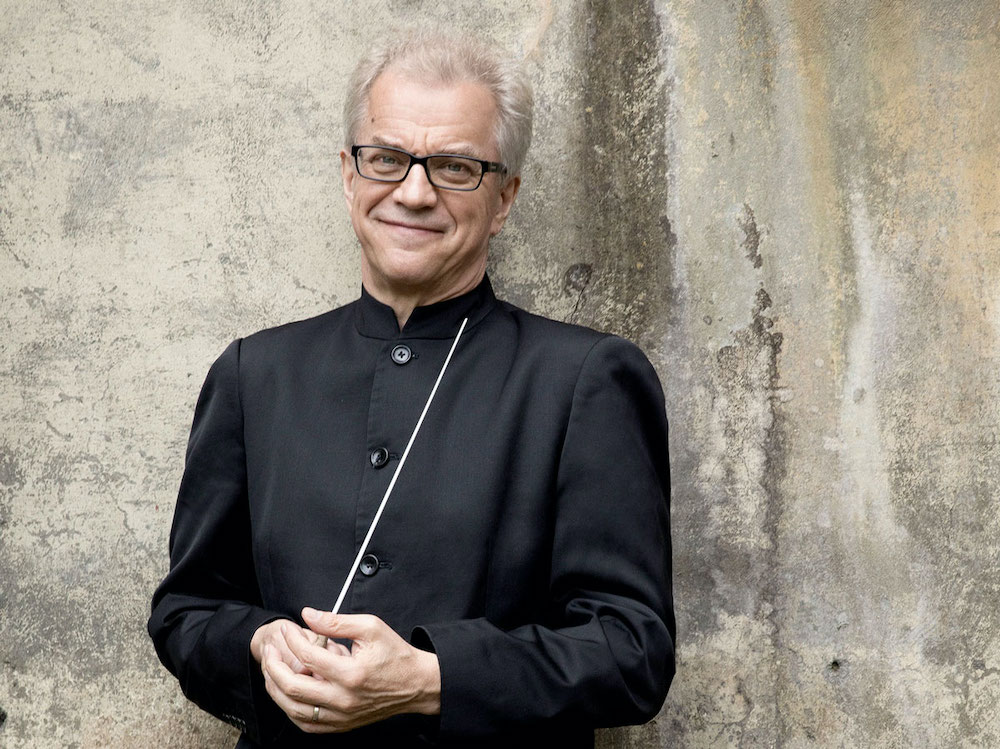 Osmo Vänskä made his Music Academy debut back in 2005, when the Finnish-born and Grammy Award-winning longtime conductor of the Minnesota Orchestra coaxed the fellows-powered Academy Festival Orchestra (AFO) into delivering a marvelous Mahler's "Symphony No. 5." That would be the same 70-minute work that served as the musical centerpiece of Tár, the 2022 multi-Oscar nominated film starring Cate Blanchett as the fictional superstar conductor Lydia Tár. 
Like Lydia, Vänskä is a major fan of Mahler and can be somewhat of a perfectionist regarding his orchestra's musicians. Also like the fictional Tár, he married the concertmaster of his primary orchestra – in his case, Erin Keefe, the virtuoso violinist who succeeded the Music Academy's late faculty member Jorja Fleezanis in 2011.
But that's where the similarities end. Because the most controversial thing from Vänskä's past is serving as the public face of the most acrimonious labor dispute in American orchestral history, the lockout of the Minnesota Orchestra's musicians that lasted 15 months in 2012-14. But Vänskä's actions, which included resigning his post, only reportedly endeared him even more to the ensemble's musicians, and the orchestra hired him back under his own terms after the stoppage ended.
Vänskä departed the Minnesota Orchestra for good last summer after 20 seasons as music director in favor of accepting only guest shots, including conducting a recent mini-tour by the Curtis Symphony Orchestra, featuring students at the prestigious school, which played the Granada for CAMA last May. All of which – the passion, the purpose, and the personality that included him frequently taking road trips on a motorcycle until he donated it for an auction to benefit the Minnesota Orchestra last fall – makes him a great addition to this year's roster to take the podium at the Granada with the AFO on Saturday night.
"It's fascinating and a great inspiration for me to be a part of these talented young musicians' story as they prepare themselves to become professional and win jobs in great orchestras," the 70-year-old Vänskä said. "When they learn to listen to each other, and to have to play as one with everyone in the orchestra, the better they become – not only as musicians, but better human beings for life, too."
That growth will take place via a program of music that dates back only to the early 20th century – his first in town sans any works by Finnish composers – which opens with the Overture to Leonard Bernstein's Candide (1956), then gets more modern with the West Coast premiere of Jessie Montgomery's "Hymn for Everyone," then closes with The Planets, Gustav Holst's seven-movement orchestral suite aiming for capturing the astral properties of non-Earth planets in our solar system.
Vänskä called the Bernstein Overture, "not an easy piece to play, but it inspires the musicians and activates the audience in listening." He termed Montgomery's Hymn aptly titled in that "everyone can relate to it, and the music goes somewhere deep in your mind and your heart, and people feel like they can be part of the performance inside."
Holst's most popular work is of course a staple of the repertoire and one that audiences find easily accessible due to its cinematic nature. "It's like one of the best movie scores," Vänskä said, alluding to the fact that The Planets was a big influence on John Williams when he composed the original Star Wars themes. "It's an ideal piece for the [fellows] to play because while the technical demands are huge, they know how it should sound, and it's a chance to produce some beautiful music together."
The conductor said he doesn't have the same exacting standards for a student orchestra as he might for one of the world's top ensembles where he has guested.
"I'm not setting a goal, but if everyone is inspired, the result will be much better. I'm sure that we are going to play a great concert, but we'll just start to work and practice, and we will see how high it will go."
And that goes for the audience, too, he said.
"Hopefully we will all be sharing and feeling something together and that's the great power of music. After a good concert, life might be just a little bit easier for everybody."
Osmo Vänskä and the AFO will perform at the Granada at 7:30 pm on Saturday, July 1
Upcoming @ MA
Friday, June 30: The official Music Academy calendar pitches today's solo piano competition as something akin to reality TV shows such as American Idol, but there are a few differences. It takes place over a single day, the audience doesn't get to vote, and the judges' deliberations are private and confidential. On the other hand, the stakes are pretty darn high, as the winner's package includes not only a cash prize but also recital opportunities, including starring in the annual concert back at Hahn Hall next year, where the pianist will play a recital that includes a piece commissioned for them. And the judges are an impressive panel, comprised of Canadian star Angela Cheng, who has appeared as a recitalist, soloist, or chamber musician at virtually every important hall around the world; Aleck Karis, who as the pianist of the new music ensemble Speculum Musicae has participated in more than 100 premieres; and composer-pianist Anthony Cheung, whose music has been commissioned and performed by Ensemble Intercontemporain, the New York Philharmonic, and many others. (He'll create a new piece for the competition winner.) With just six pianists performing over a full five-hour event, including lunch break, the judges, and audience, will have a lot of listening to love. (11 am; Hahn Hall; $40)… "Savor the nature. Then the music," suggests one of today's Academy listings, which seems like an apt description of the appeal of the first Picnic Concert of the season. Long a staple of the summer, the popular events invite guests to enjoy a pre-concert picnic pretty much anywhere in the public spaces of the gorgeous gardens at Miraflores, then head inside Hahn for a wide-ranging assortment of chamber music from the fellows, who choose their own works for the program and put together their own ensembles, rehearsal schedules, and coaching. (7:30 pm; Hahn Hall; $40)
Monday, July 3: Tonight's Teaching Artists Showcase features four sonorous sonatas pairing pianos with other instruments including oboe, bass, cello, and another piano, and starring seven of the summer's stellar faculty members (pianist Natasha Kislenko, familiar to locals as the principal pianist of the Santa Barbara Symphony and a UCSB faculty member, gets double duty). Works by Mozart, Rachmaninoff, de Falla, and Hindemith are featured, with the latter's "Sonata for Double Bass and Piano" perhaps the most poignant as it will be performed by longtime MA (and current Westmont College faculty) double bassist Nico Abondolo in memory of his late mother Maria Abondolo, a visual artist who was commissioned to design the California Mission Medal Series as well as many murals in private homes. (7:30 pm; Hahn Hall; $40) Nico Abondolo will also conduct the first of his three master classes of the summer on Wednesday, July 5. (3:30 pm; Weinman Hall; $10)
Wednesday, July 5: No fewer than 28 fellows are performing in tonight's Chamber Nights Series concert, the Academy's effort to re-enact a less formal version of the private performances for nobility in elegant salons many decades ago. That's 20 percent-plus of the entire enrollment this summer, a generous sampling that includes brass, woodwinds, strings, piano, and even voice with works by century-spanning composers Tower, Ravel, Poulenc, and Mozart. With what we imagine are some complicated bandstand changes, it's a good thing the performance is preceded by a wine reception. (7:30 pm; Lehman Hall; $45)
Thursday, July 6: In a first for the Music Academy, there's a Mosher Guest Artist this summer who won't be performing or composing any music. But Alex Ross, the music critic of The New Yorker since 1996, has a great deal of insight and influence on how classical music is received and is evolving, even as arts criticism has become a threatened medium, with many major newspapers eliminating the position. Ross – MacArthur (Genius Award) Fellowship winner and Pulitzer Prize finalist – will lead a roundtable discussion about the role of the critic with fellow scribes Joshua Kosman, who has covered classical music in the Bay Area for the San Francisco Chronicle since 1988, and Carolina A. Miranda, a Los Angeles Times columnist focused on art and design, who previously produced cultural stories for Time, ARTnews, Architect, Art in America, Fast Company, NPR's All Things Considered, and PRI's Studio 360. (3:30 pm; Hahn Hall; $10)
You might also be interested in...