Climbing Out of Isolation, Aerial Dance Company Flies Again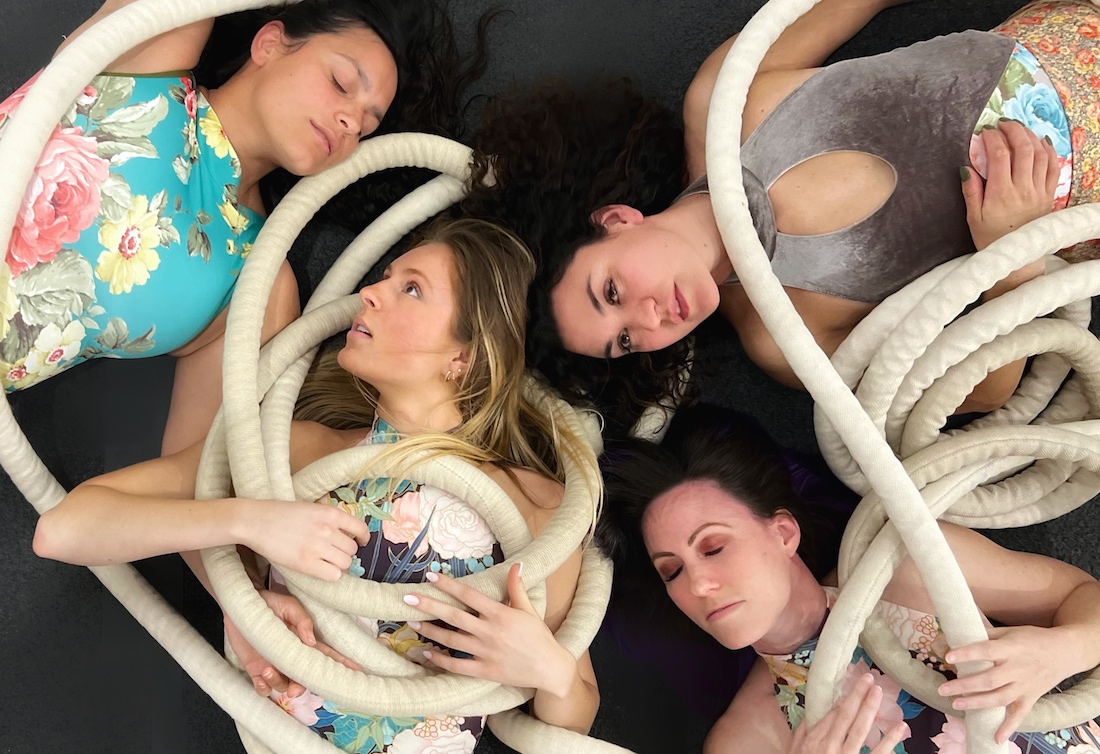 Credit Covid as an uninvited collaborator for Ninette Paloma in creating her new evening-length aerial dance work making its debut this weekend. That's because La Escalada (The Climb) grew out of both the restrictions and the sense of isolation engendered by the pandemic – as well as Paloma's Santa Barbara Centre for Aerial Dance's new downtown digs on the corner of De La Guerra Street and the interim plaza they moved into during the shutdown. 
For Paloma, aerial dance has always represented more than a beautiful art form full of power and grace, with the floor-to-air principle and the concept of flight serving as a metaphor for the human condition. So when the pandemic protocols had restricted classes and rehearsals to as few as one or two dancers at a time, the choreographer let her imagination flow from her inner world.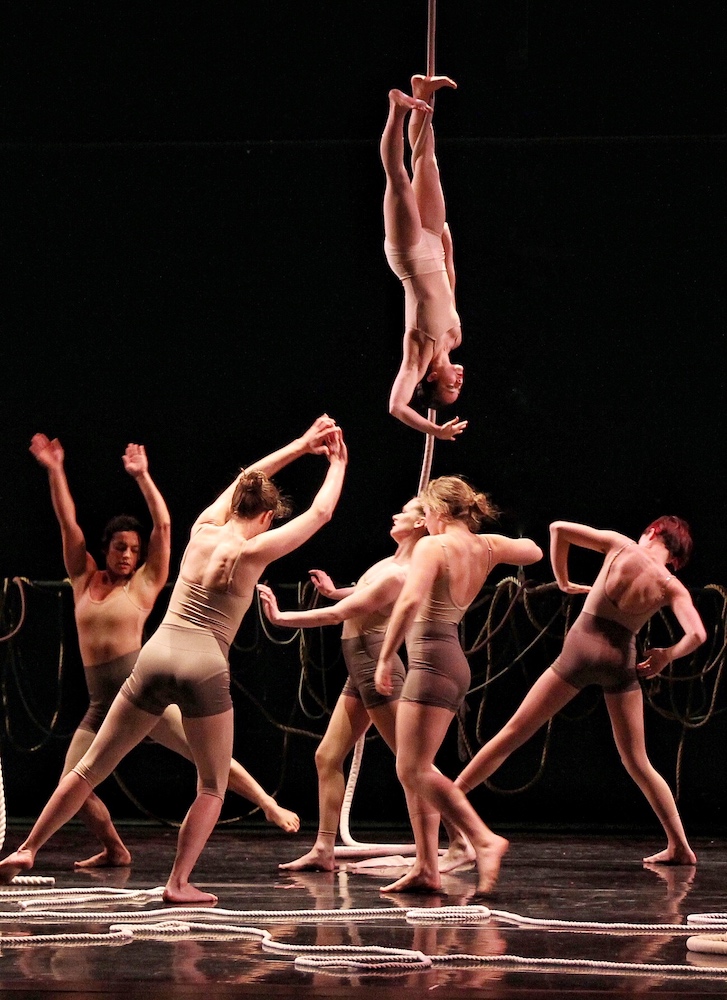 "There were four of my company dancers in this really intimate setting and we just played with how it feels to come out from something like this," Paloma explained. "Emerging from the pandemic was the same feeling as when you start a new piece, that initial climb to get you going. That's how it felt for us to start to create these pieces, like a vertical climb that was both intimidating and exciting as we explored this new territory."
Paloma said the entire production was born out of that approach over the summer last year, working through the pieces one apparatus at a time in the new space, a much more public venue than its former home in an industrial space near the Funk Zone, with the De La Guerra place also housing Paloma's new American Riviera Magazine and special public arts evenings.
"We'd had the intimacy of one-on-one, being separated by masks and really cautious about how we move together in this new space," she said. "Out of that sense of caution and not knowing what was going to happen in the future, we ended up creating really vulnerable work… It wasn't about grandiose ideas anymore, it was just about being able to lift yourself up one arm at a time."
Paloma said La Escalada is divided into three acts, each geared toward a specific apparatus – ropes, metals, and fabrics – which she called an "aerial dance abstraction."
"It is distilled down to the bare bones to get to the essence of what this apparatus does, how your body moves when you're climbing a rope versus when you're spinning on a metal lyra, or gliding around on an ethereal fabric."
Each piece also has its own soundtrack – percussive sounds for the rhythmic movements on the ropes, mysteries and the avant-garde to mirror the way trapezes and lyra spin, and charming piano and strings to evoke the romance of fabrics.
"You will truly feel a sense of going through this journey with us, and experience these different aspects of what aerial dance is all about in its essence," Paloma said.
Teenagers in the youth apprentice program at Santa Barbara Centre for Aerial Dance – the area's original aerial dance studio, now celebrating its 17th year – are also contributing two works to the program, fitting the final puzzle pieces together, Paloma said.
"It's almost magical to work with one set of dancers knowing that I'm linking it to another," she said. "I've been taking cues from what life is like right now, where we couldn't go that straight path but had to weave carefully around before we got to that end result. The unification in the final program is exactly what I had envisioned. It's beautiful. It's really straightforward and vulnerable and authentic in the way the people move because we got through it, we're on the other side. But we don't feel bold or pompous. We're not puffed up like peacocks – we feel a true sense of relief."
Santa Barbara Centre for Aerial Dance presents La Escalada at 7 pm on Sunday, May 28, at the Lobero Theatre. Call (805) 963-0761 or visit www.lobero.com.
You might also be interested in...