Another Side of L.A.: Aimee Semple McPherson's Parsonage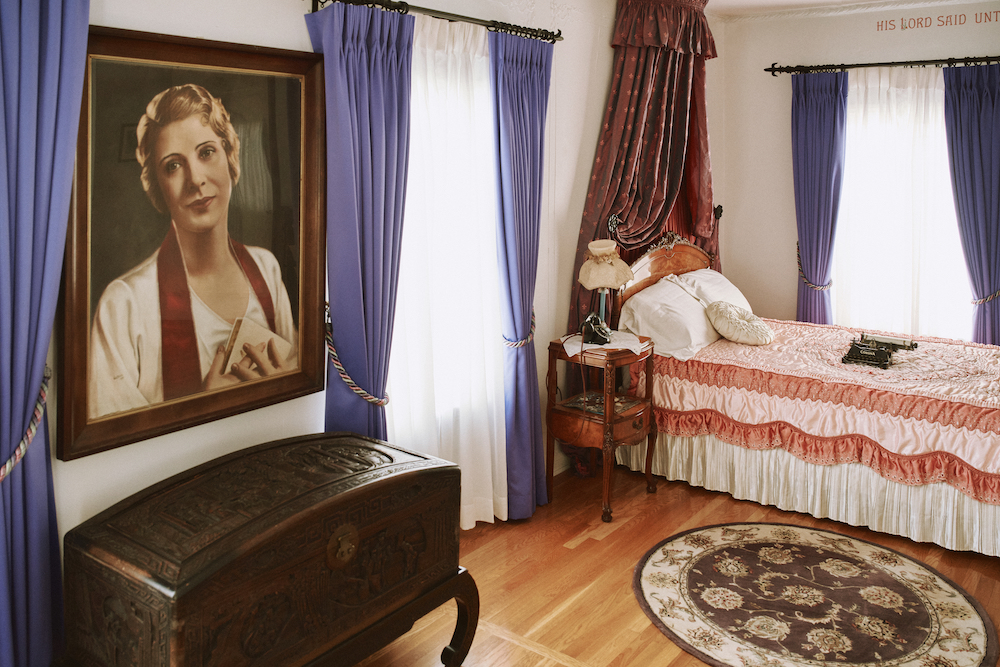 Los Angeles has always been an incubator for magnetic religious personalities, and in the 1920s no one could touch evangelist, faith healer, and media celebrity, Aimee Semple McPherson. At her pioneer megachurch, Angelus Temple, she preached the "old-fashioned gospel" for a packed house of more than 5,000 people three times every Sunday.
"Sister Aimee" livened up her sermons with humor, stage sets, costumes, and music. One service was inspired by her getting a speeding ticket. Dressed in a traffic cop's uniform and riding a motorcycle with a blaring siren to the pulpit, she hit the brakes and shouted: "Stop! You're speeding to Hell!"
She gained notoriety for her two divorces and a mysterious disappearance that captured national news but seemed to have been staged and was possibly a romantic rendezvous. Yet Sister Aimee did much charity work, mobilizing her radio audience to help in disasters, funding free medical clinics, and feeding more people than any other organization in Los Angeles.
Aimee Semple McPherson's surprisingly humble parsonage home, located across from Echo Park Lake, preserves period kitchen appliances and a dramatic, black-tiled bathroom. Among artifacts from her life are a travel trunk and a large metal megaphone she used to preach from the back of her "Gospel Car." The movement she launched in Los Angeles spread widely; her Foursquare Church now claims to have four million members in 142 countries.
You might also be interested in...