Society and Environment with Isa Johanson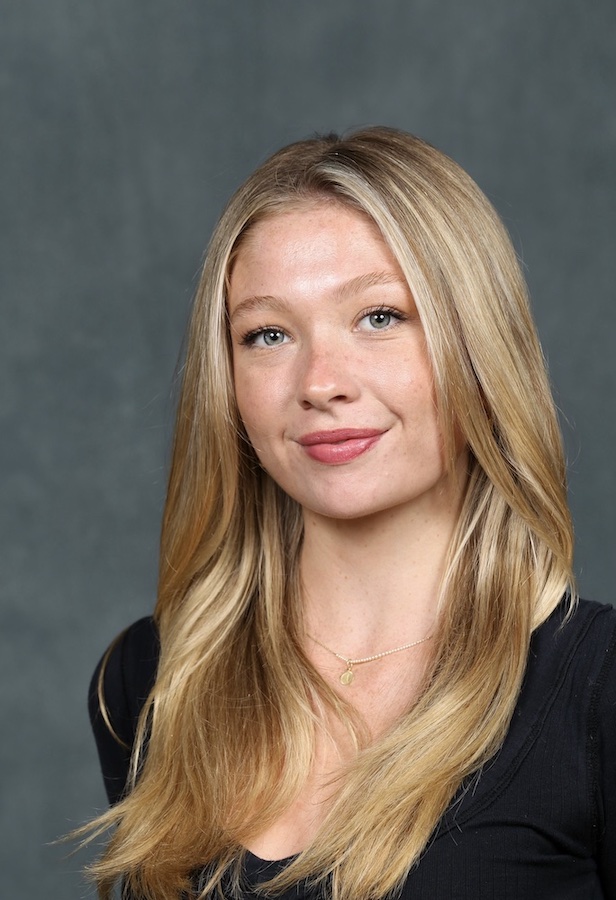 Twenty-year-old Isa Johanson is a current sophomore at UC Berkeley and an alumna of MUS, Santa Barbara Junior High, and Santa Barbara High School. From her first Earth Day and subsequent internship with Kathi King of Community Environmental Council to the 2018 mudslides, Isa describes the influence growing up in Montecito had on her current eco-focused studies.
Q. What did you like doing as a kid growing up in Montecito?
A. Going to Butterfly Beach definitely was one of my favorite things to do. Volunteering for beach clean ups. Also walking to Coast Village and going to Scoops after school or biking around with my brother.
What stands out to you in your memories of growing up here?
I think the overall sense of community has always been prominent. That was something that stuck with me when I went to college. There was always a sense of neighbors wanting to uplift each other, peers wanting to support other, familiar faces wherever you go. I really try to replicate that with my college experience and find community in such a huge school like UC Berkeley.
Does Berkeley feel big to you, coming from Montecito?
Honestly, at first I was overwhelmed by how large it was. I tried to really immerse myself in clubs and Greek life. The Rausser College of Natural Resources, within the campus, is quite small, which has helped me get to know my peers. I've tried to get to know people, and now it feels like I have recreated a bit of my hometown vibe at Cal.
Tell me about your major.
My major is Society and Environment and has one of the smallest study bodies of all majors at Berkeley. There are three concentrations within the major, mine being U.S. Policy and Management where the premise is to use social theory to understand bigger environmental concepts. I also intend to pursue a minor in Environmental Economics and Policy. My curriculum exposes me to economic and social theory which is a cool way to be able to problem solve and break down the overarching environmental problems facing our society.
What made you want to study this?
If I'm going to be honest, I feel like the exigence of my interest in this field was the mudslide. It kind of opened my eyes to how real these problems are, and it was inspiring to see how our community banded together afterwards to find solutions. To be rescued by first responders from my home was harrowing. I had a kind of "aha" moment in one of my classes this year. We were listening to a podcast called "California Adapts – The Journey," which was all about the Thomas Fire and mudslide that followed. It was kind of crazy sitting in that classroom thinking: "This is what brought me here." It was a full circle moment.
You were being taught about the mudslide in class?
Yes, I was! It was such a difficult thing that we went through in 93108. Historically – for California and natural sciences in general – it was an anomaly, but still it was crazy for me to be hearing about it from renowned professors and climate scientists.
How would you say your perspective changed after hearing about it in class?
We've been educated on fires and mudslides and coastal waters rising, and yes, these are naturally occurring things, but to be able to know we are in the middle of a climate crisis, when people are moving closer to these areas and these environmental disasters are getting more extreme as we push the limits – it kind of allowed it to make more sense to me in a way. It also instilled a feeling of community pride. We lived through a history-making natural disaster and experienced the tragedy and loss that came with it. And still, we found strength in our community and were able to band together and implement textbook-worthy disaster responses.
Does Berkeley feel as "green" as Santa Barbara in terms of environmental initiatives?
Overall, yes. But I think on an individual basis maybe not. I think that most people in Santa Barbara may be more environmentally conscious than the Berkeley community at large. Santa Barbara is cutting-edge in terms of environmental initiatives. One thing that stuck out to me when I first moved to Berkeley was the fact that the city of Berkeley recycling didn't accept any plastics. I instantly thought of the CEC and Talbots film recycling program which is such an incredible way our community maximizes recycling. I'm a member of an organization on campus called Cal Greening the Greeks, and our primary focus is to go around chapter meetings for each fraternity and sorority at UC Berkeley and give our little spiel: "This is how we can be more environmentally conscious when we're carrying out our activities." Living together in these big houses with so many members, using disposable things, there's a great opportunity to promote sustainable practices and lessen the environmental impact of the Panhellenic community.
It feels like a lot has changed since we were first introduced to the idea of being environmentally conscious at MUS. How would you say being green has changed in the last ten years?
I think it's always progressing towards a place that can be more accessible for people. It's also a two-sided issue because there is a lot of greenwashing by companies. I think in general being green is becoming more realistic for the individual to implement in their daily routine, and it's the accumulation of all that action that is going to make a big difference. I feel that at first it was more ambitious but not as realistic for everyone. At the same time, we're becoming a lot more aware of the intricacies of environmental problems and the way that they're all intertwined, so some solutions remedy one thing but have an adverse effect on another – we're eliminating that as we move forward. I've noticed a general move towards seeking to understand nature, natural systems, and the overall connections between people and nature in order to create sustainable landscapes and livable cities. I think there is a much wider acceptance of the interconnectedness between society and environment. I am a part of an organization on campus called The Sycamore Institute, which is the first undergraduate-run national security think tank with an intercollegiate network of Yale, American University, Berkeley, Howard, George Mason, London School of Economics, and NYU students. I am in the "Energy Security and the Environment" division of the organization, which has made me think of the environmental crisis from more of a humanitarian standpoint. I think as we move into the future, energy security and climate change in general will become an issue of human security.
Interested in sharing your perspective? Want to be interviewed for Dear Montecito?
Email me at stellajanepierce@gmail.com
You might also be interested in...