Furry Critters, Fat-Filled Food, and Fabulous Fun at the Fair & Expo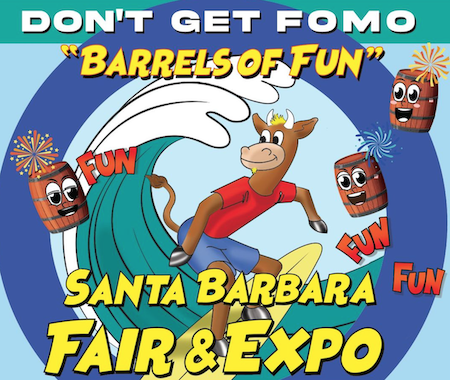 If Earth Day is all about the environment and ecology – you know, healthy organic food? – another of Santa Barbara's long-running family-oriented festivals takes an altogether different tack: we're talking corn dogs and cotton candy. We're also talking farming, enthralling exhibits, and a full focus on fun. Yes, it's the Santa Barbara Fair & Expo, also back in full force for the five-day festival, April 26-30. There will be two stages of non-stop music and performances, including perennially popular magician Frank Thurston and hypnotist James Kellogg, Jr. … each of whom will roll out their act a dozen times over the span of the fair. This year's main attraction may well be motocross superstar Adam Jones, the 2007 X Games Los Angeles Freestyle Gold Medalist. 
Of course, most kids and teens will tend to veer toward the carnival midway, which this year boasts more than 30 rides and attractions, including such "scream yourself hoarse" diversions as Super Shot Drop Tower, Mega Flip, and something called Turbo Speed (which requires 10 tickets, twice as many as any other ride), along with old chestnuts like the Tilt-a-Whirl – which subject graced Bruce Springsteen's second album about half a century ago on his. Visit https://earlwarren.com/fair-and-expo for info and tickets. 
You might also be interested in...