Sound Wall Appeals Denied at Board of Supervisors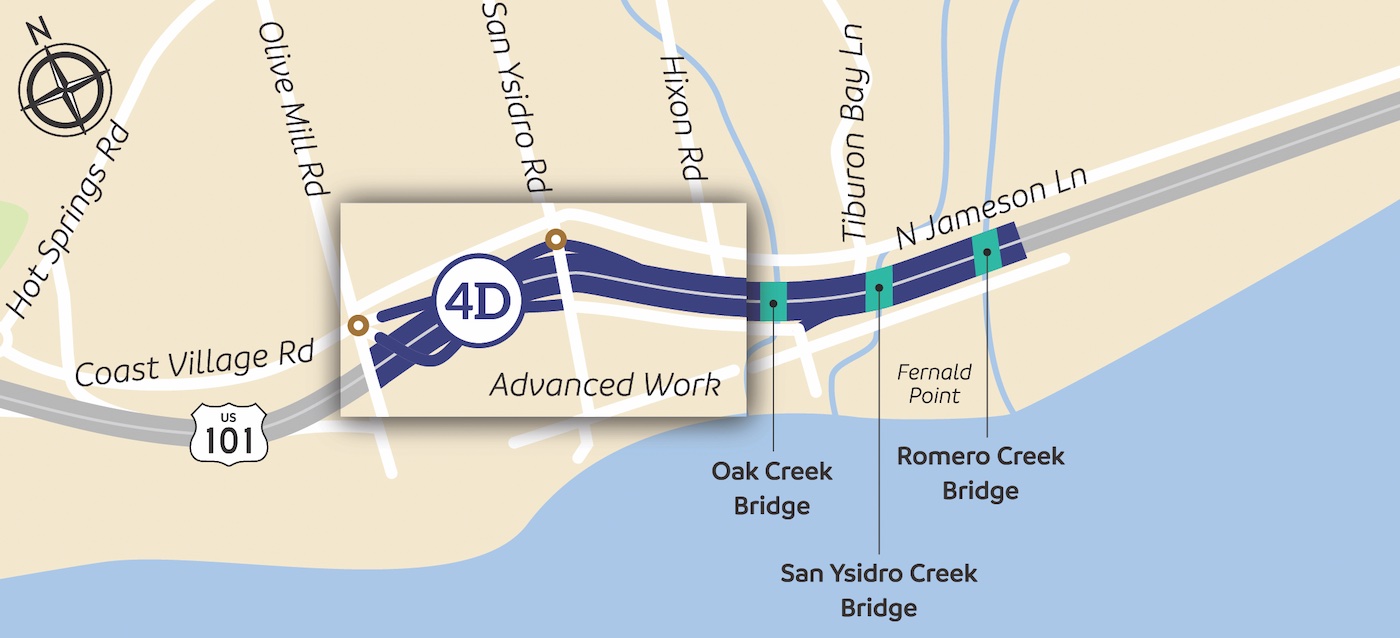 The Board of Supervisors heard the appeals filed by Scott Smigel and Bruce Mackenzie of the Santa Barbara County Planning Commission's approval of the 101-widening project for the 1.4 miles from Olive Mill to San Ysidro. Chris Schmuckal, county planner for the 101 project, gave the staff presentation. Prior to February 2022, sound walls had been incorporated into the project. It was a shock when Caltrans announced that, due to projected flood rise, the sound walls would be pulled from the application.
The county bundled the appeals together, giving them five minutes each, rather than the 10 minutes usually granted to each appellant.
Mr. Smigel's appeal:
1. Environmental Impact Report (EIR) is insufficient. Staff said the revised EIR is adequate. No new impacts identified.
2. Decision to remove sound walls due to Flood Control is in error. Staff said FEMA Recovery map is adequate and in effect until new map adopted. Hydraulic studies showed more than 1 foot of flood rise across 31 parcels.
3. Timing is in error. Sound walls could be incorporated into the project without delaying construction. Staff did not agree.
Why were sound walls included in Carpinteria, but not Montecito? Carpinteria has different hydrological conditions. Their creeks have concrete-lined beds with greater capacity. The Santa Monica debris basin has 100-year flood capacity, while Montecito's have 25- to 50-year capacity.
A new FEMA Flood Insurance Rate Map [FIRM], due within a year or two, COULD allow sound walls to be included if modeling doesn't show flood rise. It likely won't be published in the six months' window required to keep funding for the project.
Mr. Mackenzie's appeal:
Susan Petrovich presented. She's lived on La Vuelta since 1978 and has always been impacted by lack of flood control. The debris basins need to be kept cleared, and new infrastructure is needed. Decades ago, the community was promised that the dog leg in San Ysidro Creek would be straightened out when highway was widened.
Why are flood release panels on the Salinas offramp OK, but not for Montecito? The county should set aside funds for sound walls, and include foundations, as well as install substantial barriers to prevent trucks from running off freeway on to N. Jameson.
Fred Luna from SBCAG said the goal is to start construction this summer. The Montecito segment is partially funded, and they anticipate remaining funding approval in June by the California Transportation Commission.
Caltrans looked at other options, such as staggering or floodgates. Through the Montecito Planning Commission, Caltrans agreed to a future watershed study to address improvements throughout the corridor. The Montecito Association supported the grant application for this study.
The 101-team made offers to 15 property owners who are severe noise receptors (more than 75 decibels) to make improvements to reduce noise.
Joe Erwin from Caltrans presented their process:
He said the sound only increases 3 dB from the widening project.
Sound walls originally proposed:
All proposed sound walls would cause flood rise, so they were removed. The project CAN accommodate future sound walls under current design. The EIR found the project does not create significant air quality impact to region or adjacent properties. California's move to all electric vehicles by 2035 should also help.
I spoke on behalf of the Montecito Association in support of neighbors, as did Bill Babbitt, the new Land Use and Transportation Committee Chair.
Neighbors who spoke:
Gary Bradhering bought his home four years ago based on sound wall being installed and was very concerned re noise and air pollution.
Brett Caine said noise has steadily increased in the past year. Maintaining plantings has always been hard for Caltrans.
Tom Deardorff said sound walls were a 17-year-old promise made back in 2006. Our culverts are the problem. They don't work. The recovery map is not the one to use.
Sandra Peterson requested a sound wall from the Music Academy to Rosewood on South Jameson.
Ron Pulice, the chair of the Montecito Planning Commission, said flood control is the bigger issue. We are months away from a new map that could show a different world where we could afford to have a sound wall.
After questions and discussion, Supervisor Williams agreed this is really a flood control issue, as Montecito is an alluvial fan. Caltrans modeling was double checked by the county. Sound walls, with a one-to-four-foot flood rise, could prove fatal for some neighbors. That risk is too great for present and future residents. Caltrans has an ongoing responsibility to work with the county to ensure the creeks don't flood the freeway; for example by removing the dog leg from San Ysidro creek. Supervisor Williamsrecommended denying the appeal, and the supervisors agreed unanimously.
Read more about the Board of Supervisors meeting on page 22
You might also be interested in...