'Una vita difficile'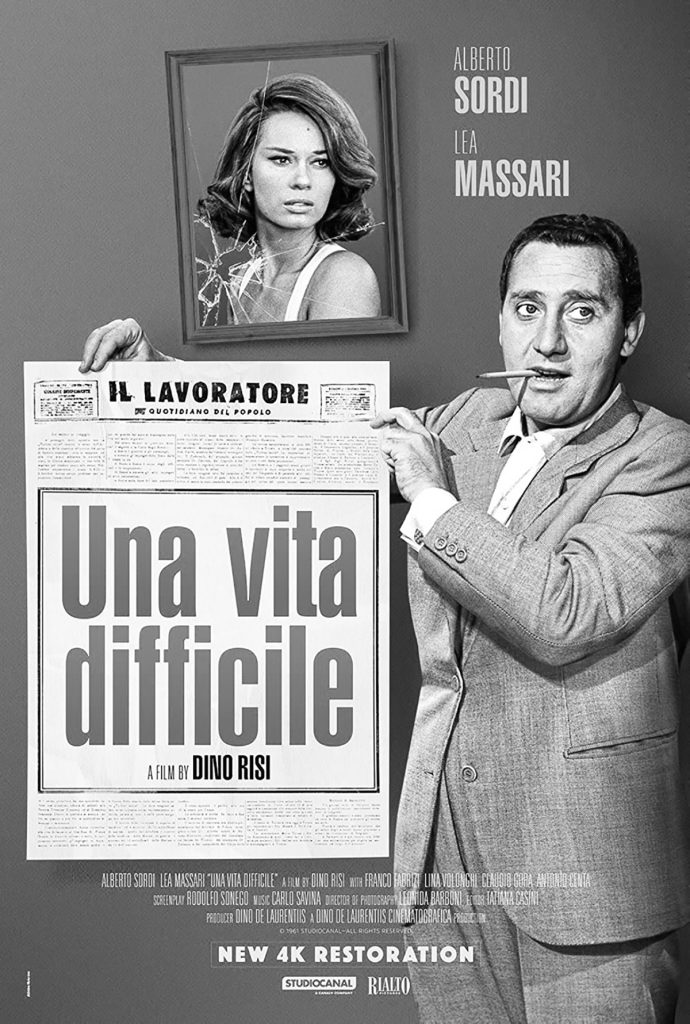 Life for cinephiles everywhere just got a little easier now that Dino Risi's long underseen film from 1961, Una vita difficile AKA A Difficult Life, has finally made its way stateside for the first time ever, after being overshadowed by Risi's followup masterpiece, Il Sorpasso. And even better, it features two of Italy's greatest stars of the silver screen: Alberto Sordi and Lea Massari!
The film spans two decades, from the end of WWII to the burgeoning years of the economic boom. The years of the Vespa and when "Made in Italy" caused people to salivate uncontrollably over their Bialetti Moka coffee pots. Sordi plays an ex-resistance fighter so dedicated to his anti-establishment ideals that they threaten to compromise his relationship with Massini, who he falls in love with after she permanently incapacitates a Nazi to save Sordi's life. Now who wouldn't swoon over that?
There's just so much to love with this film. An early entry into the Commedia all'italiana (or Comedy, Italian Style), it deftly balances the tragic and comic, which, as those of you with Italian relatives know, is a balance they excel at. One minute you're laughing with Nonna over dessert and coffee, the next she's crying over a stale cannoli. Okay, that's a stereotype. But don't worry, I can say it. I'm Italian!
At the risk of getting too academic, it's hard not to see the movie as a comment on the trend of "pink neorealism," a period of time in the '50s where Italian films seemed desperate to capitalize on the neorealist aesthetic, while putting well… a nice little pink bow on it. They were light romances and comedies with the backdrop of war-torn Italy, rather than moving social films about the working class and marginalized who had to survive in a post-WWII Italy. Is Sordi's character a stand in for filmmakers and producers clinging to the past to the point of self-sabotage? Cling too long, and maybe you'll end up a fool. But at the same time, it's also about being fiercely loyal and refusing to give up on your ideals. There's gotta be a balance, right?
Wow, two Italian movies two weeks in a row. Now this is what I call La Dolce Vita! So who's up to be transported to the Italy of the '60s? A flick at The Riviera and post-movie pasta at Tre Lune? Say no more!
A 4K restoration of Una vita difficile will play at the Riviera on March 31-[TBD]
You might also be interested in...