The Conformist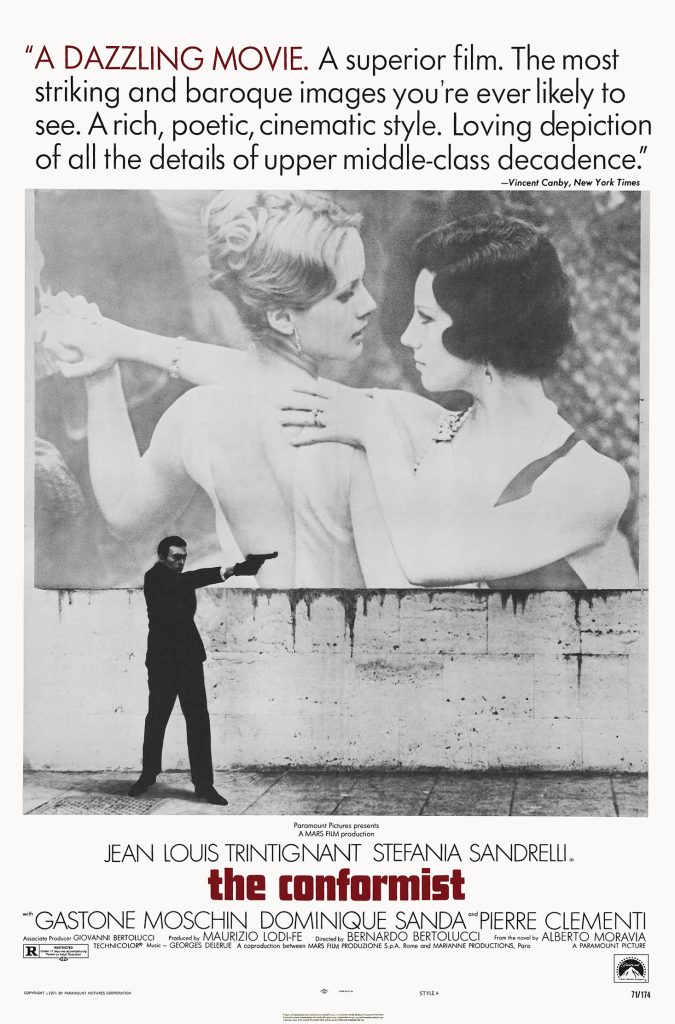 Readers, movie lovers; we're in for a serious treat. Bernardo Bertolucci's 1970 masterpiece, The Conformist, is coming to a theater near you. Oh, count our lucky stars!
Based on the book of the same name by Alberto Moravia, The Conformist is about a young Fascist, Marcello Clerici (played by Jean-Louis Trintignant) who is ordered to assassinate his former professor who has fled to Paris. But that barely scratches the surface. The movie is so many things: a political thriller, a psychological study, a movie about struggling against your identity—and ultimately a beautiful piece of art. Told nonlinearly, bouncing between flashbacks and real time, we are taken into the fragmented mind of a not-so-madman. Just someone who wants to escape his trauma and disappear into a "normal" life. And normal life at the time? Well, just ask Benito Mussolini.
One of the most compelling aspects of this film is that we witness a complicated character study of a man descending into the faceless machinery of Fascism. Consider also that images of Nazis and Fascists in most, if not all, Italian films up to this point were far from nuanced. But here we witness the mind of a very troubled young man reeling from a childhood trauma, struggling with repressed homosexuality, tasked with a mission to kill one of his past mentors, and trying to escape a disturbing family life. We aren't necessarily meant to completely empathize with him, but we don't see him as an outright monster either. He's lost and damaged. And it's not because of the allure of power that Marcello becomes a Fascist. It's simply so he can disappear within the state and its uniformity, losing himself in the process, never having to make his own decisions ever again. He finds a comfort in that.
And probably many do. There's a frightening overlap with Marcello and a lost soul on the internet who might come across a dangerous ideology, impressionable enough to consider it seriously. That's what helps make this film so enduring and so compelling. Not to mention it's superb cinematography.
To say this movie is beautifully shot is an understatement. I'm not trying to be hyperbolic when I say the cinematography by Vittorio Storaro is truly some of the best I've ever seen. It's astonishing. Look no further than what writer/director Paul Schrader said about the film: "To my mind, you can speak of pre-Conformist and post-Conformist design." You can't argue with Schrader. Remember, he did write Taxi Driver, after all.
Any friends of mine will know I had the poster of this film framed in my room for years. A few of us were devotees, and like good conformists memorized Vincent Canby's New York Times' review that was printed on the poster, repeating it like a ritualistic chant: "A dazzling movie. A superior film. The most striking and baroque images you're ever likely to see. A rich, poetic, cinematic style…" Couldn't have said it better myself, Canby. Suffice to say, I like this movie.
So, let me put it bluntly. If you want to fit in, you kind of have to go see this movie. Luckily, it's playing at The Riviera. See you there!
A 4K restoration of The Conformist will be playing at The Riviera March 24 – 30.
You might also be interested in...