Eat the Rainbow
Well, it's raining again, and all I keep thinking about is spring and all the veggies that this amazing rain will bring. I am quite ready for spring salads and color and fresh, vibrant kitchen creations. So, that's what I am going to do this week! The soggy Farmers Market and I are on the same page, showcasing and celebrating all the beauty and bounty the incredibly fertile Central Coast has to offer. I spy cabbages, both red and green, radishes of all varietals, heirloom carrots, scallions, and citrus. I am feeling like a raw, crunchy slaw with all the above ingredients, and let me tell you the health benefits will be as vast and all-encompassing as the fruits and vegetables in this slaw. I'll focus particularly on the lesser-known health effects of cabbage and radish in the ingredient list. 
Cabbage is quite the overlooked, underappreciated vegetable, but its nutritional value is astonishing. This cruciferous vegetable comes in many shapes and colors, including purple, white, and green, and with leaves that can be both crinkly and smooth. High in vitamin C, fiber, and vitamin K, this vegetable is great for digestion and heart health, and helps decrease inflammation.
Radishes are also a cruciferous vegetable. They come in many shapes, sizes, colors, and varieties, including white, red, pink, purple, watermelon, daikon, and breakfast. You can eat the radish root, sprouts, seeds, and leaves. Radishes are heart-healthy, cancer-fighting, and anti-inflammatory. They also help relieve sore throats, and control blood pressure…just to name a few radish benefits.
Now, let's get in the kitchen.
Red and Green Cabbage Slaw with Fennel, Scallions, and Orange Vinaigrette
Yield: Serves 8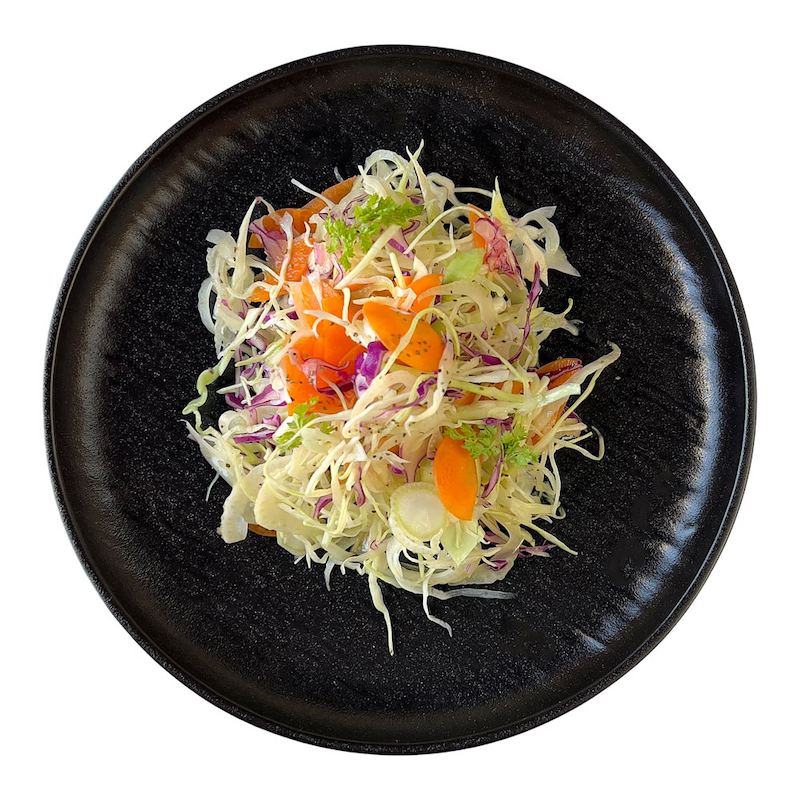 1/2 pound green cabbage, finely shredded
1/2 pound red cabbage, finely shredded
8 each scallions, cleaned and thinly sliced on the diagonal
6 ounces fennel bulb, thinly sliced
4 ounces celery, thinly sliced on the diagonal 
3 ounces carrots, peeled and shaved 
2.5 ounces radishes, thinly shaved
Dressing
3 tablespoons freshly squeezed orange juice
1/3 cup champagne vinegar
1/3 cup walnut oil 
1/3 cup avocado oil 
1/3 cup sugar
1 tablespoon kosher salt 
1.5 tablespoons celery seed 
Directions:
1. Use a mandoline to thinly slice your vegetables with a knife.
2. Combine all the slaw ingredients in a large bowl. Toss to disperse all ingredients.
3. In a high-powered blender, combine all the dressing ingredients and blend until smooth.
4. To serve, toss the slaw ingredients with the dressing and allow to marinate for 5 minutes. Enjoy!
You might also be interested in...