Fire of Love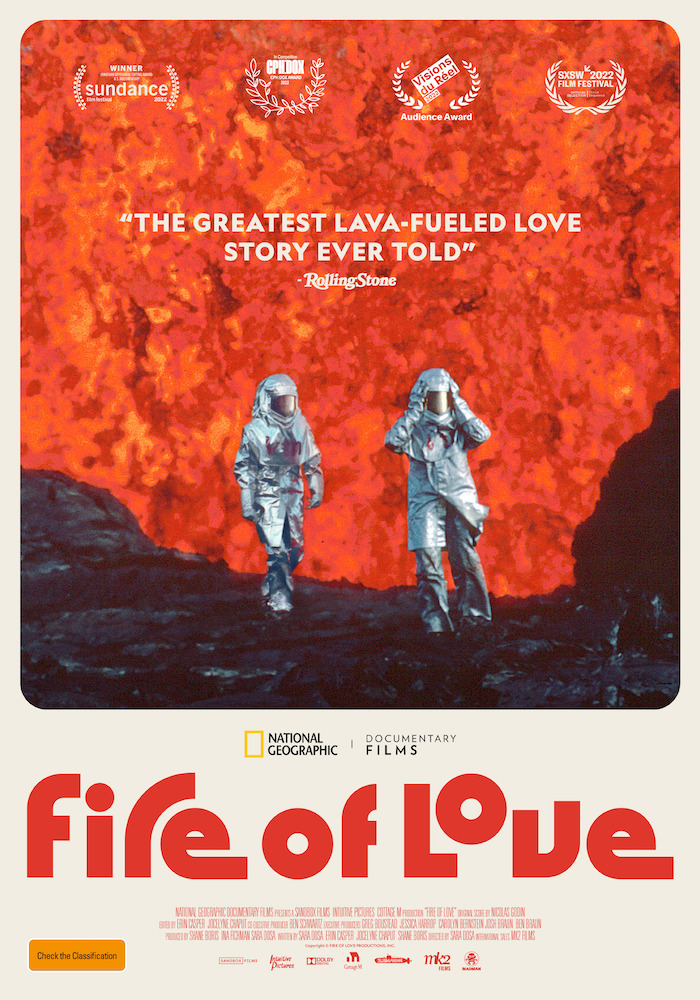 For all of you that got to see Fire of Love in theaters, I truly envy you.
But for those of you who didn't get the chance, like myself, there's hope yet! The must-see 2022 documentary by Sara Dosa has finally made it to streaming!
Fire of Love tells the story of two daring volcanologists, Katia and Maurice Krafft, and their absolute obsession with… volcanos. The documentary uses footage from the scientists' own volcanic escapades and films they made throughout their lives, coupled with a totally pitch-perfect Miranda July voiceover. Yup, that's enough to sell it right there, I know. But it gets even better.
The film is French New Wave meets real life volcano fanatics. It's a movie that when you watch it, you'll go "Ah, so that's where Wes Anderson got his schtick!" No, but really. The similarity between their lives and the aesthetic of the Texas-born Francophile is so strong that if this movie was playing in the background on mute, you would think it was Anderson's new film, Life Volcanic – from the red Steve Zissou/Jacques Cousteau beanies and blue jumpsuits to the unique framing and playful filmmaking. And it's the filmmaking part that is so compelling. Because the similarities go beyond the surface. It's Katia and Maurice's film language that transfixes you.
It points to the fact the couple were not mere scientists. They were artists. And I'm not using that term frivolously. They were truly evocative filmmakers. They were natural performers. Storytellers. Whether they admitted it or not, their filmmaking style proved they understood the power of moving images beyond that of relating facts and pleasant pictures to viewers. Their images of fragile human bodies framed against a geyser of molten lava, scenes of them traversing along alien-looking landscapes in their silver Martian-like volcano suits, teetering on the precipice of what would take them to certain doom, inspire in us a real sense of awe, interest, and even fear. It sucks us in.
Maurice and Katia could command a frame and engage an audience. They created a personality for themselves that would help communicate the love of their work to the rest of the world. And as their career progressed, to get authorities to take the threat of volcanic eruption seriously. Because as moving as molten lava may be, it also happens to be incredibly dangerous.
And Miranda July. What a perfect person to narrate this film. Her voice imparts an intimacy to the viewer, as if she's sharing secrets of the primal world, of two lovers, with you and you alone. July is so good in the role as narrator that you truly feel as if she wrote her words herself. And for any fan of July, that right there is a major plus.
Ultimately, director Sara Dosa and her team do an excellent job in compiling footage from the lives of Maurice and Katia, to not only share their story, but to celebrate their lives' work. It updates it and brings it to a whole new audience.
And it's because of this compelling combination of Maurice, Katia, Sara, July, Stromboli, Etna, St. Helens, Pinatubo, and on and on, that I truly lament the fact that I didn't get to see this in theaters. Volcanos just naturally lend themselves to a big screen experience. But alas! We make do! Just be sure to watch it on the biggest TV you can find!
In the end, Maurice sums it up perfectly. This is a love story between himself, Katia, and volcanos. And it's moving, infectious, and enthralling.
If there's anything the movie exemplifies, it's that the only things stronger than the power of cinema may be the power of love and the power of Earth. And Fire of Love proves that.
Fire of Love is available to stream on Hulu and Disney+.
You might also be interested in...