A New Conscious Way of Creating Dips and Salsas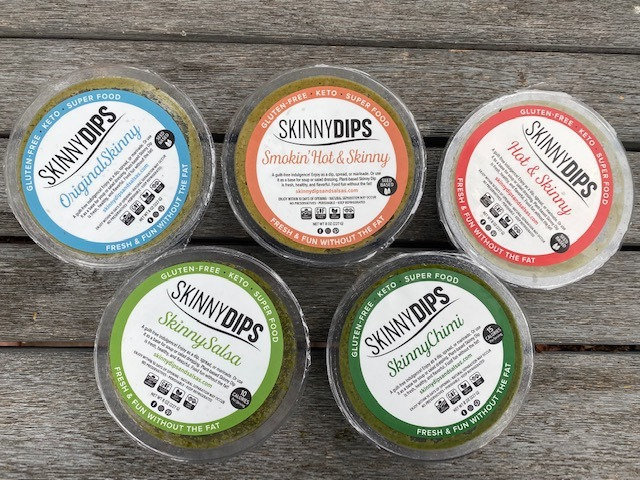 It all started a year ago with a spontaneous conversation around food here in the heart of Montecito. Suddenly, Jennifer Markham (owner, founder of Oaks Culinary Group and SkinnyDips & Salsas) and Bryan Goligoski (culinary artist), both residents of Montecito, realized that there wasn't a variety of healthy seed-based dips and salsas available on the market. With that in mind, they collaborated on a new endeavor that sent them far and beyond their expectations.
With Markham's extensive knowledge of alternative health and nutrition, plus the savoir-faire of Goligoski's experience in the culinary arts, they formulated eight different flavors for their product, SkinnyDips & Salsas, for a new type of product that's to die for. From Hot & Skinny, to Smokin' Hot & Skinny, or even Skinny Chimi (to name just a few), it will surely make you want to take a dip or two. With fun and playful product names and healthy natural ingredients inside, it didn't take long for this business to get the success they deserved. They're presently located in 101 stores from the Bay Area to Los Angeles, Erewhon Markets, and even available here in Santa Barbara, Montecito, and Carpinteria. As Markham humbly points out, "It's been an adventure and a lot of work but also very fulfilling. We feel really lucky to be able to create something and then have people enjoying it."
So, what makes this product so unique? As Goligoski explained, "We're using sunflower and pepita seeds, which are healthier than nuts, they're Keto, lower in calories and carbohydrates compared to hummus for example." He added, "We see a huge movement in natural foods away from dairy, to vegan, to nut-based products, and we are the extension of that, into a seed-based product." To create a new line, Markham envisioned not only the tasty aspect of the dips, but also the healthy side as well. "When we were creating these dips, it was always in my mind to make sure all of the ingredients had a purpose, and we were sensitive to the idea of inflammations and allergies, and what would be better for one's health."
Growing up with fresh, healthy, and quality ingredients helped Markham create SkinnyDips & Salsas. "The benefits of cilantro is known as a cleansing herb, along with parsley, which helps the digestive tract, and mushrooms that support the immune system," explained Markham. "In every one of our products, there are no fillers or GMOs, we only use vinegar and lime juice, which are natural preservatives," Goligoski added. They intended to create a brand incorporating three significant values: being healthy, flavorful, and with the right nutritious ingredients.
Thus, they added to their products fresh organic ingredients where they blend and pack locally at Baba Small Batch in Goleta. For Markham and Goligoski, it is also important to be part of a small community and working with the locals, as well as being supported by family and friends. Where handcrafted items are still a priority for the people here, Goligoski proudly states about his hometown: "It is so unique to have a small community so close to everything around, we love the healthy aspect of Santa Barbara and Montecito, not only for us but also for the brand."
Both of them realized the importance of being encouraged. "Even if we don't want to be a manufacturer," said Goligoski. "It will be nice to assist others with selling their products under Oaks Culinary Groups, for those who need distribution and support. There are too many creative people being stopped at the beginning stages," Markham added.
"People shop everywhere nowadays, and I wanted them to relate to that, it was intentional and I wanted the packaging to look different." It not only looks different, but the taste is unique as well. You won't be able to let go of the Original Skinny with the mild flavor and its creamy non-dairy texture, thanks to the sunflower and pepita seeds. And for the individual who wants a stronger kick and a more powerful spicy taste, try the bold Smokin' Hot & Skinny.
So new yet so successful already, the two new dips they're launching will just melt in your mouth. With the Skinny Pesto, the garlic, lime, and basil dance smoothly together. Shroom Umami is a savory Asian dip for your favorite meals.
It's delicious, healthy, fresh, and natural, so enjoy it with many servings. It's waiting on your burgers, mixed with your sauces, steaks, fish, salads or anything else you'd like; just let your imagination create a versatile recipe as delightful and unique as SkinnyDips & Salsas.
Amélie Dieux is a French-born freelance writer and world traveler – on a mission to provide information with articles that delight and inspire
You might also be interested in...