A Full Circle of Dance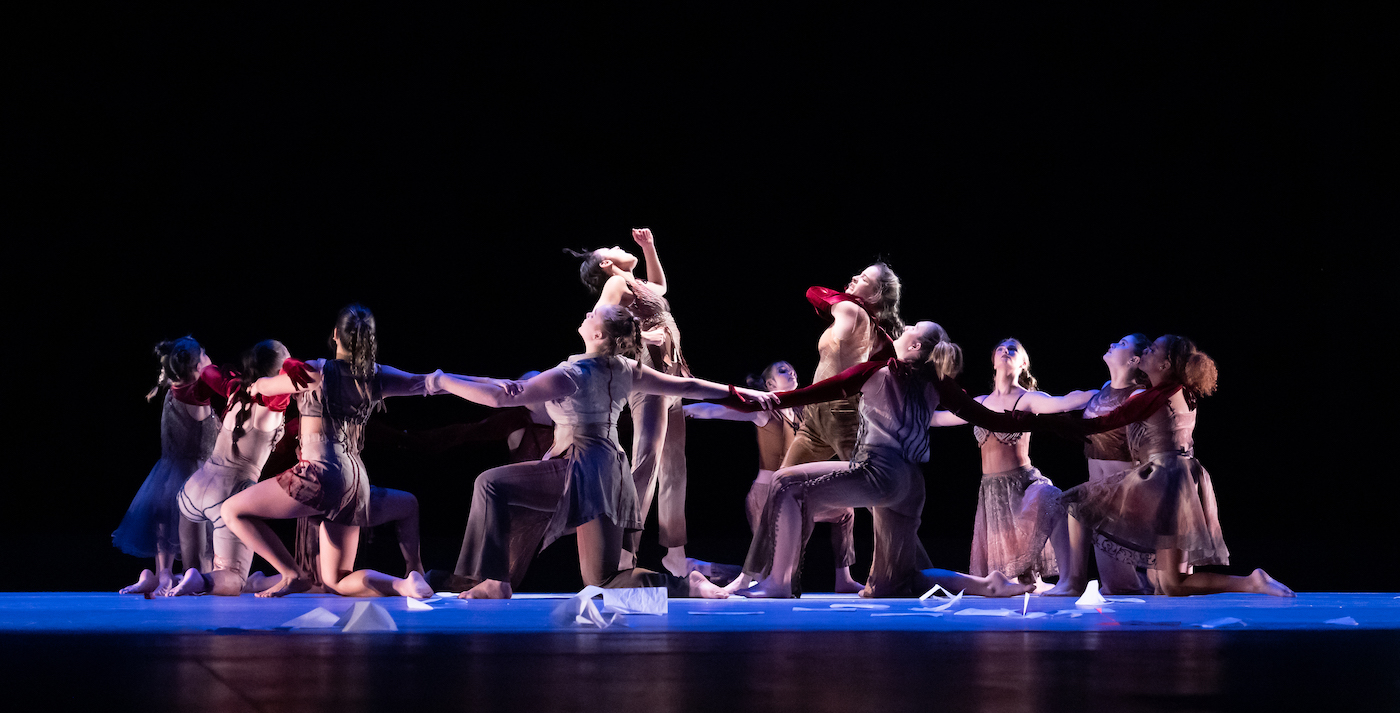 UCSB Dance Company's 2023 company consists entirely of female or non-binary dancers, which wasn't a conscious choice but simply the result of having no male senior dance majors on campus this year. But rather than fighting against what is, Artistic Director Delila Moseley decided to double down.
"I just decided to go with it, and create a program with all female choreographers," she explained. "No point in trying to cover it up."
The result is an evening called Full Circle, featuring dancer creators who each have ties to the UCSB department over a span of several years. The program includes three commissioned works for the UCSB Dance Company, plus four pieces that are remounts of successful works. Each of the new works covers vastly different territory and scope, not a surprise given Moseley's cryptic construct for the choreographers.
"I didn't really give them any directive. I just explained the idea of Full Circle coming back to UCSB and trying to express art from a female point of view."
The Letter, by Christina McCarthy, a graduate of the department and now a multi-disciplinary artist and faculty member at UCSB, uses the entire 16-member company and focuses on the power of language and how what we say to one another can create division or deep connection. "There are fabulous costumes that she created herself, and set pieces that support the story," Moseley said. "It's very active, told through the dancers' dramatic actions and facial expressions."
Luna, choreographed by Madison Olandt, is danced to Beethoven's Moonlight Sonata and centered around the complexity of the divine feminine in human form, described by Moseley as "a performance art piece – dance, but with lots of other elements that grew out of workshop mode where the dancers create movement and then she molds it together."
Gianna Burright's still untitled piece features music by local composer/singer-songwriter Sio Tepper, and explores love, dreams, relationships, nightmares, joy, and ordinary experiences, asking the question, "How did we end
up here?"
Moseley said that by the end of the performances, which take place at Hatlen Theater, March 9-11, she hoped the audience would be "impressed by the dancing, moved by the choreography, inspired by the different levels of artistry and aspects of creative energy."
Visit https://theaterdance.ucsb.edu/ for tickets and more information
Book 'em: Authors on a Mission
Next up in UCSB Arts & Lectures' Conversation with Pico Iyer series is Pulitzer Prize-winner Tracy Kidder, the literary journalist whose works have captured acclaim as eminently readable writing from a champion of the heroism of everyday life. Kidder, whose previous books Mountains Beyond Mountains and The Soul of a New Machine, will talk about his new book, Rough Sleepers: Dr. Jim O'Connell's Urgent Mission to Bring Healing to Homeless People, about a doctor who made a big difference by helping to create a program to care for Boston's homeless community. With Iyer as inquisitor, the Tuesday, March 14, conversation at The New Vic will likely dig deep into Kidder's role in amplifying the efforts of unique individuals who transcend cynicism and create hope, as well as his motivations and inner pursuits.
Heading over to the harbor, California native and longtime Santa Barbara resident Janet Dowling Sands will share her book On a Mission: The Real Story of the California Missions, Their History, Impact, and Legacy, at the Santa Barbara Maritime Museum on Thursday, March 16. The illustrated presentation will explore how the missions were inextricably linked to global maritime history and prehistory, including the latest research on the origins of California's indigenous people, whose ancestors came to the Americas thousands of years ago.
On the Beat: Sounds at SOhO
A quieter dinner set followed by a post-table clearing dance jam … SOhO's latest edition of Master of Hawaiian Music brings a trio of highly accomplished island-based musicians to the club this weekend. Grammy-winning 12-string specialist George Kahumoku Jr. and fellow slack key and lap steel guitarist Sonny Lim will be joined by ukulele master Herb Ohta Jr. for the Saturday, March 11, show…. A sumptuous singer-songwriter soirée at SOhO on Tuesday, March 14, brings headliners Renee & Jeremy, purveyors of "hush indie-folk" originals and covers that transform classic songs such as "Whole Lotta Love," "Sweet Child O' Mine," and Tears for Fears' "Shout" into meditative mantras. Opening is Rich Jacques, whose latest album is titled Joy Follows Like A Shadow That Never Leaves, the second part of a quote from Buddah. 'Nuff said.
You might also be interested in...