Winter Whites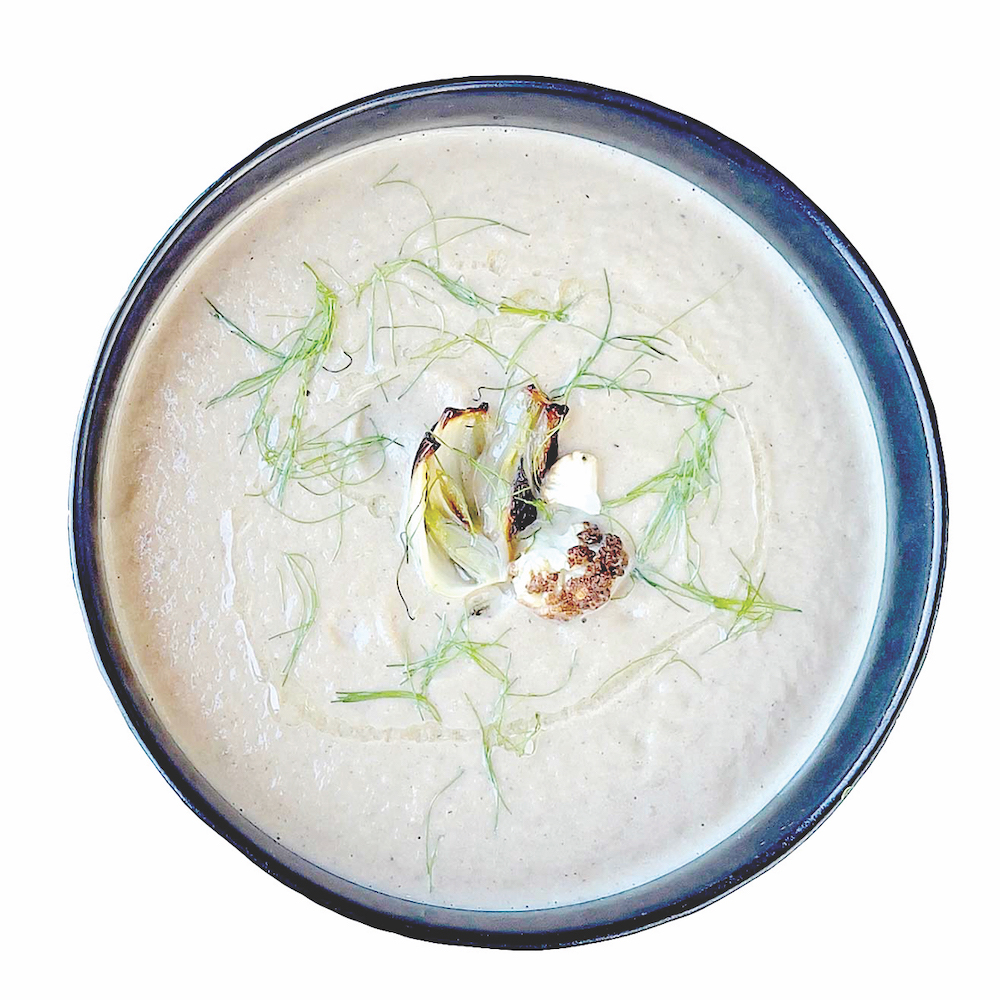 Well, readers, it's still cold outside and a nourishing soup is on my mind. This week, I was pondering the white vegetables in the farmers market and their often overlooked brilliance. These vegetables, which are lacking in pigment, have a phytonutrient, or plant chemical, known as anthoxanthin. 
Vegetables such as garlic, onion, fennel, potato, turnip, cauliflower, jicama, parsnip, and mushrooms all fall into this category. These vegetables have some powerful health benefits such as being fiber, potassium, and magnesium rich. These nutrient-dense vegetables have been shown to help protect against hypertension and perhaps even improve bone health.
The two vegetables I am singling out today are cauliflower and fennel. Cauliflower is a cruciferous vegetable that is naturally high in fiber and B-vitamins, and has been shown to protect against carcinogens. Fennel is a fiber-, folate-, potassium-rich vegetable that has been shown to be anti-inflammatory, great for skin health, and heart-healthy.
Please join me in making this heartwarming roasted cauliflower fennel soup.
Roasted Cauliflower Fennel Soup
Yield: Serves 8
3 each fennel bulbs, fennel fronds saved for garnish 
4 cups cauliflower florets 
1/2 teaspoon sea salt 
1/4 teaspoon black pepper 
1 tablespoon olive oil 
1/4 cup Miyoko's vegan butter, salted 
1 cup sweet onion, diced 
2 tablespoons garlic paste 
1 teaspoon dried thyme 
4 cups vegetable broth 
1/2 teaspoon sea salt 
1/2 teaspoon black pepper 
1/2 cup vegan heavy cream 
1 tablespoon orange or mandarin zest 
Directions:
1. Preheat oven to 400. Line a baking sheet with parchment.
2. Thinly slice the fennel and arrange on the baking sheet, along with the cauliflower florets. Drizzle with the olive oil and season with salt and pepper.
3. Transfer to the oven and roast for 20 minutes or until golden brown and tender.
4. While the vegetables roast, add the Miyoko's vegan butter to a large heavy-bottomed pot. Melt over medium heat.
5. Add in the onion and garlic and sauté for 5 minutes or until the onion is translucent and lightly caramelized. Stir in the dried thyme.
6. Add in the roasted fennel, cauliflower, and broth. Bring to a boil. Reduce heat and simmer for 15 minutes.
7. Turn off the heat, transfer to the Vitamix, add the heavy cream and orange zest, and blend until smooth and creamy. Adjust the seasonings.
8. Serve garnished with fennel
fronds.
You might also be interested in...