Janu-Scary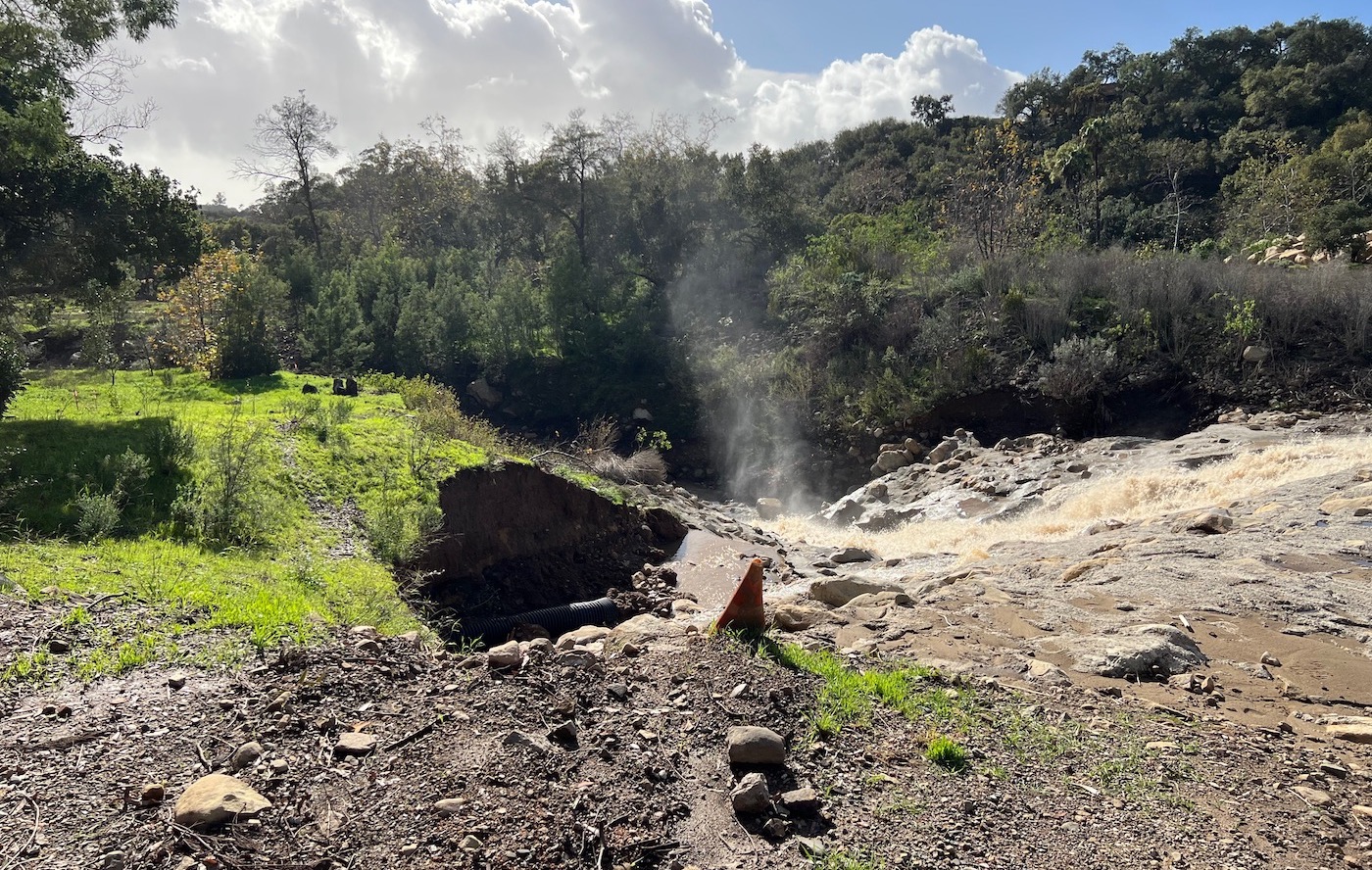 In my end-of-year letter, I wrote about my habitual January dread. Or as I sometimes like to call it, Janu-scary. And then January 9th reared its ugly head. Again. The coincidence of Mother Nature's repeat performance was, to say the least, eerie. Let's just say this is one time I didn't enjoy being prescient.
As I, along with my family and our two doodles, went to sleep Monday night at Hotel Californian (our ersatz home away from home for evacuations), in our room that smelled of wet dog, I was flooded with memories of five years ago, when we and the rest of Montecito camped out as privileged refugees, hoping and praying that our friends, our neighbors, and our homes would be okay. Little by little, as we learned that too many were not, we began to understand that our little village had been badly, if not irrevocably, damaged.
Tragic as that moment was, there were silver linings. The community came together in a beautiful way. Organizations were created (The Project for Resilient Communities [TPRC], the Bucket Brigade, One805), strong leaders emerged, friendships were formed, and a new respect for mother nature and her powers was engendered.
This time around, things look a whole lot better; in part, I believe, due to lessons learned.
According to Montecito Fire Chief Kevin Taylor, we had an almost identical set of circumstances to the storm in 1969 (exactly five years after the Coyote Fire), when we lost five community members and had 100 properties destroyed. "This time we received more rain than in 1969. And to the best of our knowledge there were no casualties. And while we're not yet clear on the extent of the damage, we know it was far less [than in 1969]. There's a lot to feel good about," said Chief Taylor.
I asked Chief Taylor to what he attributes some of the good news. "We have infrastructure improvements. We have a very flood-aware community. And we had good community evacuations," said Montecito's Fire Chief.
In other words, the system worked. With more than 500,000 cubic yards of debris captured in the basins, almost 300,000 in the Santa Monica basin alone, we could not have hoped for a better outcome for our community.
"It's remarkable how little damage was caused by 10 inches of rain in a 12-hour period!" said longtime resident Wayne Siemens. "The eastern press has us all lying in mud breathing through straws. Half of my dozens of calls have a sense of panic in their voices and ask me if we're all right. Personally, I think we're doing better than just all right."
I could not agree more with Siemens. Having been part of TPRC, the team that worked to put nets on the mountains post-January 2018 debris flow, I wanted to talk with TPRC's Executive Director, former Santa Barbara Fire Chief Pat McElroy, to get his take on how we did as a community this time around. And what role, if any, the debris nets played?
"It's too dangerous to go up there right now, but the first look we're seeing, from a drone in Cold Spring, they look clean," said McElroy. "What they're doing is they're slowing everything down because we have that free board for mammals and fish, like four feet or so under the nets, but none of the big stuff."
McElroy later contacted me with an update saying that new reports they've received are showing that the upper net in San Ysidro Canyon, just below the waterfall, is filled to the top with water cascading over the top of it. Access was still difficult and they were working on confirming.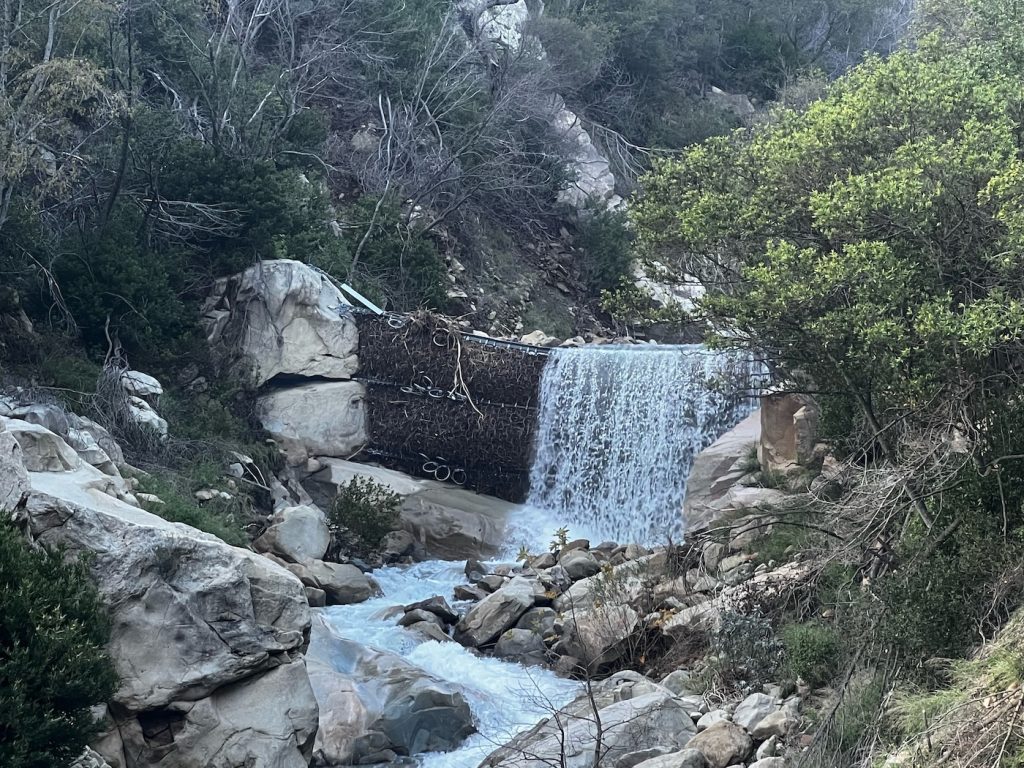 Under the auspices of TPRC, Geologist Dr. Larry Gurrola, along with Geological Engineering professor David Rogers (Missouri University of Science & Technology), has been working to produce a study of the landslides and flooding and debris flows in the last 200 years.
According to McElroy, Gurrola and Rogers have found that instead of being a once in five centuries or once in a thousand years event, there've been over 50 events in the last 200 years in Santa Barbara County. Some in the same canyons repeatedly. And so, McElroy explains, what Chief Taylor focused on this time around was the 1969 floods, because those were exactly five years after the Coyote Fire, just as this event was exactly five years after the Thomas Fire.
"The other thing this had in common with 1969, and why they looked at that to guide their decision-making, was that the 30 days before the '69 floods were like these past 30 days where we've gotten 20 inches of rain. The ground was saturated. It wasn't going to accept any more water. So the high probability of runoff was big. That helped them go, 'Well we can look at where that happened and how that happened. And it's kind of a guidebook,'" said McElroy.
I reached out to Dr. Larry Gurrola, to get his take on what just happened.
"The recent atmospheric river storms generated debris-laden floods that discharged an estimated 500,000 cubic yards of debris that was captured in debris basins in Montecito and Carpinteria. Debris-laden floods are more dangerous than floods due to very rapid, surging flows of turbid water, which transport large volumes of debris as bedload. That is, turbid flows cause vast amounts of boulders to bounce along the creek channel bottom and discharge out of the canyon mouths. Debris-laden floods erode channel bottoms along the creek courses; this process caused channel bottoms to be lowered at some of the debris net locations. Although the boulder debris discharged from canyon mouths in the recent storms was not as large as the 2018 debris flows, the debris can overwhelm the capacity of creek channels in the community of Montecito and form new flow paths through residential areas, which can severely damage homes," said Gurrola.
According to Gurrola, debris flows that can freight massive boulders considerable distances were not reported. Although historic atmospheric river storms in 1861-62, 1914, and 1969 produced widespread debris flows, it is currently unknown whether landslides or debris flows occurred on the steep slopes and tributaries in the watersheds.
The important lesson here, according to McElroy, is that while we can't stop these things, we can be better prepared, and we can take better steps to survive them. In other words, we can't stop Mother Nature's big punch, but we can find better ways to receive it. For example, a big criticism of the handling of the 2018 debris flow involved the evacuation plan, which targeted homes in the red zone. According to McElroy, when they saw what was happening yesterday, a decision was made to adjust the plan and not to phase evacuation by zones.
"They just said, everybody goes," said McElroy. "There are no confusing instructions. There's no, am I zone one or zone two or zone 14? It's everybody go.
"I just couldn't be prouder of all of the people involved here," said McElroy. "The whole team, the law enforcement people, the public works, everybody just really pulled together for the benefit of the community… We've learned that this isn't as rare as we thought it was; it's going to happen again. We're never going to stop it from happening. But boy, if we learn more about how they happen, where they're likely to happen and what we can do about it, we're going to have a lot better chance.
"And so, what did we do about it? They expanded the debris basins, and they built a new one (Randall Road). We tried to do something that would supplement and act as a break in the hills (debris nets). The study that got funded through TPRC was very helpful, but it should be followed up on because they've only done a portion of all the drainages – Montecito Creek, Cold Spring, and Hot Springs canyons… Nobody wants to go through what happened in 2018, and working together to get smarter and to trust each other and refine our evacuations really played out well this year," said McElroy.
So, I still dread Januarys. But the reality is, as I write this, Lake Cachuma has risen 34 feet since the storm began, almost doubling its stored water, which is expected to spill over, which will then recharge the aquifers in the Valley. Something that hasn't happened since 2011. That's not so Janu-scary after all.
You might also be interested in...