The 'Makena Tate Project'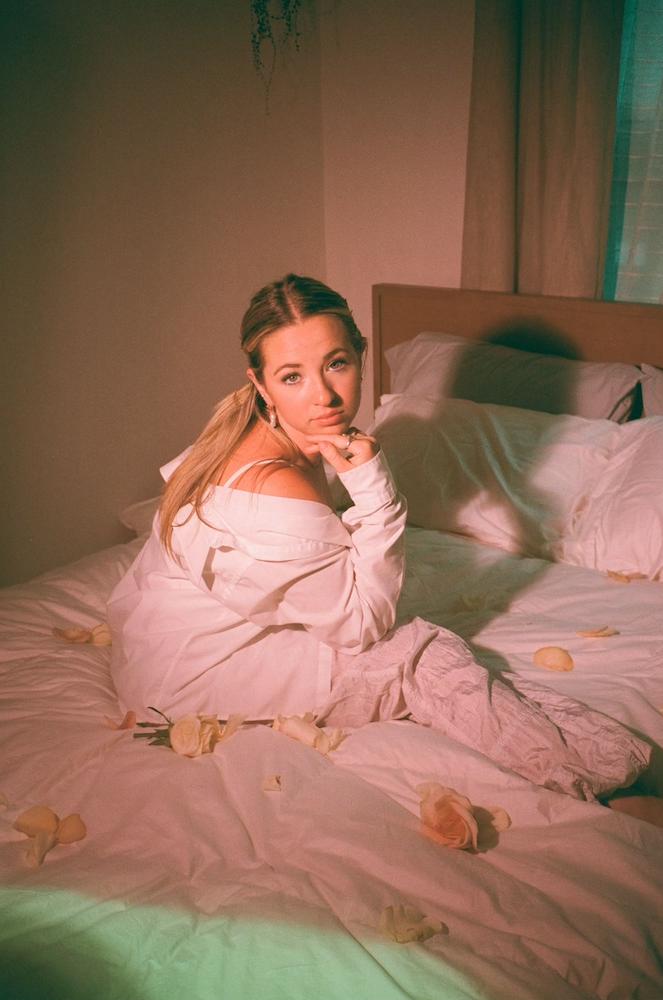 Early career singer-songwriter Makena Tate attributes her confidence on stage to her Santa Barbara upbringing. The Crane School alumna says: "Being at Crane really gave me this great foundation for what I love now. It felt like there was no judgment, that everyone there wanted you to succeed. But having supportive teachers like Shana Arthurs and Konrad Kono – that's what really helped me."
Now a sophomore at Berklee College of Music, Makena has graduated from the Friday Spotlights of her middle school days and is in the process of releasing a big five-song project. Confronting themes of isolation, illusion, and heartbreak, the first releases from the new Makena Tate Project are now available for streaming online and in person at her December 23 show at Wylde Works on State Street from 8-10 pm.
Q. How did you first get started in music?
A. My mom enrolled me in my first production of musical theater when I was, like, six years old. Then of course I got to go to Crane, which was very arts focused. Going to a school that has so much attention on the arts really helped me feel comfortable on stage and writing music, as well as just being a great outlet. I would say I started getting more focused on personal music when I picked up the guitar though, which was about ten years ago.
What made you want to take up guitar? Were there artists you liked who were big guitar players?
I think I had started seeing people around me start to play guitar, and I was like: "Oh that's so cool to be able to accompany yourself and sing!" So, I had a lot of interest in becoming independent as an artist at a young age and just wanted to be able to put on a show all by myself and not need other people to help me. Picking up the guitar just felt like the easiest way to do it.
You're now pursuing a major in songwriting and performance at Berklee. How would you describe your experience there?
Berklee is an interesting place to be because it's a place where you are surrounded by so much music. I kind of found that the work I create here is very different to the work I create at home. I think it's because I am being influenced by so many different sounds every single day, I'm absolutely immersed in the world of music here, from so many different parts of the world too. It's really cool, but it also can be very intimidating and scary. I feel like in my first year at Berklee I was thrown off track by that and writing a lot of music I didn't like because I was feeling too influenced by too many things – kind of overstimulated. This year I'm in an apartment as opposed to the dorms, so I'm off campus and have my own space, which has all really helped me hone in and find focus in myself and my artistry.
What are your goals for the near future?
I definitely want to play some larger venues next year. I would love to open for some artists at the Santa Barbara Bowl or the Granada or Arlington. I want to start in my hometown and work out from there, but I would love to go on tour sometime next year. In my head I'm hoping for Winter 2023; it's my manifestation right now. I'm also releasing about a song a month until my EP comes out, which will be in March, and I just had a song come out on December 16 that I'm really excited about! I'll have another one come out in January, then another in February.
Tell me about your newest release.
The December 16 release is another single. It's called "Next to You." I would say the one-liner for the song is: "I miss you, do you still think of me?" A lot of my songs from my upcoming EP are based on my own experiences with having a long-distance relationship and having that not work out. I feel like the target audience I see for myself is college girls just because I really enjoy putting into words my own experiences and the experiences of my friends. I think that is really special, and I love being able to do that. "Next to You" is one of the five songs that will be a part of the bigger upcoming EP. Like I said, they're all kind of stories about my life, my relationships, and different experiences I've had from the past year.
You have now been through the process of having an idea, sitting down to write it, producing it, and releasing it several times. What have you learned through this process?
I have gained a greater respect for the business side of things. I'd say this release I really worked hard on the pre-release side of things. There was a lot of me emailing PR people, different playlist submission websites, blogs, radio stations, anything, just trying to get my song to as many different people as possible, which is really hard when you don't have the connections. It's been a big learning process. I've definitely learned both what to do and what not to do for my future releases.
I know your work is available on Apple Music, Spotify, Deezer, and Tidal. Do you get to monetize the songs you've released?
Yes! Every stream on Spotify for example is about a third of a penny. So streams, and downloads or saves, truly mean so much to me. Since I'm really just starting out, every person that downloads or saves the song truly makes me so happy. And it makes me so excited when I get messages that say something like: "This song really resonated with me, thank you." That's really why I want to release music and make music. To have those moments for people who maybe feel alone or like they're the only person going through some type of emotion. My goal with music is really to be someone's hand to hold – that's what I want to do.
How can people support you?
If they like my music, download it, stream it, share it around with other people who might like it, anything of those things help me a ton. You can also follow my social medias to stay up to date on new music and shows, which is also really helpful.
Follow Makena on Instagram @makenatate or check out her website (www.makenatate.com) for more info!
You might also be interested in...