'R.E.S.P.E.C.T.' for the Queen of Soul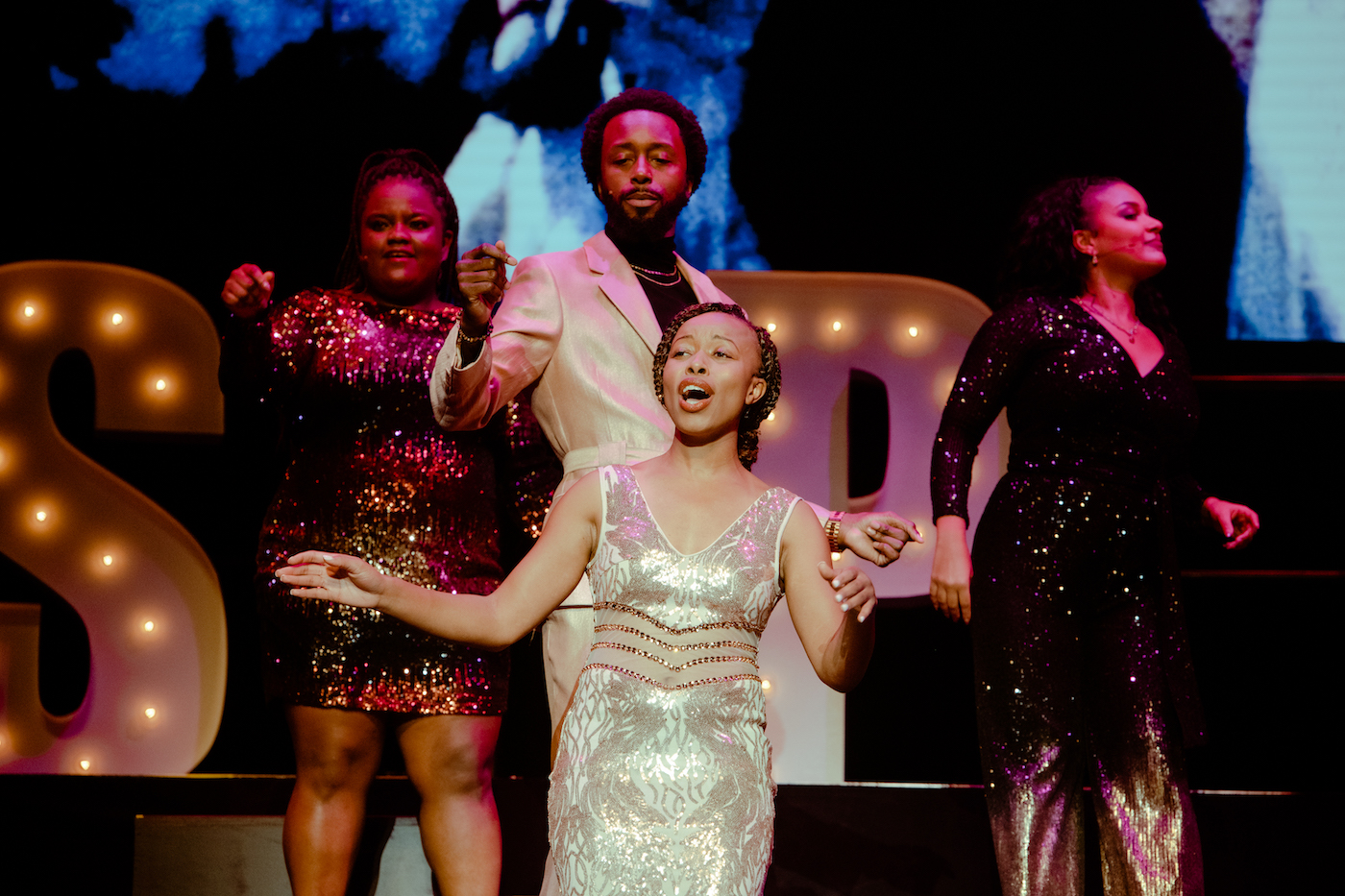 There has been no dearth of film and Broadway shows about Aretha Franklin since the soul singer-songwriter star died in August 2018. First there was a documentary by Oscar-winning director Sydney Pollack for a documentary about the recording of Franklin's landmark 1972 Amazing Grace gospel album whose release the singer blocked for decades until after her death. Cynthia Erivo starred as the Queen of Soul in National Geographic's Franklin-focused season of the TV series Genius followed by a 2021 film adaptation of the Broadway show Respect that starred Oscar winner Jennifer Hudson – by request of Franklin herself – as the singer in her younger days.
Now comes R.E.S.P.E.C.T., an adaptation of an Australian show that's pitched as an electrifying tribute celebrating the music of the legendary singer. It's an unusual approach that not only weaves dialogue between the onslaught of famous songs, but also stars more than one actor as the singer, here called "hosts" of the production.
R.E.S.P.E.C.T. is directed by Broadway veteran Christina Sajous, who can claim a number of acting credits (SpongeBob SquarePants, Spider-Man: Turn off the Dark, American Idiot, Baby It's You) before she added stage direction to her tool belt. The show follows musical maven Franklin's story through a soundtrack of the hits that made her into an international superstar including "Natural Woman," "Think," "I Knew You Were Waiting for Me," "Chain of Fools," "Respect," and many more while also serving as an elevated concert experience that speaks to the complicated human condition.
R.E.S.P.E.C.T. arrives at The Granada Theatre for two shows on January 3 and 4, presented by American Theatre Guild as part of the Broadway in Santa Barbara series. Sajous, who was breaking in an entirely new cast and watching its first rehearsal heading into a resumption of its national tour in 2023, talked about the show.
Q. Can you share how the show weaves together Aretha's life and music?
A. We are integrating the story of Aretha while also celebrating her music through her repertoire. The music doesn't actually inform the storytelling but instead supports it. The unique thing about this piece is that it's not a musical theater piece. It's definitely not a cabaret. It's really in celebration of our queen of soul. The songs are interwoven with dialogue to give the audience a history lesson about the unique parts of her life: her upbringing, how she started out in the church, how she became a pop star, how her life came full circle in activism as well as her personal life, her relationships with men and her parents, all to humanize the legend.
I'm curious about the choice to not have a single actress portray Aretha.
What we have is four hosts of the evening who tell the story. There is one person who plays mostly the lead. But we discovered that the audience loved them so much that it was hard not to give the backups more material. So there are moments when they are highlighted, singing solos and such. That way we could really celebrate Aretha in all realms. It's not just coming from one person, it's coming from all of them.
What do you think people will walk away with? Will they learn something or be thrilled and moved, or just enjoy the music?
What I've witnessed thus far is the audience literally dancing as the curtain comes down, still dancing out the door. But I hope for those who don't know Aretha that they come in with an open mind and open heart and learn her story and her music properly and find familiarity. I also hope those who do know her music allow themselves to be in the nostalgic place to really enjoy these voices who are celebrating her music so beautifully.
Broadway in Santa Barbara presents R.E.S.P.E.C.T. at The Granada at 7:30 pm on January 3 and 4. Tickets cost $59-$114. Call (805) 899-2222 or visit www.granadasb.org.
You might also be interested in...