Backstage Again… Outdoor at Trinity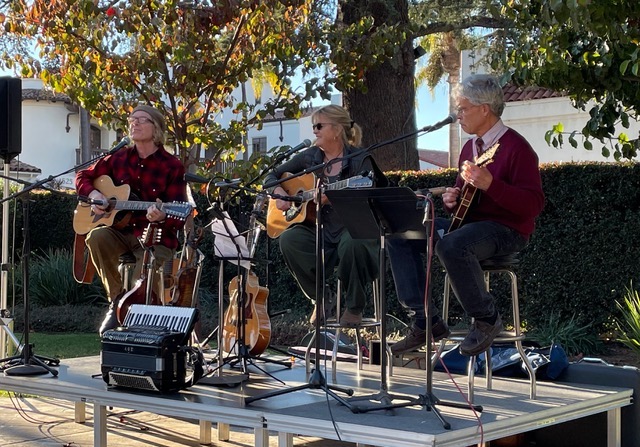 It wasn't the COVID pandemic that caused Trinity Backstage Coffeehouse to come to a close after a Christmastime holiday show in 2019. The underground listening-room series that spent nearly 20 years bringing some of the finest, if often unheralded, acoustic singer-songwriters to Santa Barbara had already scaled back from monthly shows to quarterly concerts for a few years before calling it quits before COVID would have canceled the concerts for another 18 months.
And that was already after co-founding couple Kate Wallace and Doug Clegg had spent more than two decades playing the folk and acoustic music touring circuit with some success but a whole lot less enthusiasm.
"I'm a veteran Nashville singer-songwriter who made records and played the big folk festivals and concerts, but I just didn't care for the music business," Wallace recalled recently, adding that when she and Clegg, a renowned fiddler and songwriter, moved to Santa Barbara for family, they were disappointed by the dearth of venues for devoted denizens of the coffeehouse circuit.
So they created one of their own at Trinity Episcopal Church. The series booked monthly concerts that veered from a few recognizable names such as John Stewart, Eric Taylor, Cliff Eberhardt, Emma's Revolution, and Caroline Aiken to many more near-unknowns. 
"We were primarily interested in people who we knew and loved from the scene," Wallace said. "Maybe it was slightly selfish because we brought them to town so we could see them."
It didn't make much difference to Trinity Backstage fans as each show drew rapt audiences to the converted meeting room where the only sounds came from the stage. When monthly gigs became too tiresome to mount, Wallace and Clegg scaled back to quarterly, but even that effort eventually went by the wayside in favor of unamplified backyard practice sessions with a quartet of friends called the Harmony All Stars on a regular basis.
"We play because we love to, but it doesn't have to be in public,"
Wallace said.
But then Trinity came calling for the couple to put on a holiday show outdoors last December, and Wallace said they were happy to oblige since it was a daytime, easy-to-produce community gathering that also served as a fundraiser for the church's charities.
Many fans flocked to the originally one-time-only revival, so they're back for the 2nd annual outdoor Trinity Backstage Holiday Show featuring Clegg, Wallace, Grey Brothers, and the Harmony All Stars as special guests out on the labyrinth in the State Street courtyard. There'll be some individual songs, a lot of group ones, a few sing-alongs and lots of cheer. Suggested donations of $20 can be made at the door or online at www.trinitysb.org/upcomingevents/outdoor-holiday-show.
"Good songs performed by good players for people gathered around a fire where you can eat some good cookies, drink delicious cider, tea, and hot cocoa and sing if you want to," Wallace said. "What a great way to enjoy the beauty of being together."
Also at Trinity: The Estimable Emmet Cahill
Emmet Cahill, the acclaimed Irish tenor who has been thrilling audiences across the country for many years with powerful renditions of majestic church hymns, Broadway hits, opera arias, and adored Irish classics, returns to the downtown Santa Barbara venue as part of his popular 'Christmas in Ireland' concert tour. The 12-year veteran of the sensational touring/recording singing group Celtic Thunder, whose shows employ dramatic set pieces, visual effects, and highly choreographed staging, will be offering a much more intimate evening featuring his solo renditions of "O Holy Night," "Danny Boy," "Joy To The World," "I'll Be Home for Christmas," and many others during the 7:30 pm concert on Friday, December 16. Visit emmetcahill.com/tour-1/santa-barbara.
Holiday Theater: 'Miracle' by the Sea
The Alcazar Ensemble presents its second annual production of an original adaptation of Miracle on 34th Street at the historic theater in downtown Carpinteria just blocks from the ocean. Alcazar's Asa Olsson adapted the play based on the book-turned-movie featuring a holiday story meant to melt even the most cynical hearts. In the Christmas classic, an old man who calls himself Kris Kringle fills in for an intoxicated Santa in Macy's annual Thanksgiving Day Parade, and proves such a hit that he is hired to appear regularly at the famed retailer's main store in midtown Manhattan. But when the store Santa surprises customers and employees by claiming that he actually is Santa Claus, it leads to a court case to determine his mental health, with an eventual heartwarming ending.
Carpinteria stalwart Jim Sirianni returns to portray Kringle, along with fellow community favorites Faith Gray, Phil Moreno, Van Riker, Tom Mueller, and others making up the cast of 30 that spans ages 6-70 from Santa Barbara and Ventura counties. The Howard School children in kindergarten and first grade hand wrote and delivered letters to Santa for this year's stage production, which performs five times from December 15-18. Tickets cost $15-$20. Info at (805) 684-6380 or www.thealcazar.org/calendar. 
Family Day for 'Carol' at ETC
In what may be a minor miracle, at least for a few less fortunate folks in our community, Ensemble Theatre Company has added a special matinee performance of its holiday production of A Christmas Carol for this Saturday afternoon, December 17. Thanks to generous donations from Sara Miller McCune and the Léni Fund, ETC is making 150 seats available at no cost to families who work with the local nonprofits Transition House, The Police Activities League, Girls Inc., CALM, A-OK, Noah's Anchorage YMCA Youth Shelter, and United Boys and Girls Club. The remaining tickets for the special performance will be available directly at deeply discounted prices of $40 for adults and $10 for children under 18. Also on tap for the added specially-adapted adventure of Dickens' tale of Scrooge and the ghosts is a visit from Santa Claus and cookies and hot chocolate for all. ETC's production is an all-new take on the holiday favorite adapted into an inventively comic holiday delight filled with humor and heart by Patrick Barlow (The 39 Steps) and directed by Jamie Torcellini. The show runs through December 18 at The New Vic downtown. Visit www.etcsb.org or call (805) 965-5400.
You might also be interested in...