Holiday Happenings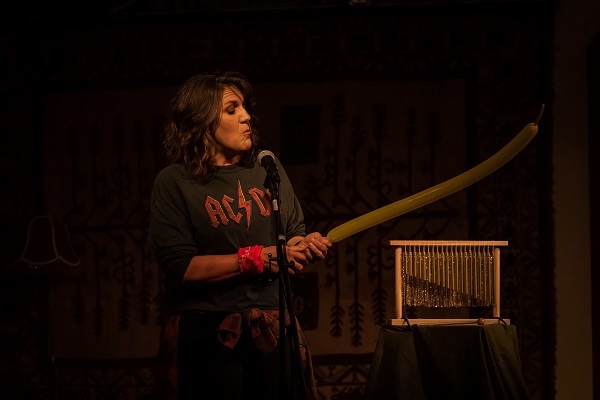 A Christmas 'Unicorn': And Now for Something Completely Different…
It would be hard to imagine something more polar opposite from a Christmas show than Bulletproof Unicorn, a one-woman show from Los Angeles-based comedian and singer-songwriter Stacie Burrows rife with dark humor about trying to fix her dysfunctional family that culminates in her estranged, alcoholic brother threatening to kill Burrows and her kids.
Bulletproof Unicorn's title hints at its theme, as Burrows showed up in Texas "armed with nothing but glitter and good intentions, wanting to bring to my family my desire only to make things better, whatever the problem is, whether it's having a bad day or being a mentally ill addict." Which is where she ran into her brother armed with guns and a murderous intent.
Burrows, familiar to local audiences for a few previous performances at Center Stage with her erstwhile musical comedy-banter duo MommyTonk – which Burrows calls "the filthy mothers' version of the Smothers Brothers" – created Bulletproof Unicorn out of a now-abandoned documentary film and original soundtrack that traced her family's dysfunctional history called No Good Drunk.
The Texas trip, however, spurred a shift in focus that catalyzed later back home one night while she was asleep.
"The whole show was sort of written in a dream. I was on stage but instead of doing bits, I just told the story, but instead of a depressing documentary of trauma, I found the dark humor," Burrows said. "It's what a comedy club owner in New York told me 20 years ago: 'If you had the nerve to just stand up, tell the truth, talk about your family, make it funny, people will love it'. I finally got it."
After developing the story with Greg Walloch, who produced Hasan Minhaj's recent award-winning Homecoming King Netflix special, Burrows took Bulletproof Unicorn to the famed Edinburgh Fringe Festival, where audiences lapped up the dozen performances of her hour-long harrowing yet hilarious true tale.
This weekend's shows in Santa Barbara came about through a cancellation at Center Stage that also had good timing for Burrows, despite the holiday surroundings. But audiences don't leave depressed, she said.
"It's dark, but then the next thing you know, I'm making balloon animals, which I do throughout the show, and everybody's laughing at the absurdity of it all," Burrows said. "I think it connects with people because we all have somebody in our family like my brother. Hearing something like that helps us to know we're not alone and feel better about it."
Stacie Burrows performs Bulletproof Unicorn at 7:30 pm December 8-10 at Center Stage Theater, 751 Paseo Nuevo. Tickets cost $30-$50. Call (805) 963-0408 or visit www.centerstagetheater.org.
Una Noche de Las Posadas
Una Noche de Las Posadas ("The Inns"), the time-honored reenactment of Joseph and Mary's search for lodging in Bethlehem as observed throughout Latin America, returns to downtown Santa Barbara at 7 pm on December 9. The free event begins at the Chapel at El Presidio de Santa Bárbara State Historic Park, followed by a short procession that travels just a couple of blocks to Casa de la Guerra followed by singing of holiday songs in Spanish. Rudy's Mexican Restaurant Presidio serves traditional Posadas food and the Mujeres Makers Market will be curating a special evening market full of vintage and handmade goods that starts at 5 pm. Visit www.sbthp.org/lasposadas.
Santa Barbara Festival Ballet's production of The Nutcracker (see calendar) and next weekend's performance by State Street Ballet are merely the marquee event presentations of the Tchaikovsky classic. Myriad other smaller organizations also have condensed versions for the holidays, including Westside Dance's The Nutcracker Sweet, which offers a shorter, sweeter version of the holiday favorite, perfect for all ages and attention spans December 10 & 11 at the Marjorie Luke Theatre. That same venue hosts Goleta School of Ballet's special Nutcracker performance featuring their youngest dancers in a December 17 production aimed at delighting the whole family. Visit www.luketheatre.org/events.
Feeling like something a little different? The Big Brass Tuba Christmas should suffice, blowing you away by delivering the holiday tunes with a lot of bravado from noon to 3 pm on December 17 in Storke Placita (722-724 State Street). The Youth Makers Market, boasting all sorts of gifts and crafts, takes place simultaneously on the same 700 block.
Chorale Corralled
The Santa Barbara Master Chorale has canceled "Holiday Lights," its annual opening concert with music celebrating the season followed by a sing-along of favorite carols that was slated to take place at Our Lady of Mount Carmel Church in Montecito on December 11. The concert was to have marked the debut of the choir's new artistic director and conductor David Torres, who was artistic director and conductor of the Los Angeles-based Echo Lumino and associate conductor of Angeles Chorale. Torres, who is completing his doctorate in Choral Conducting at UCSB, also serves as conductor of UCSB's Lumina Choir, assistant conductor for the Chamber Choir, and artistic director and conductor of the choral ensemble Vocal Affinity, and has succeeded former Westmont professor Dr. Steven Hodson at the helm of the Master Chorale. But after he contracted COVID last weekend, his formal debut with the choir will now take place January 28-29 with Haydn's The Creation as the centerpiece.
Ventura Ventura
Namba Arts Center's fifth annual holiday kickoff concert is once again hosted by the space's musical director Doc Ventura, who has hand-picked an assortment of local talent for the single show. Dubbed "Holiday Blues: Doc the Halls," the December 10 concert features a mix of holiday hits and other musical performances in an often-irreverent celebration of the season. The roster boasts original acoustic reggae from Bombyfiya, folk music by Preston Smith, the blues harp specialist R.J. Mischo, ubiquitous multi-instrument master Bill Flores (who plays everything from mandolin to saxophone), and Canned Heat drummer Adolfo "Fito" De La Parra backed by Namba's All Star blues Band. Visit www.nambaarts.com.
Over in Ojai
Cellist Evgeny Tonkha, a First Prize Gold Medal Winner at the 12th International Cello Competition in the Czech Republic and Special Jury Prize Winner at the 13th International Tchaikovsky Competition, teams up with pianist Steven Vanhauwaert, a First Prize Winner at the Los Angeles International Liszt Competition, for a December 11 recital as part of the Chamber on the Mountain series. The pair will perform Fauré's "Élégie, Op. 24," Grieg's "Cello Sonata Op. 36," Debussy's "Cello Sonata in D minor," "Clair de lune," and "Minstrels," plus de Falla's "Spanish Folk Suite" at Logan House at the Beatrice Wood Center for the Arts in Upper Ojai. Audience members are invited to meet the artists at an outdoor patio reception following the performance. Visit www.ChamberOnTheMountain.com.
You might also be interested in...