Creativity With Grace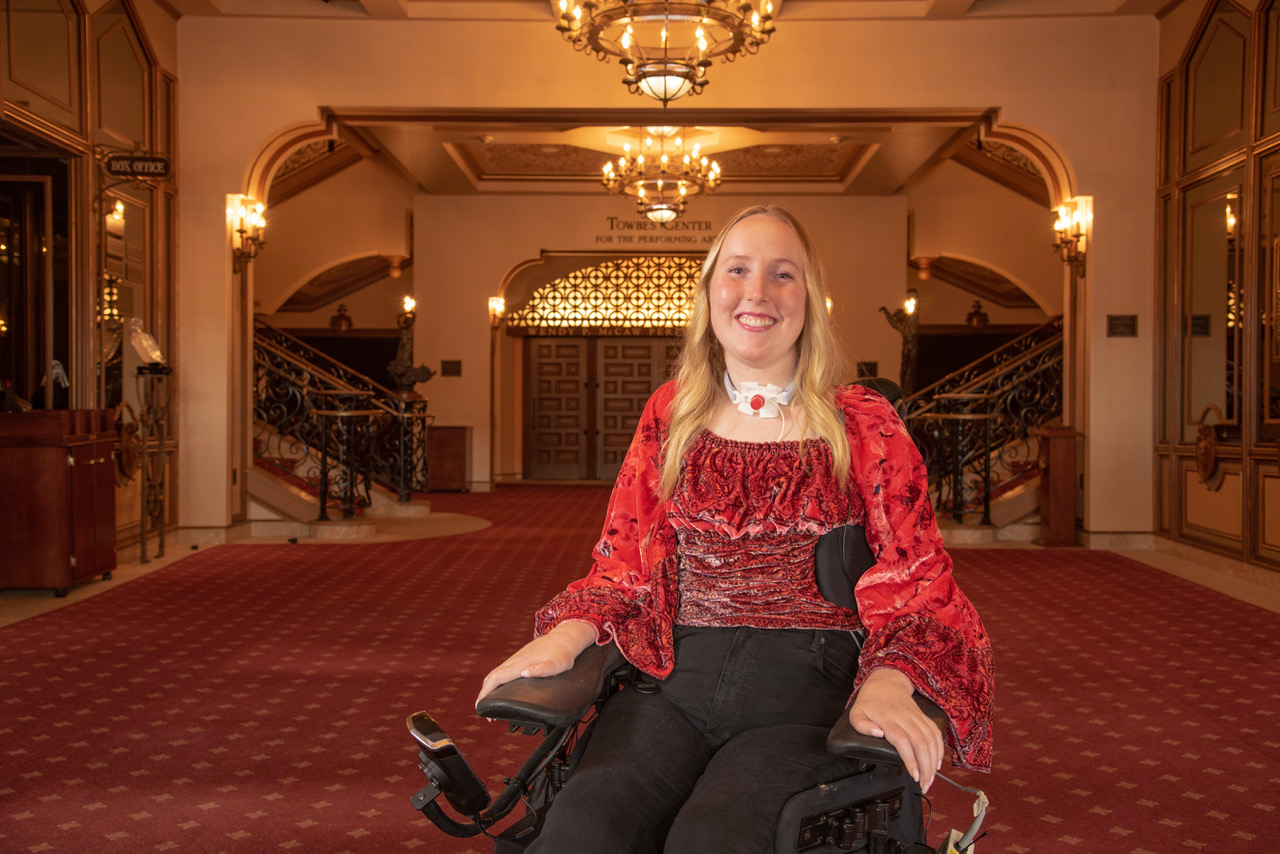 In the last several years, Santa Barbara composer and artist Grace Fisher has accumulated a number of admirable accomplishments. She's written music for symphonies and scores for short films, the latter claiming awards at film festivals. She also created a few animation shorts as well as several paintings, been a part of two locally-created documentaries, produced four full evening concerts at the Granada Theatre, and, just last summer, graduated with a degree in music composition from UCSB. 
Not bad for a typical 25-year-old, for sure, even more astounding considering Fisher has been confined to a wheelchair for the last eight years. Fisher was paralyzed from the waist down by an exceedingly rare spinal cord disease that struck without warning at a party when she was an extremely active 17-year-old preparing to attend the prestigious Berklee College of Music.
At the moment, Fisher is preparing for the fifth annual Winter Music Showcase at the Granada, a variety concert featuring groups, ensembles, and friends Fisher has been associated with over the years, a concept her mom Debbie came up with in 2018 to connect Grace with her one-time colleagues.
"My friends were off at college, and she thought it would be fun to get people back together for a performance," Fisher recalled. "The idea was to surprise me. But once I heard about it, I wanted to be involved in the planning of the event and choosing the groups as I thought it would be a great opportunity to do a benefit for the foundation and at the same time support other local music groups. Music just has this ability to bring people and community together."
That's typical of Fisher, who hasn't let the fact that she doesn't have any use of her hands stop her from being very "hands-on" with anything she puts her mind to – employing a device called a mouth stick to both maintain a level of independence via navigating her wheelchair and to create art, music scores, and more, one meticulous note or computer brushstroke at a time.
The first concert featured members of the Santa Barbara Youth Symphony and the San Marcos Madrigals along with Jackson Gillies, Will Breman, and the barbershop quartet the Bar-Back Boys. The concept is still the same for the 2022 concert on December 9, with Gillies, Breman and the Bar-Back Boys – friends of Fisher's from high school whose members have scattered around the country but return each year to perform in the Winter Showcase – joined by the Santa Barbara Folk Orchestra, State Street Ballet (SSB) professional track dancers, the Westmont Chamber Singers, and others.
The SSB dancers will be performing to one of Fisher's compositions called "Grace's Lament" performed by an octet and choreographed by Cecily MacDougall, the founder of the company's Library Dances outreach program. Despite its title, Fisher said the piece isn't a downer. "It's sad and happy, or sad but happy. A good type of sad, I guess. It doesn't sound sad."
The Folk Orchestra will reprise its presentation of Fisher's "Tapping Suite," a piece she began writing before her audition for Berklee and completed last spring to be performed as part of her senior recital at UCSB. Guitarist Chris Fossek will play the solo for the work that sprung out of an old video of Fisher practicing the tapping technique on the guitar that she recorded with her phone back when she was 17.
What might evoke resentment over being an innocent victim, instead serves as a source of joy and inspiration for Fisher.
"I get a lot of pleasure seeing old videos of myself playing or dancing," she said. "I'm so thankful that I had the experience of learning so many different things and I still really like to watch myself. It was cool to recover this video because even though I can't do it anymore, it's still alive and a part of me. Having the Folk Orchestra play this piece is a way for that part to live on."
All proceeds from the Winter Showcase benefit the Grace Fisher Foundation, which Fisher founded with a mission of connecting children and young adults with disabilities to art, music, and dance programs. As soon as the show ends, Fisher will turn her attention back to the foundation's newest project: opening a facility at La Cumbre Plaza early next year to have a single site for its adaptive programs that include Painting with Grace. But the space will be open to all, she said.
"We all are different, whether it's physical or something else. We're all more related than we think we are. The goal is for us to just connect more."
Keeping busy is what keeps Fisher happy.
"It's my survival mode," she said. "To be happy, I need to put my energy into things that I love doing. It's a positive looping cycle: the more that I do, the more that I have fun with my art, the more that I'm able to give that back to other people."
The Grace Fisher Foundation's fifth annual Winter Music Showcase takes place at 7 pm on December 9 at the Granada Theatre, 1214 State Street. Tickets cost $18-$60. Call (805) 899-2222 or visit www.granadasb.org.
You might also be interested in...