Wisdom Song for the Symphony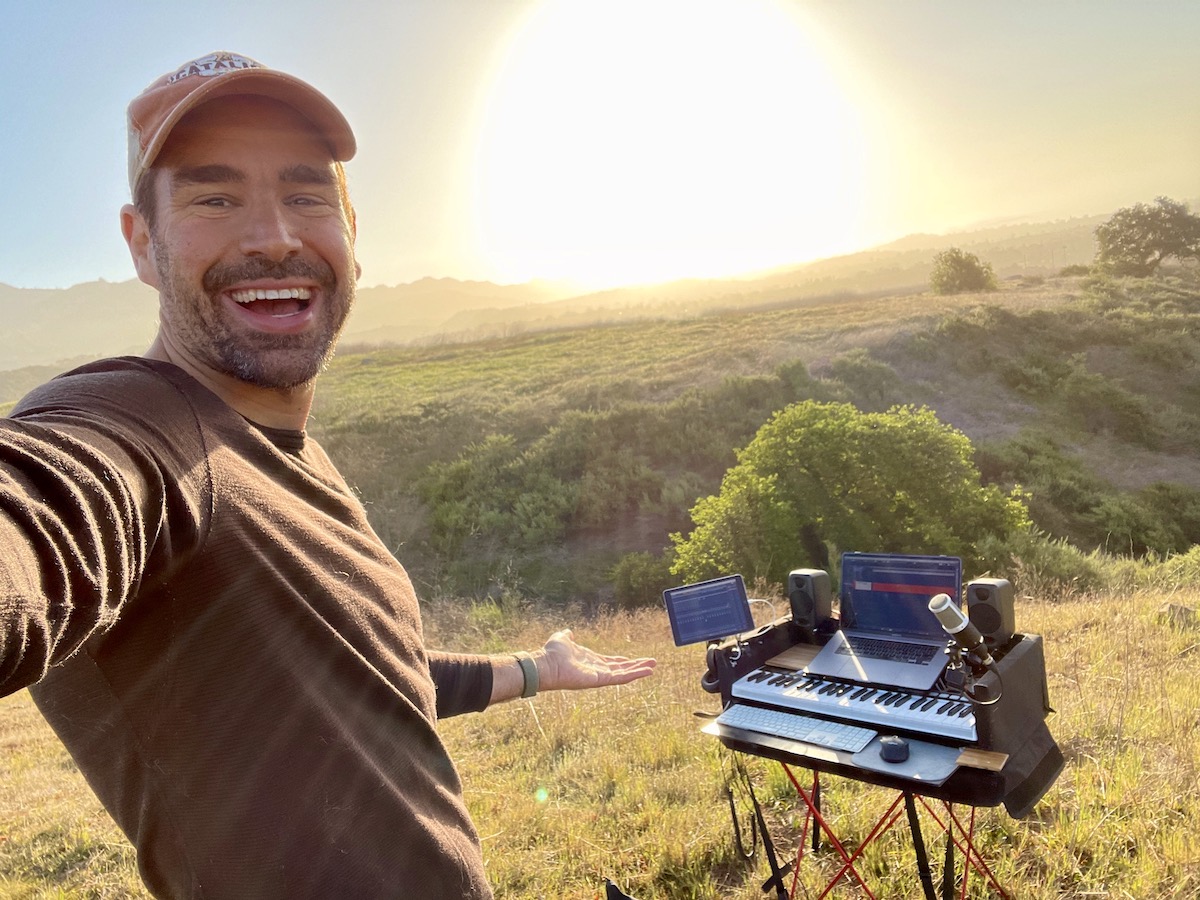 The threat of imminent development of the western parcel of the San Marcos Foothills Preserve 18 months ago not only triggered an astonishingly speedy and successful campaign to purchase the land as a nature preserve in perpetuity, it also synchronistically spawned a sensational new piece of music from a Santa Barbara native: Cody Westheimer's Wisdom of Water, Earth, Sky, which has its world premiere with the Santa Barbara Symphony this weekend. 
The composer, who grew up in Goleta near the Ellwood Mesa but now lives near and goes on regular trail runs in the San Marcos Foothills, was horrified when he came upon bulldozers at the entrance just above the "Bridge to Nowhere" parallel to Highway 154. The protests and passion spurred the composer-filmmaker to create original music videos that springboarded the cause.
"Unless you've been there and experienced the preserve, it's hard to really understand the value of such a place," Westheimer explained. "I had to get involved and do what I could for the cause."
Not long after, Santa Barbara Symphony director Nir Kabaretti approached Westheimer with an idea to commission a piece honoring the indigenous people of the land, the composer immediately thought of Chumash descendants Marianne Parra and Ernestine Ygnacio-DeSoto, who were deeply involved with saving the San Marcos Nature Preserve, and how the storytelling of the Chumash people had inspired him.
"I am so in awe of the way the Chumash had this relationship with nature," he said. "It's a blueprint for the way I want to live my life, and how we as humanity need to look at nature as a collaborator rather than an adversary."
Concerned about the issue of cultural appropriation, the composer approached Parra and Ygnacio-DeSoto for permission to share in a respectful way some of the sensibilities of their tradition. He received not only their blessing, but also their collaboration.
Westheimer's 20-minute piece encompasses six movements, each focusing on an animal and a story from the Chumash culture – including the redtail hawk that engenders a somatic response whenever the composer sees one soaring in the sky above him – bookended by sunrise and sunset.
Ygnacio-DeSoto not only suggested adding a visual component to enhance the orchestral experience – Westheimer shot and edited the video footage that will be projected behind the orchestra, returning to the preserve for both filming and continued musical inspiration – the Chumash elder will appear onstage alongside Parra to introduce each section, reading a story in the Chumash language while Parra provides an interpretive poetic English translation.
"They're like the soloists in the orchestra," Westheimer said.
The premiere represents another trip around the full circle of his relationship with the Symphony, as Westheimer had his first exposure to music with the organization's music education outreach program. His connection continued through his time in the Youth Orchestra, for which he later composed an original piece not long after Kabaretti arrived in town more than a decade ago – smack in the middle of his time in Los Angeles establishing his career as a composer for film, TV, videos, nature documentaries, and sports, the latter including a theme for the Olympic Games.
Westheimer said he doesn't care if Wisdom of Water, Earth, Sky ever gets another performance after this weekend's premiere concert that also features Schumann's "Piano Concerto in A minor, Op. 54" with soloist Alessio Bax, Sibelius' "Valse Triste, Op. 44, No. 1," and Mozart's "Symphony No. 40."
"I wrote this for Ernestine and Maryanne. I wrote it for the foothills," he said. "It's for my hometown."
Westheimer's Wisdom of Water, Earth, Sky will be performed at the Granada on Saturday, November 19, at 7:30 pm and Sunday, November 20, at 3 pm. Visit thesymphony.org for more information.
Classical Corner: Sofia Solos 
Santa Barbara native Sofia Malvinni – a former violin prodigy whose first teacher at age three was her Curtis Institute alumna mother, as well as a Santa Barbara Music Club scholarship award winner – will be returning when she plays a free solo recital at First United Methodist Church on November 19. Still a teenager, Sofia is a three-time winner in the Santa Barbara Youth Orchestra Concerto Competition, where she has served as concertmaster for the last four years and has both soloed and sat in the first violin section with the Santa Barbara Symphony. Malvinni program of masterworks features Bach's "Partita No. 2 in D minor, BWV 1004," Eugène Ysaÿe's "Sonata in D minor, 'Ballade,' Op. 27, No. 3," and two Paganini Capriccios: "No. 13 in B-flat major" ("The Devil's Laugh"), and "No. 24 in A minor"…
The Grammy Award-winning Parker Quartet also returns to town this week, playing its fourth performance at the Museum of Art's Mary Craig Auditorium on Monday, November 21, with a program featuring Caroline Shaw's "Valencia," Ligeti's "Quartet No. 2," and Beethoven's "Quartet in E-flat Major, Op. 127."
Notes Around Town
Jason Libs, the longtime piano man at the Red Piano, moves eight blocks uptown to host one of his periodic Living Room Jam nights at SOhO, featuring The Congregation, The SB Allstars, and special guests, in memory of the late Alan Kozlowski, who used to host similar sessions in his downtown loft (November 17)… The Hansen Family Songfest kicks off the holiday season at SOhO on Thanksgiving eve (November 23) with dinnertime music provided by friends of the owners and club followed by a set from the Hansen Family Band, with surprise guests.
You might also be interested in...