Back in the Chamber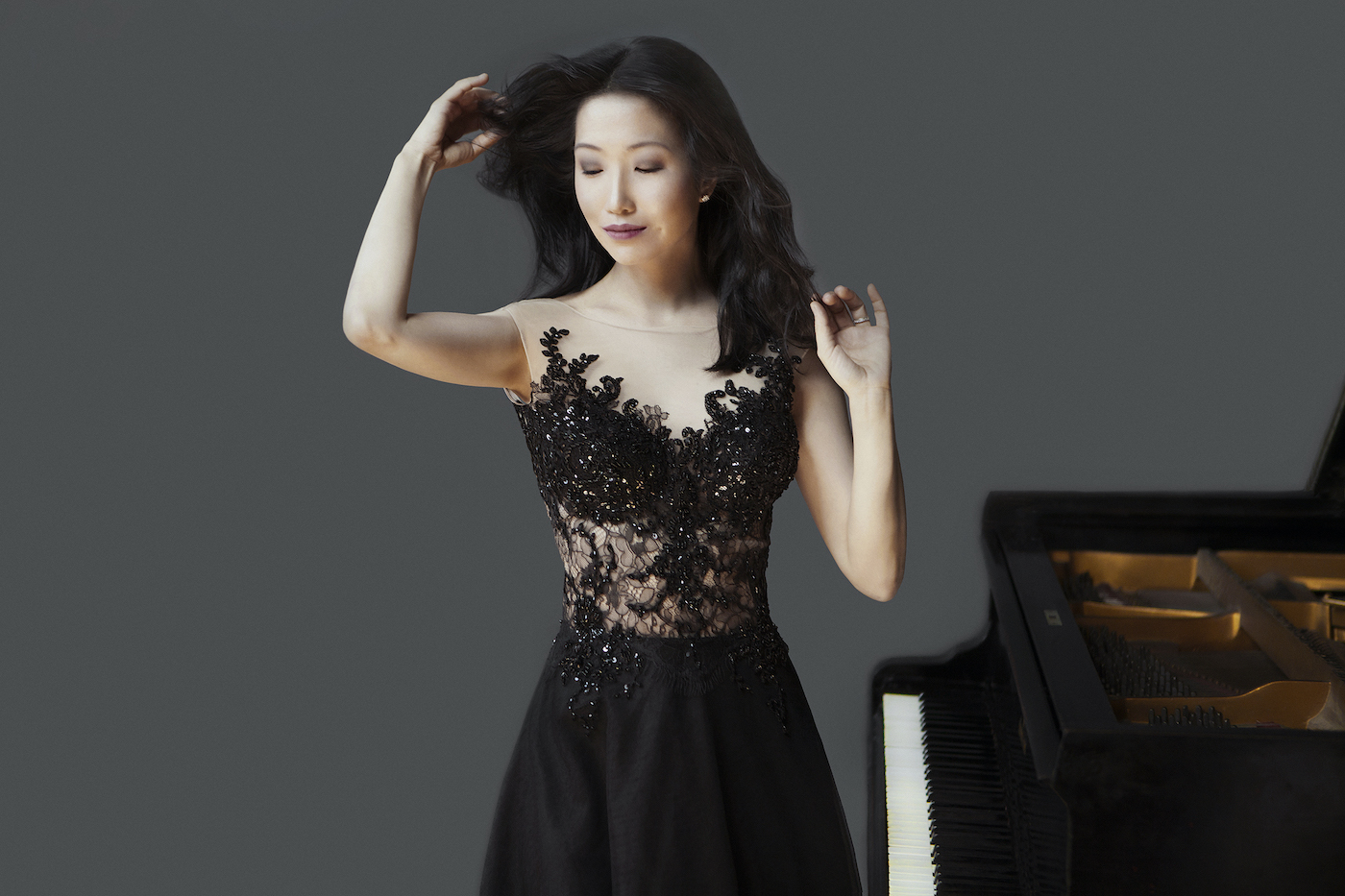 After an almost three-year hiatus, Santa Barbara's renowned music director Heiichiro Ohyama flew in from Japan to return to the Lobero for an evening by an artfully created ensemble in the Chamber Music Project's season premiere.
Ohyama, who led the Santa Barbara Chamber Orchestra for 35 years until it played its final concert in 2017 after 38 seasons, handpicked three classical music luminaries: violinist Benjamin Beilman, pianist Lucille Chung, and cellist Edward Arron performed selected works by Fauré and Dvořák.
"The Lobero's Chamber Music Project carries on the tradition of camaraderies and excellence that first began in 1977," says executive director David Asbell. "It was created in 2020 to continue the tradition established by Maestro Ohyama to provide distinctive annual performances featuring the classical music world's most talented soloists. Post-pandemic, that legacy continues."
Beilman, who flew in from Korea for the show, performs regularly at Carnegie Hall, Lincoln Center, and the Louvre in Paris, with Chung – wife of pianist Alessio Bax, who often tours with violinist Joshua Bell – producing 15 albums and performing with more than 70 leading orchestras worldwide, and Juilliard School graduate Arron, in his Santa Barbara debut, a regular at Lincoln Center's Alice Tully and Avery Fisher halls.
Chung, whose husband is the featured performer at the Granada next month for the Santa Barbara Symphony, last performed in our Eden by the Beach 11 years ago to the day of her return performance, with Ohyama conducting her in Mozart's "Piano Concerto No. 23."
New Series in the Works
Five months after her long running TV talk show ended, Ellen DeGeneres is planning a comeback with About Time for Yourself… With Ellen streaming on YouTube.
The Montecito resident, 64, is shooting the new series at her home "sharing her attempts to try new things and make a little me time" in her own very Ellen way.
The new show will be released weekly, with the first installment scheduled this week.
Thoughts on Previous Employment
Former actress Meghan Markle, who used to be a briefcase girl for 34 episodes of the NBC Howie Mandel-hosted TV show, Deal or No Deal, between 2006 and 2007, seems to have opened a hornet's nest of opprobrium after claiming she quit the show because she was "objectified," forced to have a spray tan, and wear a padded bra that left her reduced to "a bimbo."
The Riven Rock-based Duchess of Sussex in her latest Spotify podcast with Paris Hilton says she was grateful for the work and the money as she tried to succeed as an actress.
But, she adds, she "disliked" how it made her feel "because I didn't like feeling forced to be all looks."
Markle says she wants her daughter with Prince Harry, Lilibet, to be valued for her mind, rather than "beauty not brains," as she was on the TV game show.
But other briefcase hostesses from the popular show have come forward saying they certainly aren't bimbos but were chosen for the roles for their effervescent personalities.
They also deny they were forced to wear padded bras and have spray tans to look camera-ready.
Stay tuned…
Rose Proposal Redux
Kourtney Kardashian and Travis Barker re-enacted their rose-laden wedding proposal 12 months to the day it happened at the Rosewood Miramar Beach.
The reprise was part of a documentary being made of Barker's day job as drummer with the band Blink-182 and for an upcoming episode of Keeping Up with the Kardashians. Hotel security guards in suits and ties stood in the ocean keeping paparazzi in line…
More recently, the couple snapped up the Carpinteria beach house formerly owned by TV talk show host Conan O'Brien. The 2,100 square foot home has two bedrooms and also a two-bedroom guest house. O'Brien bought the property in 2015 for $8 million.
Local Mom Wants Teen Son to Eat Vitamins
Montecito actress Gwyneth Paltrow, 50, admits she has hard time convincing her 16-year-old son Moses to take her wellness advice.
"He, like, barely will let me give him a vitamin," says the Goop founder. "So it's also about knowing when to relent and, like, give him his space."
The Oscar winner says her son is a bit more open to doing workouts with her, including going on walks together.
"He likes skateboarding too," she told E! News. "Often times we'll walk and he'll skate next to me. That's fun."
Corinna Gordon Remembered
On a deeply personal note, I remember a good friend and fellow Brit Corinna Gordon, who succumbed to cancer after a long and valiant battle.
Corinna studied art and became a successful watercolor painter, but real success came as an interior decorator working for the likes of Kirk and Anne Douglas, and Bob and Marlene Veloz – their East Valley Road estate was later sold to TV talk show titan Oprah Winfrey.
She was also a good friend of the late singer Olivia Newton-John, actress Jane Seymour, and Lord Julian Fellowes, the Oscar winning writer of Downton Abbey and The Gilded Age.
Corinna was unfailingly witty and would send the sauciest and amusing emails on a regular basis. Later in life, after studying at City College, she also became a successful jewelry designer.
When I last spoke to her at a Dream Foundation lunch at the Santa Barbara Historical Museum, she told me: "I am at peace!
Sightings
Meghan Markle checking out the San Ysidro Ranch… Singer Ariana Grande shopping at Peregrine Galleries on CVR… Today show co-host Jenna Bush Hager at the Ritz-Carlton Bacara
Pip! Pip! Be safe, wear a mask when necessary, and get vaccinated.
You might also be interested in...