Something New to Stream: Watcher Review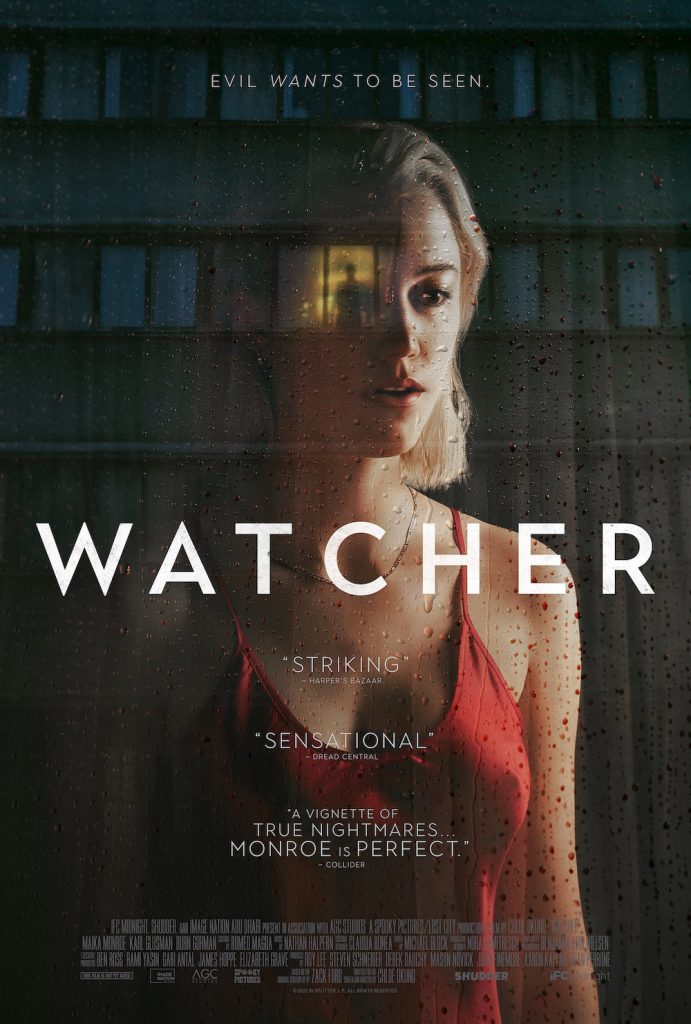 This week we're getting into the spirit of the season! Because there's no doubt about it, 2022 has been huge for horror. From franchise favorites Michael Myers and Pinhead making a return to the big (and small) screen, to a major outpouring of original works that have got horror fans drooling. Ti West's Xand Pearl, Jordan Peele's Nope, Olivia Wilde's Don't Worry Darling, Alex Garland's Men, The Barbarian, Smile,the list goes on. Even if horror isn't your cup of brains, it makes you wonder if the genre is one of the last pockets of the movie biz where original ideas are being decently funded and distributed.
Many of these movies are currently playing around town, (including a 4k restoration of John Carpenter's Halloween at the Riviera during the holiday weekend), so I encourage you to get your scream on with an enthusiastic crowd. There's nothing quite like it. But one recent flick that seemed to come and go with little fanfare featured Santa Barbara's very own Scream Queen, Maika Monroe: Watcher by Chloe Okuno. So this is for all those folks that want a stay-at-home tense Saturday night thriller.
When living in an apartment, you often have to give yourself over to the fact that people can see what you're up to. Cooking dinner shirtless is just a free show for your unsuspecting neighbors. But what if instead of just being seen, you were actually being watched. Big creepy difference!
Watcher builds on this simple, but effective idea. Because who hasn't stared out of a pitch-black window and wondered, "Is someone staring back at me?" In Watcher, Monroe has transferred to Bucharest with her boyfriend for his big new job. She doesn't speak the language and feels totally isolated and alone. Except for that nice man that's watching her from the apartment across the street. Why hello, stranger! Oh, and did we mention there's a serial killer on the loose?
It's a slick atmospheric picture, and Okuno takes her sweet time building the tension. This is not an in-your-face fright fest. It's less about the action, and more about what could happen. Letting our imaginations run wild is sometimes the scariest thing.
There's solid craftsmanship all around and another great performance by an increasingly distraught Monroe. It's a film that wears its references proudly on its sleeves. Rear Window and Rosemary's Baby, anyone? Or Carpenter's aptly titled, Someone's Watching Me! Yes, someone surely is. But Watcher still manages to make itself its own movie. A movie where you're constantly wondering, who's really the watcher and who's being watched? Paranoia abounds!
So cozy up, grab a bowl of popcorn, and give yourself the creeps with this flick available to stream from the comfort of your couch. Just make sure to close the curtains first.
Watcher is currently streaming on Shudder, AMC+, DirecTV, or available to rent on Amazon.
You might also be interested in...