Photographs by Patricia Houghton Clarke at Silo Gallery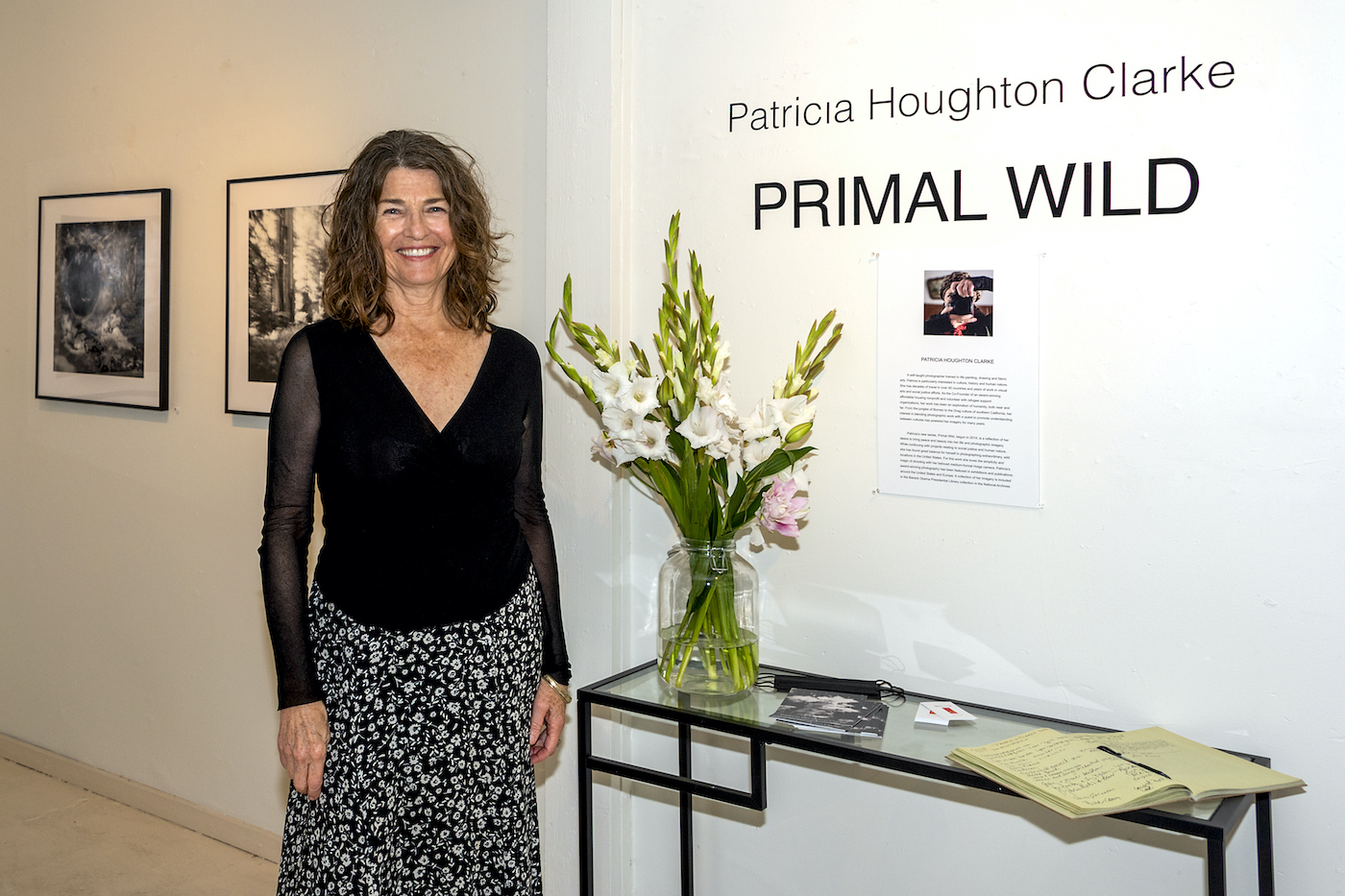 Patricia Houghton Clarke's newest exhibit Primal Wild is on view at Silo 118 Gallery, now through October 29. There are 18 framed and matted photographs in the show, five color and seven black and white, square sized at 24×24" and rectangles at 33×49". The selection was curated and installed by Bonnie Rubenstein. In a curio case are Clarke's books and six-foldout mini photos for sale to support her Facing Ourselves project. In the hour or so I was there, her photos were mostly sold.
Having known Clarke for over a decade, we talked about her move to show personal work:
Q. When did you start the project?
A. I started going into the redwood forests in 2014 for personal reasons and went to different redwood parks every year after that. This exhibit is my personal work, I did for me, never before shown.
How does it feel to now have it on view and for sale?
It was very emotional for me coming into the gallery today, feeling all these ancestors, [the forest and people who passed in my life], and they all came today [in my mind].
This is very primal. I think everyone who comes to view the work just goes, oh, I can breathe. So, I feel like it's my offering.
What gear did you use?
All of the images are with a Holga camera and film. I used Kodachrome and Ilford Delta. The film is developed locally. I scan it and print it myself or may sometimes send it out to be printed. The paper is archival matte paper, as I wanted no texture on it.
Talk about your choice of images as squares and others as rectangles.
The rectangles are merged images with the Holga – you know how that goes, shoot it and you're winding, so some rectangles have four merged images. The square images are always just a single shot, and I shot most of the work square.
How was the process for you, of walking the redwoods and photographing it?
I felt the need to be in the primal wild to process a personal event. I have been going into the redwoods all my life, I grew up in the Northwest U.S., but it just became this spot for me to keep going. The redwoods are like a womb and I was going there to be present, quiet, and by myself.
411: silo118.com
You might also be interested in...