It's Okay to Not Be Okay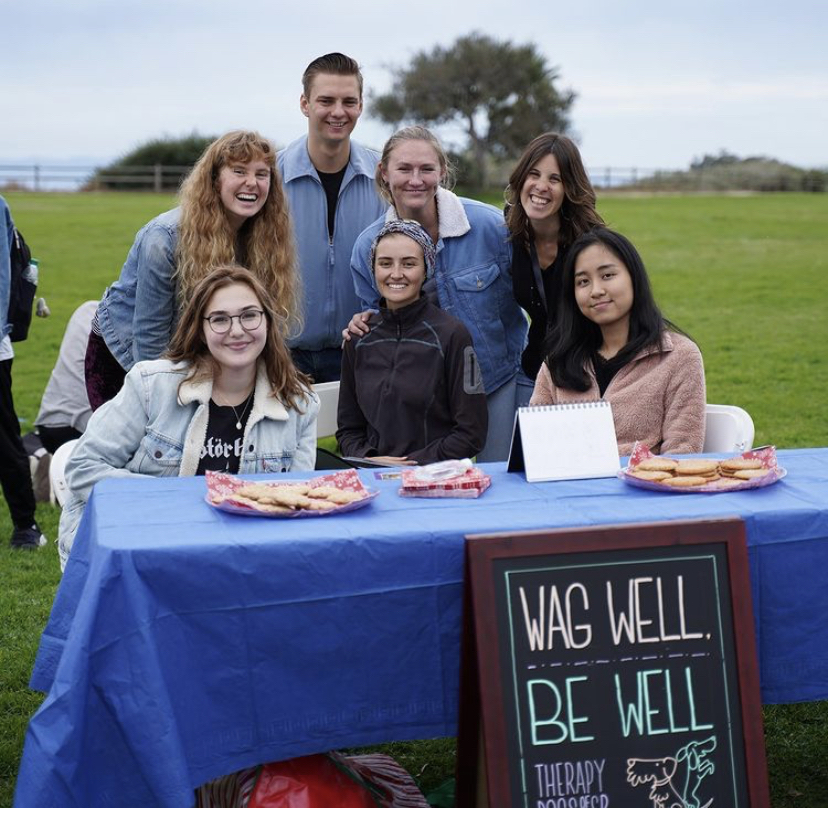 Over in the sunny cove of Santa Barbara City College, a small health revolution is brewing. At the helm is Student Program Advisor Becky Bean, ASW. 
With a background in the nonprofit sector and social work, Bean was excited to collaborate with the Student Health Services team at SBCC and spearhead their new wellness program: The WELL. First launched in January 2019, The WELL is a program that specializes in offering holistic health and wellness workshops, group counseling, skill-building groups, and resources.
"The WELL is passionate about ensuring the diverse SBCC student community feels heard, respected, and encouraged to gain the vital knowledge, tools, and support to move toward optimal lifelong health and wellness," Bean says.
Since opening their doors, The WELL has quickly grown in popularity, even when in-person programming wasn't possible, and the program went fully virtual. Since then, other community colleges have begun to take notice and reach out to the team at The WELL in hopes of collaborating.
To learn more about the growing success of SBCC's new preventative health program, I reached out to Becky Bean.
Q. What is the importance of a program like The WELL?
A. To embrace our students with mental health and wellness support services. We want students to feel they are heard, respected, and teach them the relevant skills for when life becomes challenging, and they feel there is no hope. We encourage them to ask: How can we move through those experiences and prioritize our mental and physical health?
I think The WELL program is helping set students up for a very healthy relationship with their own journey of health and wellness. We encourage students to put their health at the forefront of their lives and encourage our students to know that they are worthy of support. We teach them the tools to advocate for their own health and wellness.
What is The WELL doing to cater to the needs of SBCC students?
We take a very dynamic, holistic approach. We like to talk about the eight elements of holistic health and wellness – the emotional, physical, nutritional, social, intellectual, environmental, spiritual, and financial side of each student. We are very open about the fact that the path to wellness is not a one-size-fits-all. Each journey for our students is individual. We offer our students equity-based education around different wellness topics to meet their whole self.
We've been talking a lot about this idea of wellness. What does wellness mean to you?
Wellness is the relationship one has with their mind, body, and spirit. It is about looking at yourself as a very intricate ecosystem. Wellness is about learning how to navigate life's challenges and prioritize your health and wellbeing – it is a balance.
No one wants to hear about unprecedented times… but The WELL has been open for a very interesting snapshot in time. How would you say this idea of wellness has changed?
What we have traditionally thought of as wellness has been reimagined. Now that we operate in a hybrid world, I think we really have the opportunity to provide health education in very creative and sustainable ways.
From March 16, 2020 – which is when we shut down in-person services – to March 16, 2021, our online platform had over 6,500 unique users using our health and wellness support services and resources. We were so grateful that students were engaging positively with our virtual platform.
I think more than ever, mental health and physical health are being prioritized. With all the collective trauma, this has ignited a new opportunity for us to become creative and even more innovative surrounding mental health education. We need to continually think of creative ways to collaborate, and the pandemic has accelerated that process.
What do you think are the biggest threats to wellness that college students face?
We have seen an increase in anxiety, depression, and suicidal ideation among college students, which has been exacerbated by the wide range of challenges the pandemic produced. In addition, college students nationally are faced with the loss of women's reproductive health rights and an uncertainty of the future regarding their health and wellness.
I am inspired by the fearlessness of college students to go out and seek support. We're really trying at The WELL to break the stigma around mental health differences and challenges. We want students to feel like they can talk about their mental health and wellness needs. As our team says, it's okay to not be okay. We must continually ask ourselves: "How can we best meet our students' mental health and wellness needs so they feel empowered to express and advocate for their needs?" I think this generation has the authentic courage to seek out progressive changes in this world and make health and wellness a priority in their life.
You might also be interested in...