Lobero Gets TRAP-ped Again, for the Last Time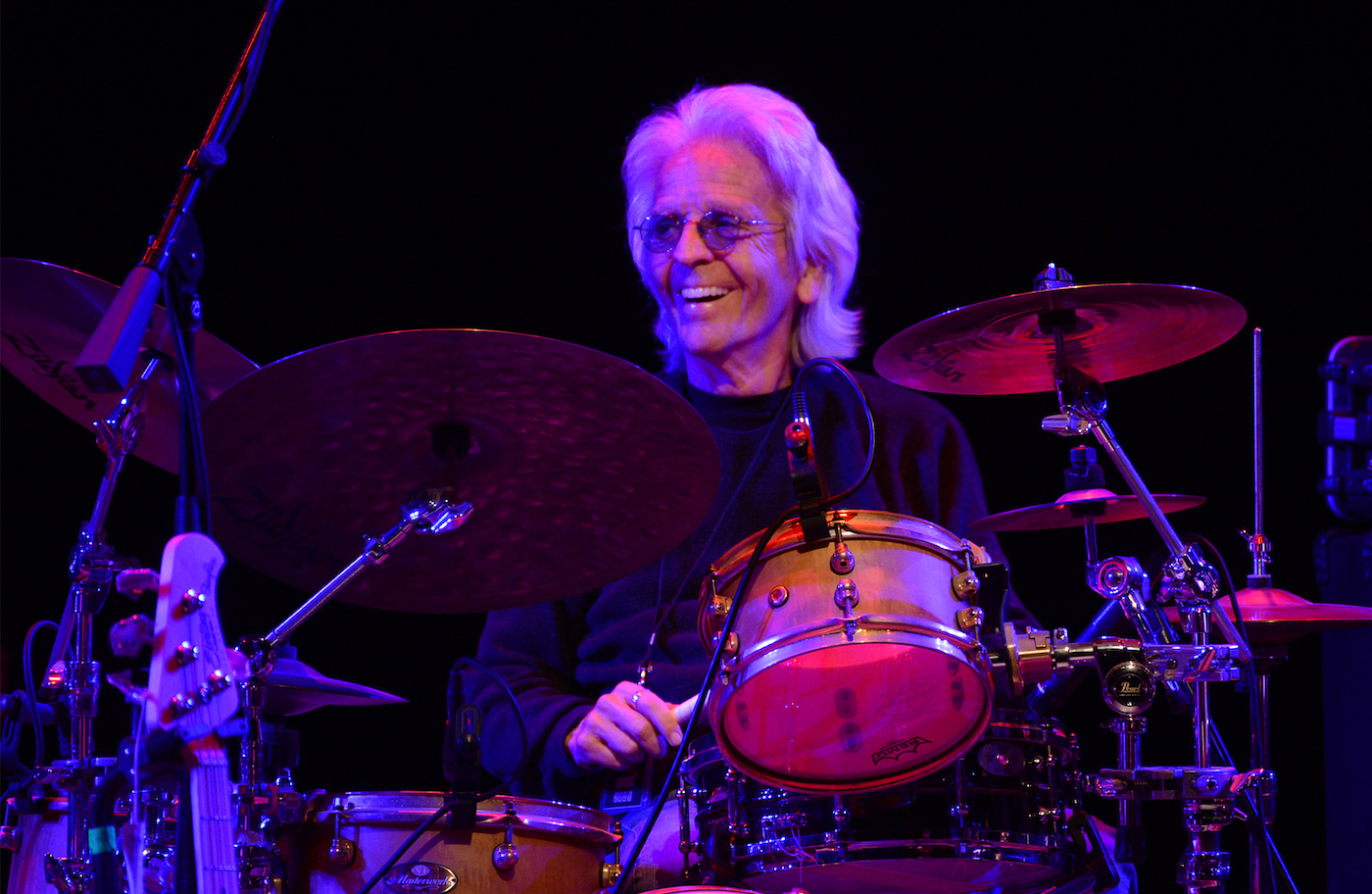 More than 40 musicians and singers – including session and touring artists who have played on more than a thousand different albums and thousands more concerts – will be gathering on the stage at the Lobero Theatre to celebrate the 25th anniversary of The Rhythmic Arts Project, aka TRAP, this weekend.
TRAP is the Santa Barbara nonprofit with a worldwide influence founded by veteran Eddie Tuduri following recovery from his own near-fatal surfing accident to support kids and adults who are developmentally disabled in reading, writing, arithmetic, social skills, and creative thinking through a program he developed that has drumming at its foundation. Accordingly, among the percussionists performing at the Lobero on September 24 are Luis Conte, Rick Geragi, Chris Trujillo, Tony Braunagel, and Willie Ornelas as well as Tuduri. The first three are members of the featured band Pockets, the group of studio players and vocalists Tuduri helped form 40 years ago and including singer Carl Graves, keyboardist Jimmy Calire, guitarist Derol Caraco, bassist Steve Nelson, trumpeter Bill Bodine, and horn players Salinas, Mackey & Hunter, who have backed a list of rock and pop stars far too long to mention.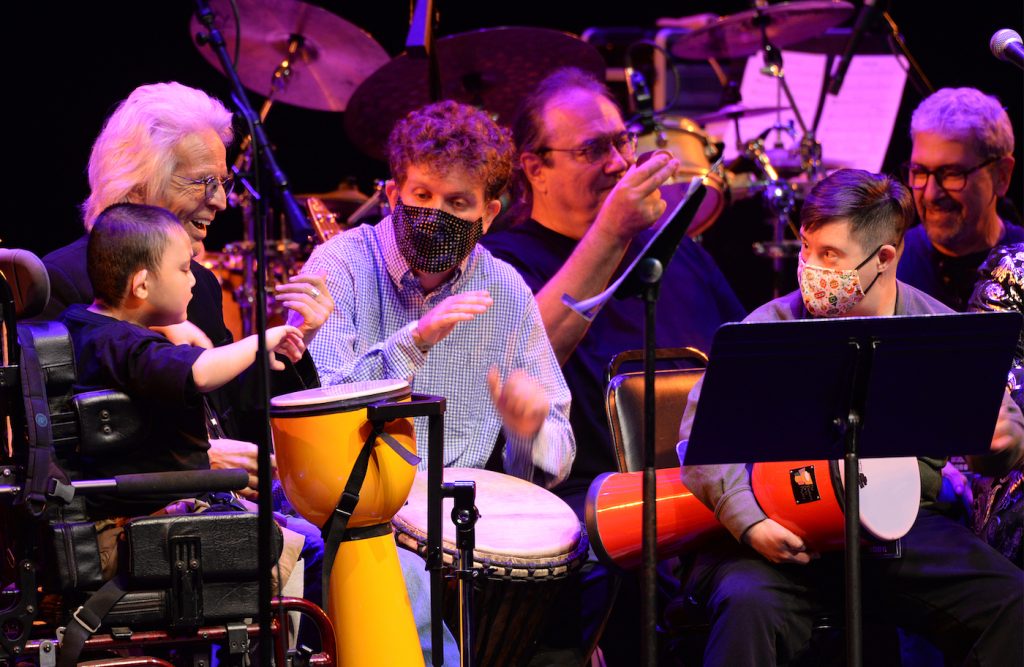 Santa Barbara vocal favorites Leslie Lembo and Shawn Thies are part of the mix, as are Teresa James and The Rhythm Tramps, who co-wrote a new song "Rubbing Shoulders with Angels" with Tuduri, and Kenny Lewis of Steve Miller Band fame and his keyboardist-songwriter wife Diane Steinberg Lewis, who previously collaborated with Tuduri to compose "Let the Children Live Another Day." The Music Academy children's choir SING! will provide the choral backing for the latter, the opening song of Saturday's show.
The Lobero will rock with a mix of rock, funk, R&B and soul, both familiar tunes and originals from the musicians who are all longtime friends and colleagues of Tuduri's. They're all coming together because the 2022 TRAP concert – which has annually served as a benefit supporting the nonprofit's programs and has featured such memorable moments as Bonnie Bramlett singing "Superstar" and three straight years of Michael McDonald reprising his hits – isn't just marking a quarter-century milestone, it's also the end of an era, as Tuduri, now 75, plans to scale back future events.
"I was hardly out of the hospital when we did our first concert in a small courtyard before working our way up to the Lobero in the early 2010s," recalled Tuduri, who also battled cancer in recent years. "I'm not getting any younger. But we're going to do something special this year. They're all such luminous players and I'm really grateful they're coming out to help us again."
The event includes a special live auction during intermission for such unique items as guitars signed by the full Zac Brown Band, another by Kiss's Ace Frehley, while Hot Tuna's Jack Casady autographed a ukulele.
What's not scaling back is TRAP itself, which has helped thousands across the country and in countries including Ecuador, Thailand, and Syria via the curriculum developed by Tuduri.
"People love the program and make it their own to teach TRAP – which has musical notation and the drum as the core of everything from mathematics to social skills – on a regular basis," he said about the work that is his true legacy. "Having the drum as the tactile component makes learning fun."
Music for Dinghies
Walk, swim, paddle, motorboat, sail, row, kayak, or boogie board on over to the end of Marina 1 at the Santa Barbara Harbor at 4 pm Sunday, September 25, for the latest installment of the series featuring local singer-songwriters and rockers cranking out the tunes aboard the Sojourner, moored in a slip in the marina's S Finger. Today's guest is Santa Barbara stalwart Spencer Barnitz, who has played just about every indoor and outdoor venue in town at one point or another in a four-decade career, fronting one of the iterations of his band Spencer the Gardener. Landlubbers can also listen in from the sandspit beach at the end of the flag-lined wave-breaker pathway. Info at facebook.com/musicfordinghies.
Figtoberfest Fun
All seven of Figueroa Mountain's brewery-taprooms, including the one in the Funk Zone downtown, get a five-day head start on ushering in October with their annual Figtoberfest 12-5 pm on Saturday, September 24. The dirndls are pressed and the steins are in a line for the afternoon adventure that includes a Stadium Beer Pong Tournament, both Keg Holding and Stein Hoisting endurance competitions, and even a Yodeling Contest to see who can claim the title of the next Bavarian Idol. Chomp down on bierock, a Bavarian pastry stuffed with beef and cabbage, plus, schnitzel, bratwurst, and pillowy pretzels, and chug down the new batch of the brewery's special Figtoberfest beer. Cheers!
You might also be interested in...